Blinn College-Brenham Theatre Arts Program dives into the supernatural in 2023-24
Productions include 'Young Frankenstein,' 'Tiny Tim's Christmas Carol,' 'Medea,' and 'The Yellow Wallpaper'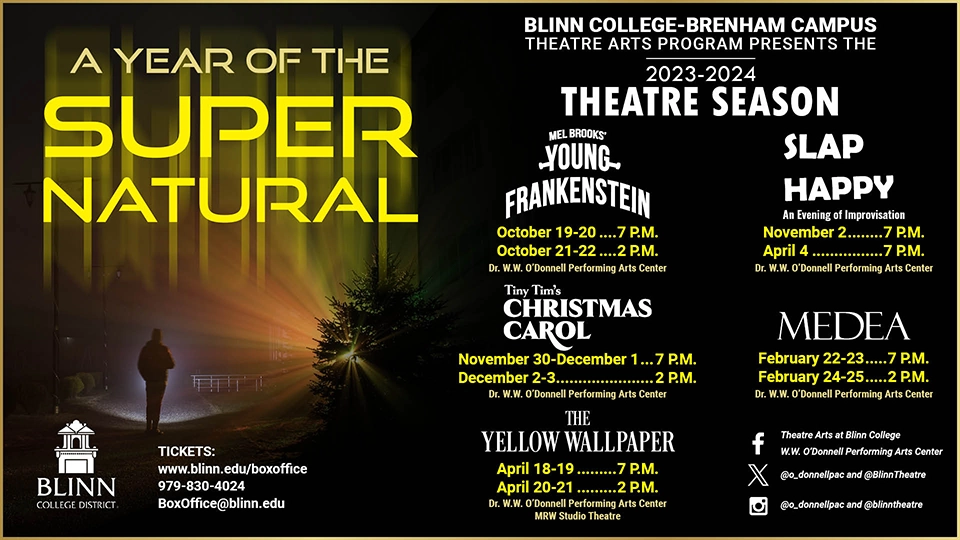 August 24, 2023
The Blinn College-Brenham Campus Theatre Arts Program will take a "supernatural" twist with an upcoming season ranging from the comedic to the spooky.
"The Blinn College-Brenham 2023-24 theatre arts season is titled 'A Year of the Supernatural' and we are hoping for big crowds like we had last year," said Theatre Arts Director and Professor Brad Nies.
This season's performance schedule includes:
Mel Brooks' "Young Frankenstein," 7 p.m. Oct. 19 and 20, and 2 p.m. Oct. 21 and 22;
"Tiny Tim's Christmas Carol," 7 p.m. Nov. 30 and Dec. 1, and 2 p.m. Dec. 2 and 3;
"Medea," 7 p.m. Feb. 22 and 23, and 2 p.m. Feb. 24 and 25;
and "The Yellow Wallpaper," 7 p.m. April 18 and 19, and 2 p.m. April 20 and 21.
All performances will be held at the Dr. W.W. O'Donnell Performing Arts Center. In addition to the plays, the program's improvisation troupe "Slaphappy" will perform Nov. 2 and April 4, both at 7 p.m. at the O'Donnell Center.
Tickets to each performance are $10 for adults and $5 for Blinn students and children. They are available online at www.blinn.edu/boxoffice, by calling 979-830-4024, or emailing boxoffice@blinn.edu.
"Young Frankenstein" is a hilarious musical that also will be the program's faculty showcase and its first entry into the 2023 Kennedy Center American College Theatre Festival (KCACTF). KCACTF is a national play festival that allows universities, four-year schools, and community colleges an opportunity for individual recognition and critique from theatre professionals.
Based on Mel Brook's 1974 film, this musical comedy centers on the grandson of the infamous Dr. Victor Frankenstein. When he inherits his family's castle in Transylvania, it isn't long before this young scientist finds himself in the shoes of his mad ancestor.
Nies will portray the monster, with faculty member Jennifer Patrick serving as director. Technical direction will be by Kevin Patrick, Technical Theatre Arts Professor. Musical direction will be by instrumental music coordinator and clarinet professor Jill Stewart.
"Tiny Tim's Christmas Carol," in addition to being the 2023 children's show, also will be the program's second entry into KCACTF. Nies will direct the presentation.
In this show, Tiny Tim is determined to have his father home for Christmas day even if it means teaching Ebenezer Scrooge a lesson in kindness. With the help of a few friends, Tiny Tim stages a spectacle filled with ghosts and Christmas cheer in the hopes of warming the heart of London's stingiest man.
Kevin Patrick, Technical Theatre Arts Director and Professor, will be the technical director, with Jennifer Patrick serving as costume, makeup, and hair designer.
The Greek tragedy "Medea" will be the program's 2024 Texas Community College Speech and Theatre Association Play Festival entry. In this stunning new version of Euripides' work, Medea and Jason find themselves refugees in the city of Corinth, struggling to bring up their children in an alien and unsympathetic society. When Jason hatches a plan to better integrate himself into society – a plan that involves abandoning his wife and mother of his children – Medea is spurned, destitute, and desperate. She uses the dark arts to extract her terrible retribution.
The play will be directed by Nies, with technical direction by Kevin Patrick. Costumes, makeup, and hair design will be headed by Jennifer Patrick.
The spooky yarn "The Yellow Wallpaper" will close out the season. Based on a short story by Charlotte Perkins Gilman, the play is about an imaginative young woman who finds herself sequestered on a remote estate that her husband has rented for the summer.
As she is recovering from "temporary nervousness," she is forbidden to entertain guests. Without having anyone to talk to, she becomes obsessed with the wallpaper in her bedroom as the effect of her stifled creativity begins to take a toll on her sanity.
Nies will direct, Kevin Patrick will again be the technical director, and Jennifer Patrick will serve as costume, makeup, and hair designer.
"Tiny Tim's Christmas Carol" is perfect for all ages and "Young Frankenstein," "Medea," and "The Yellow Wallpaper" are suitable for ages 13 and up due to adult humor and content. Each production may include strobe lighting effects and theatrical fog or haze.
Blinn's Theatre Arts Program cultivates a quality educational foundation of study, application, and experience through a wide range of performance, technical, and production studies. Its Associate of Arts degree plan integrates artistic, technical, and academic disciplines of theatre from the classroom to the stage. Students have an opportunity to audition for a variety of performances related to drama and theatre and are prepared to transfer to four-year colleges and universities. For more information, visit www.blinn.edu/theatre.
Enjoy this article? Share it with one click!