Hempstead High School students gain valuable carpentry skills at Blinn's Hodde Center
Blinn College District and Hempstead High School collaborate to launch innovative program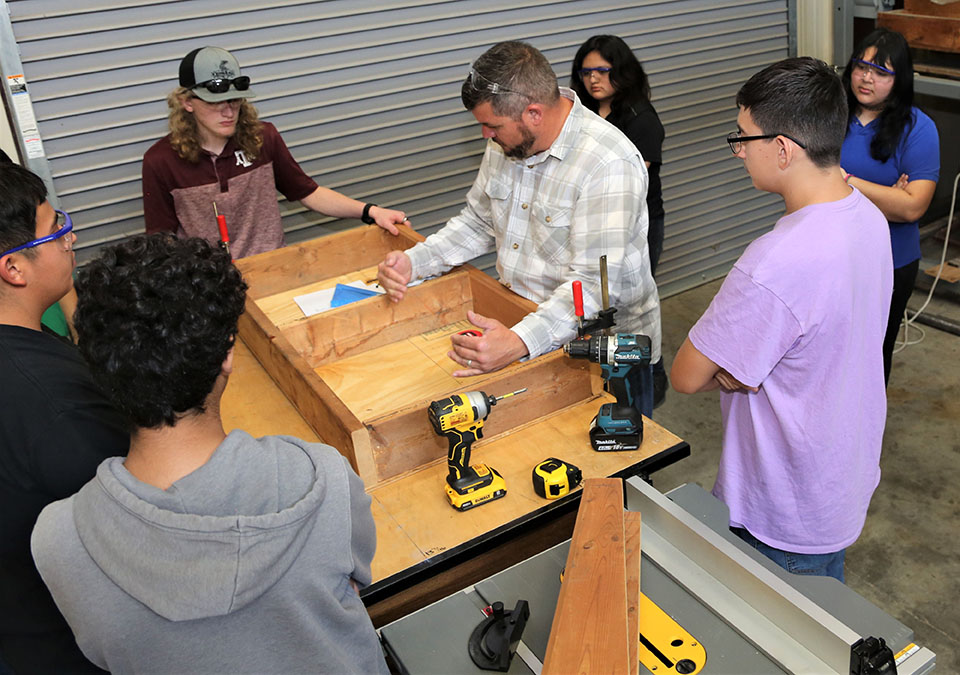 July 10, 2023
As a veteran instructor, John McGee didn't see a wobbly table. He saw an opportunity to teach and empower students.
Over the course of a month, McGee has led a unique program providing 13 students from Hempstead High School with fundamental construction skills. The students were transported to the Blinn College District's A.W. Hodde, Jr. Technical Education Center in Brenham, where they successfully earned their OSHA-10 Certification and their basic construction skills (CORE) from the National Center for Construction Education and Research (NCCER).
The program was made possible through a generous grant awarded to Hempstead Independent School District, enabling them to fulfill one of the Texas Education Agency's College, Career, and Military Readiness (CCMR) requirements. CCMR prepares students for life beyond high school by assessing their readiness for college, the workforce, or the military.
"This collaboration with Blinn is groundbreaking for Hempstead High School," said Cody Stelter, Blinn's Assistant Dean of Applied Technology, Workforce, and Economic Development. "I believe this pioneering initiative will inspire other schools to follow suit, given the availability of funding. By partnering with institutions like Blinn, schools can avoid the need for year-long instructors. Instead, students can benefit from a comprehensive introductory course that paves their way towards various vocational programs."
McGee, who taught at the Hodde Center before joining the faculty at Bryan ISD's Rudder High School, said the table provided a chance for the students to apply a range of carpentry skills such as tool and material handling, sawing, and making measurements.
"Most of these students had never handled a hammer or a saw," he said. "This project provided them with tangible problem-solving experience. Employability is a central focus in our core classes, and this course instilled a basic understanding of what it takes to thrive in industries such as welding, carpentry, electrical work, and HVAC. The skills we teach here have broad applications."
Hempstead student Danna Pinon said the course was fun in addition to being educational.
"I have definitely learned many new things," Pinon said.
Fellow student Derrick Reed, who already had some carpentry experience, found the course to be an enjoyable and valuable opportunity.
"I've had a lot of fun. My grandfather and mom both do a lot of woodwork," he said. "In our house, we did almost all the cabinets and the trim, and the more tools you know how to use, the more places you can go to work."
Isaiah Madison, who teaches welding at Hempstead High School, supervised the students' daily trip to the Hodde Center.
"They have really enjoyed the program," he said. "They built birdhouses, they built a bench. They have stayed busy."
Karla Flanagan, Blinn's Dean of Applied Technology, Workforce, and Economic Development, said her division is always looking for new ways to prepare high school students for high-wage careers.
"It was such a pleasure to work with the Hempstead Independent School District and offer this summer camp to their high school students," Flanagan said. "We strive to provide programs that not only introduce students to the trades industry using a hands-on approach, but also enable them to earn industry-recognized credentials."
Enjoy this article? Share it with one click!