Discover the secrets of successful gardeners at Blinn College-Schulenburg this fall
Instructor David Will to provide expertise on a wide range of gardening topics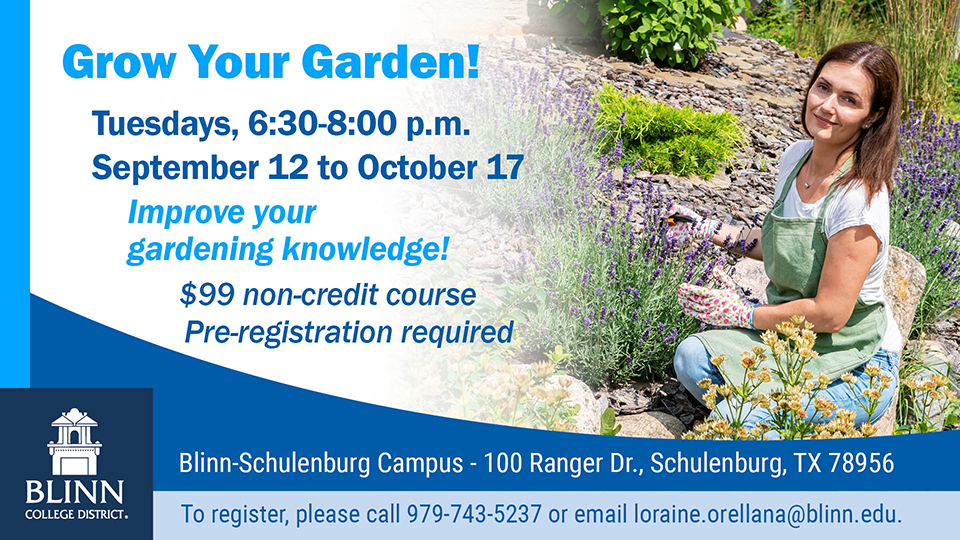 July 17, 2023
The Blinn College-Schulenburg Campus is offering a "Grow Your Garden!" course this fall covering topics such as preparing a garden, the garden calendar, organic pest control, plant propagation and seed saving, easy maintenance, and how to attract birds and butterflies.
The $99 class will be held Tuesdays from 6:30-8 p.m. from Sept. 12 to Oct. 17. It will be taught by David Will of Landscape Details. The former grounds maintenance supervisor at San Antonio's Fiesta Texas, Will has taught continuing education and Master Gardener classes for more than 35 years.
Dr. Becky Garlick, Executive Dean of the Schulenburg Campus, said home gardens continue to grow in popularity.
"This course will provide gardeners with a lot of useful information," Garlick said. "David Will is an expert on plants with years of practical experience and a knack for sharing what he's learned."
For more information or to register for a class, contact Loraine Orellana, Coordinator of Distance and Community Education for Blinn College-Schulenburg, at 979-743-5237 or loraine.orellana@blinn.edu.
Enjoy this article? Share it with one click!