Blinn College student finds a rewarding way to help others through the Physical Therapist Assistant Program
Blinn's Physical Therapist Assistant Program has 100% employment and licensure exam pass rates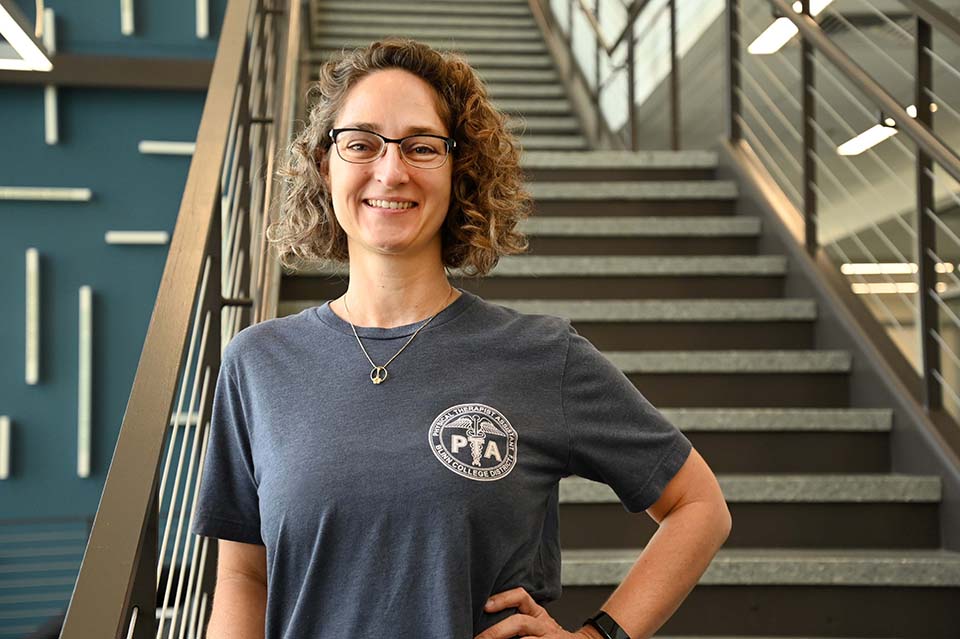 July 19, 2023
Once Cynthia Mills chose to pursue a career as a physical therapist assistant, she had three criteria in mind for her education: she wanted a program that would be close to home, had a high national certification exam pass rate, and had a reputation for helping its graduates find employment.
She found all three in the Blinn College District Physical Therapist Assistant Program.
"I like helping people," Mills said. "I'm already a licensed massage therapist, so I like helping people feel better, but I wanted to branch out in what I do. I do a lot of assessment of patients in what I already do, so I felt that it was a natural thing to move into and I love it."
Physical therapist assistants (PTAs) help people of all ages with medical issues or health-related conditions that limit their ability to move and perform functional activities in their daily lives. Under the supervision of a licensed physical therapist, PTAs teach patients exercises to improve their mobility, strength, and coordination; train patients to walk with crutches, canes, or walkers; and provide patient treatments, such as ultrasound, electrical stimulation, heat, cold, and massage.
"We do a lot of hands-on work with the patients, which I think is why a lot of us get into the program – we like to work with the patients one-on-one," Mills said. "We do hands-on assessments and work with our patients on different exercises and stretches. We learn a lot of massage skills, which the patients love because it helps them heal and makes them feel better."
With seven years of experience as a massage therapist, Mills already knew how to help patients use their strengths to help overcome physical weaknesses. Through Blinn's PTA Program, she is expanding that skill set.
"My favorite part is putting what we learn in class into practice through service learning," she said. "It's two hours per week that you work with a clinic in town and you apply those skills while you are working with patients. They are so incredibly grateful for what we do and the patients love to share their stories."
Blinn's PTA Program is accredited by the Commission on Accreditation in Physical Therapy Education and has a 100% employment rate and a 100% pass rate on the national licensure examination.
"I think that speaks to the caliber of education that we're providing here at Blinn," Program Director Kelsey Maki said. "We also accept smaller class sizes, which allows for closer contact, better faculty-to-student ratios, and for us to be really hands-on with our students and give them the attention they need."
That personalized attention leads to graduates who are in high demand in the job market. Maki said that not only do her program's graduates find employment once they graduate, most have job offers even before they cross the stage.
"There is a huge need for physical therapist assistants and there is a lot of flexibility," she said. "Our graduates work in a wide variety of settings, including acute care hospitals, outpatient clinics, home health adult and pediatrics, school districts, skilled nursing facilities, inpatient rehab hospitals, sports medicine, and other specialty areas."
Blinn's PTA Program begins each fall and enrolls a maximum of 25 students. Due to the competitive admissions process, the College recommends that students attend an information session and begin the requirements for the admission process early to meet the application deadline.
"This is the perfect program for someone who is compassionate and caring and wants to help others," Mills said. "Being able to work and think critically and work through problems is important, but it's also really fun. Anyone who loves puzzles would love physical therapy. I just think it's a great fit for anyone who wants to move around in their job while thinking critically and problem-solving."
For more information, visit www.blinn.edu/physical-therapist-assistant.
Enjoy this article? Share it with one click!