Blinn College offering fall semester Czech language classes
Credit and non-credit options are available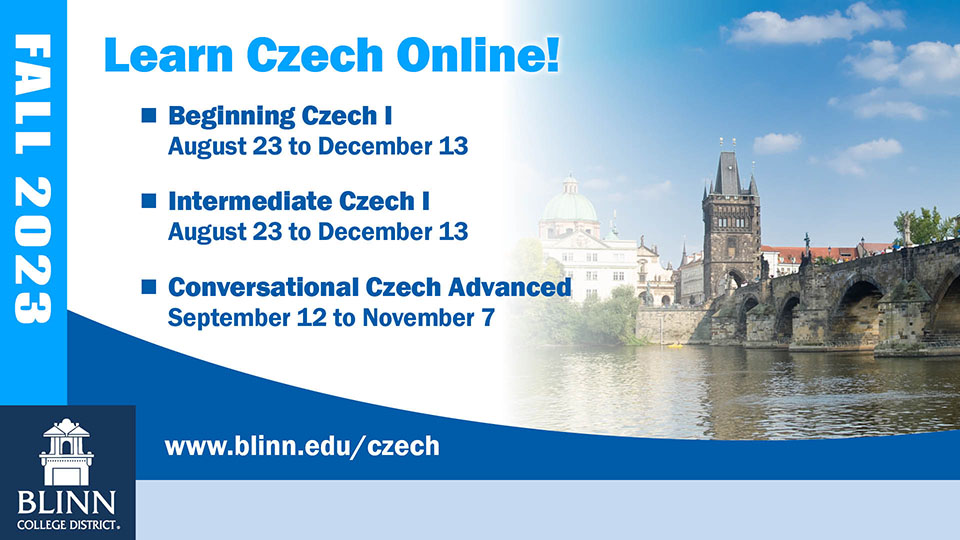 July 12, 2023
The Blinn College District will offer beginning, intermediate, and advanced Czech language classes this fall, providing students with a unique opportunity to explore the language's grammar, vocabulary, and pronunciation online.
Blinn is one of only two higher education institutions in Texas that offer Czech language classes for college credit and continuing education, providing students a way to connect with their heritage.
All of the classes will take place online during the scheduled class time, and credit and non-credit options are available. Scholarships are available for students who take the course for college credit. In 2019, Blinn began offering college-credit courses that can satisfy foreign language requirements at four-year universities.
The Blinn College-Schulenburg Campus also offers Czech dual credit to high school students. High school students can take courses through Blinn's Dual Credit Program, which allows students to earn credits toward a college degree while satisfying requirements for high school graduation.
Czech classes being offered are:
Beginning Czech, Mondays, Tuesdays, Wednesdays, and Thursdays, 7:45-8:50 a.m. from Aug. 23-Dec. 13.
Intermediate Czech, Mondays, Tuesdays, Wednesdays, and Thursdays, 8:55-9:45 a.m. from Aug. 23-Dec. 13.
Conversational Czech (Advanced), Tuesdays, 7-8:45 p.m. from Sept. 12 to Nov. 7. This is a non-credit course. The cost is $79.
Textbooks are required for all classes. Thadious Polasek, president of the Czech Ex-Students Association of Texas, teaches each course.
To register for non-credit courses, call 979-743-5237. More information or registration for credit courses is available by calling 979-743-5200.
For more information, visit www.blinn.edu/czech.
Enjoy this article? Share it with one click!