Blinn College offering Certified Medication Aide course this fall
Classes will be offered in-person at Blinn-Schulenburg and via interactive video connection on Brenham and Bryan campuses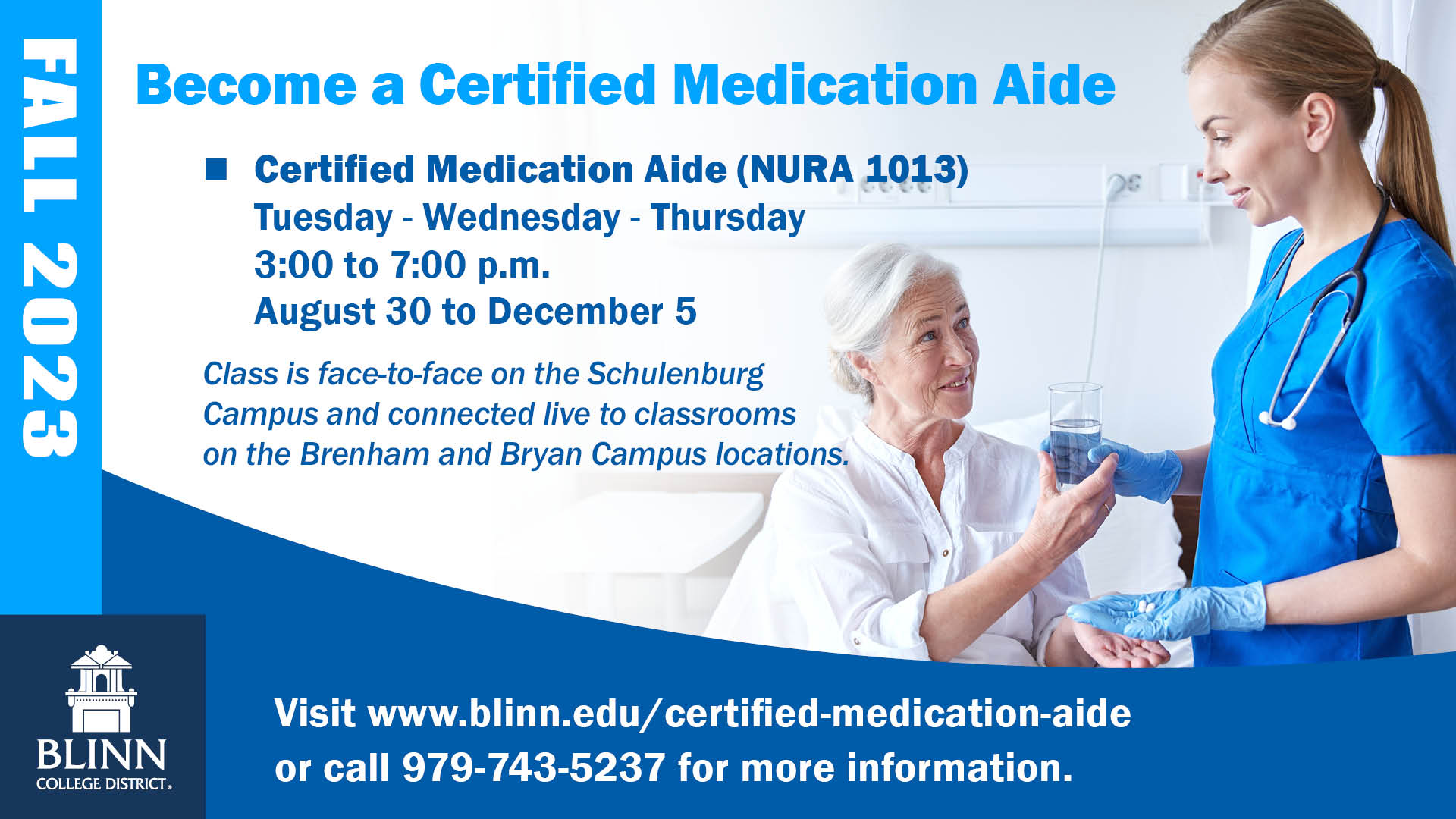 July 20, 2023
The Blinn College District will offer students the opportunity to become essential members of the healthcare industry through its Certified Medication Aide (CMA) Program.
The 140-hour, $805 course will be held Aug. 30 through Dec. 5, meeting Tuesdays, Wednesdays, and Thursdays from 3-7 p.m. The class will be conducted in person on the Blinn College-Schulenburg Campus and via an interactive video connection on the Brenham and Bryan campuses. A textbook is required.
Certified medication aides perform a variety of job duties, including administering medications under the supervision of a nurse, recording medication dosages and times, observing patients and documenting changes in their conditions, and gathering samples for analysis.
What makes becoming a certified medication aide such a fulfilling and in-demand career path?
Becoming a certified medication aide opens the door to a rewarding career in the healthcare industry. You will have the opportunity to make a real difference in the lives of patients by ensuring they receive the right medications and proper care.
The demand for certified medication aides is on the rise. With an aging population and an increasing need for healthcare services, there is a constant demand for skilled professionals who can administer medications safely and accurately.
As a certified medication aide, you will gain valuable experience and skills that can pave the way for career advancement. Many CMA graduates go on to pursue further education and become licensed nurses or other healthcare professionals.
Working as a certified medication aide offers flexibility in terms of work settings and schedules. CMAs can find employment in hospitals, nursing homes, assisted living facilities, and home healthcare agencies. Additionally, there often are opportunities for both full-time and part-time positions, allowing you to find a schedule that suits your needs.
Being a certified medication aide is not just a job; it's a calling. You will have the opportunity to provide compassionate care, build relationships with patients, and contribute to their overall well-being. The sense of fulfillment that comes from helping others and making a positive impact on their lives is immeasurable.
Blinn's CMA Program covers medical abbreviations, symbols, terminology, and common equivalents required for medication administration. Topics include drug legislation, drug references, basic anatomy and physiology, and common diseases.
Students who complete the course will be prepared to take the Texas Health and Human Services Commission (HHSC) Medication Aide Licensure Exam. According to the U.S. Bureau of Labor Statistics, certified medication aides earned a 2021 median salary of $30,290 per year.
For more information, call 979-743-5237 or select the Certified Medication Aide link at www.blinn.edu/workforce/non-credit-healthcare-information-sessions.html.
Enjoy this article? Share it with one click!