Blinn College instructor wins contemporary art award
Jamie Speck places third in Artspace111 Texas Juried Exhibition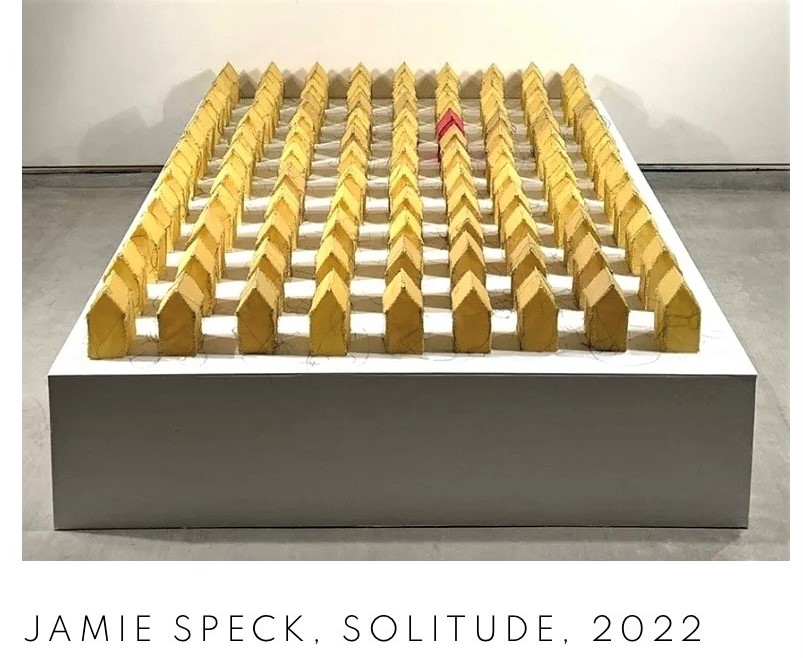 July 14, 2023
Blinn College District art instructor Jamie Speck has been recognized with a prestigious art award.
Speck, a part-time faculty member in Blinn's Arts Program for 21 years, placed third at Artspace111's 10th annual Texas Juried Exhibition.
Artspace111, located in Fort Worth, specializes in contemporary Texas art. This year's show included 2,820 submissions, with judges selecting 55 extraordinary works from 43 Texas artists. The 55 pieces, which included sculptures, installations, and 2D and 3D artwork, will be displayed at Artspace111 through Aug. 26.
Speck's prize-winning piece was titled "Solitude" and consisted of 99 hand-sewn houses made of felt and beeswax.
"It is really a great show," said Speck, who teaches online art classes for Blinn while maintaining a studio practice in College Station. "I am very honored to have won third prize out of the 55 amazing works that were chosen."
"Solitude" was also featured in Artsin Square Magazine, Summer 2022, Issue 3, and will be included in upcoming summer issues of Women United Art Magazine, Issue IV, and New Visionary Magazine, Issue 7.
Speck's art has won awards and been featured in numerous exhibitions. In 2020, she received a $5,000 grant for her art reflecting life in Rockport, Texas. In 2021, Speck earned an honorable mention for her work that was included in the International Fibers Exhibition for the In Art Gallery. She also received the Blinn College District Teaching Excellence Award for Part-Time Faculty in 2021.
Speck earned her Bachelor of Fine Arts in Studio Art from Texas State University in 1999, her Master of Studio Art from Stephen F. Austin State University in 2002, and a Master of Fine Art in Studio Art from Texas A&M University-Corpus Christi in 2020.
For more information about Blinn's Arts Program, visit www.blinn.edu/arts.
Enjoy this article? Share it with one click!