Blinn announces new slate for the 2023-24 Blinn College Performing Arts Series
New season brings incredible magic and toe-tapping tunes to the O'Donnell Center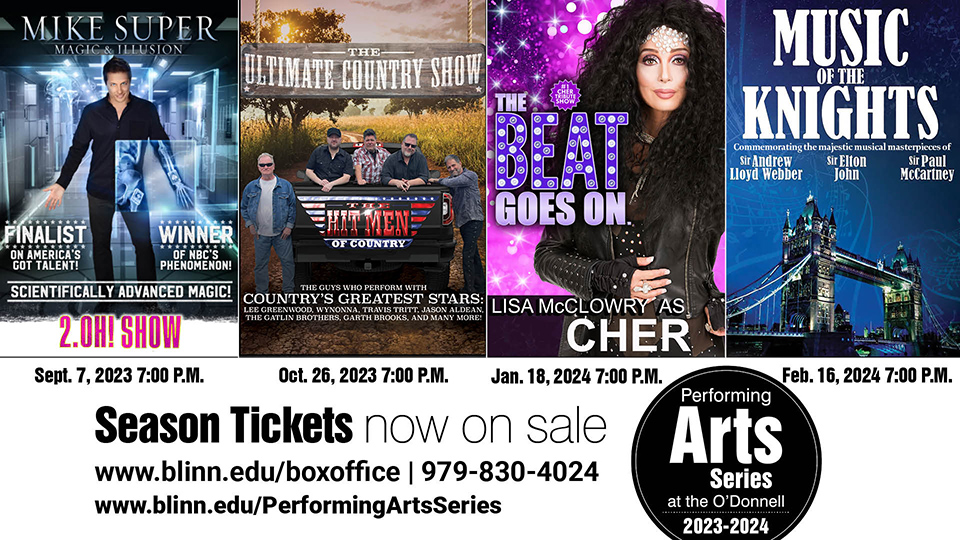 July 24, 2023
The new season of the Blinn College District's Performing Arts Series at the O'Donnell will feature the return of magician Mike Super and musical acts performing hits from Cher, Andrew Lloyd Webber, Elton John, Paul McCartney, and the biggest names in country music.
The 2023-24 season features:
"Mike Super 2.0H!," Thursday, Sept. 7;
"The Hit Men of Country," Thursday, Oct. 26;
"The Beat Goes On," Thursday, Jan. 18;
and "Music of the Knights," Friday, Feb. 16.
All four shows will take place at 7 p.m. at the Dr. W.W. O'Donnell Performing Arts Center at 600 Blinn Boulevard on the Blinn College-Brenham Campus.
Returning season ticket holders can purchase season tickets for the new season now while newcomers can add their names to the season ticket waitlist using the online form through July 28. Season ticket renewals are available at www.blinn.edu/boxoffice and by calling 979-830-4024.
Season ticket sales open to everyone on July 29, and individual show tickets open Aug. 14. Special pre-show receptions featuring the artists are available for $15 apiece and are available up to five days prior to the performance.
New season tickets and individual show tickets will be available at www.blinn.edu/boxoffice and by calling 979-830-4024.
Mike Super 2.0H!
They say that lightning doesn't strike the same place twice, but don't tell that to Mike Super, who returns to the O'Donnell Center with a brand-new show!
Super's family-friendly magical performance in January drew rave reviews from the audience, inspiring his return for the upcoming season. Prepare to be wowed all over again as Super unveils a newly created, never-before-seen show that takes his uniquely branded evening of mystery to an entirely new level. In this magical spectacular, it's possible that someone will travel through time, the audience could solve a murder mystery, and Super will stun the audience with his ability to make impossible predictions and even read minds … all in just the first 10 minutes of the show!
Super has pioneered a new form of magic with his own inimitable, down-to-earth style and personality. The winner of NBC's "Phenomenon" and a top finalist from "America's Got Talent," Super has appeared in numerous TV shows, including "The Ellen DeGeneres Show" and "Penn and Teller's Fool Us."
The secret to Super's success is his natural ability to entertain and captivate people. He has brought the art of magic back to the people and connects personally with each member of his audience Whether through television, stage, or one-on-one, Super's personality and humor reach out and enchant the public. His appeal to both young and old has made him one of the most sought-after magicians in the world.
Hit Men of Country
Blinn brings the ultimate country concert to Brenham when the Hit Men of Country perform hits from some of country music's greatest artists. Featuring the music of stars like Wynonna Judd, Keith Urban, Trace Adkins, Lee Greenwood, Travis Tritt, Jason Aldean, and more, this show delivers fan favorites like "God Bless the USA," "No One Else," "Somebody Like You," "Big Green Tractor," and "I Swear." The Hit Men of Country even share their incredible backstage stories from years on the road with country music's biggest stars.
The Hit Men of Country feature Nashville's most talented singers and musicians who have toured with and played on recordings for country music's biggest names, including Lee Greenwood, The Oak Ridge Boys, Alabama, Travis Tritt, Wynonna Judd, Pam Tillis, Jason Aldean, and many more.
The Beat Goes On
Singer and actress Lisa McClowry portrays the goddess of pop herself, Cher, in this one-woman, Broadway-style stage show. McClowry recreates Cher's entire career, from her singing and speaking voice to the walk, talk, costumes, makeup, and mannerisms.
The show features a live band, video, multiple costume changes, dynamic dialogue, humor, and fun audience participation. Audiences will enjoy hearing all of Cher's biggest hits, including "I Got You Babe," "Gypsies, Tramps, and Thieves," "If I could Turn Back Time," and more!
McClowry's tribute to Cher makes for the perfect night out!
The Music of the Knights
The 2023-24 season will conclude with a celebration of three of Britain's most legendary songwriters (and honorary knights) – Sir Andrew Lloyd Weber, Sir Elton John, and Sir Paul McCartney. These incredible songwriters have inspired millions around the world, and "Music of the Knights" honors their lasting musical influence with songs like "Memory," "I Don't Know How to Love Him," "Don't Cry For Me, Argentina," "The Phantom of the Opera," "Circle of Life," "Can You Feel the Love Tonight," "Your Song," "Don't Let the Sun Go Down on Me," "Yesterday," "Hey Jude," and more!
"'Music of the Knights' is the freshest theatrical concert I've experienced in years," said Susan Agin, Executive and Artistic Director for the Queensborough Performing Arts Center. "Cheers erupted throughout the concert and when it was over the multi-generational audience was left spellbound. The joyful energy and excitement all around us was almost unbelievable."
Enjoy this article? Share it with one click!