Blinn vocational nursing student finds support from family, instructors, and St. Joseph Health Center
Anna Morehead will graduate in August after completing the one-year program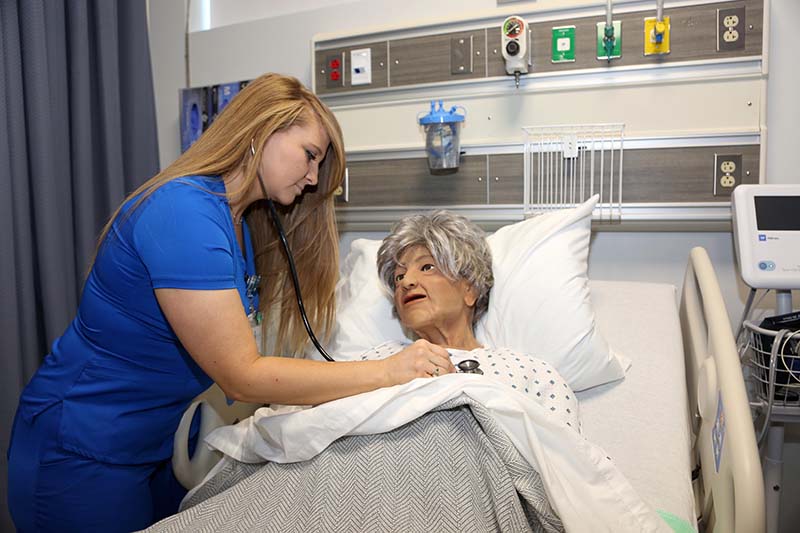 June 23, 2023
Anna Morehead is a big believer that "it takes a village."
That adage is usually completed with "to raise a child," but Morehead said it also applies to her as she nears completion of the Blinn College District's Vocational Nursing Program.
Morehead, from the small Milam County community of Milano, will graduate in August from Blinn's blended online program, which allows students to complete their theory coursework online while attending face-to-face clinical and laboratory experiences. Designed for individuals balancing a job and their nursing studies, Blinn's online-blended Vocational Nursing Program was launched in 2018 and was the first of its kind in the state.
"I'm very, very thankful for this blended program because it allows me to work and have kids," said Morehead, the mother of two toddlers. "There's no way I could have done this without the blended program. I'm able to go to work and I can keep my kids at home, do my homework, or send them to daycare as I need to."
Morehead said she has gotten tremendous support from her family, instructors, and St. Joseph Medical Center in Bryan, where she has worked for about five years. Morehead's husband is a coach and teacher in the Milano school district.
"It definitely takes support from your whole family," she said. "There's no way I could have done this without the help of my family. When they say 'it takes a village,' that's no joke, with or without kids. It takes a great support group."
Morehead was familiar with the medical field before she decided to enter Blinn's Vocational Nursing Program. She earned a health information management degree from Blinn in 2016 (with certification in medical coding) and has worked at St. Joseph in its Women's Services Department and Neonatal Intensive Care Unit.
Morehead was working in the Milano School District when she decided to test the waters in the medical field.
"I had my initial degree from Blinn and wanted to get back into the medical field. I started looking around and I came across a position as a secretary for the nursery at St. Joseph," she said. "Working with those nurses, they really inspired me to go back and continue my goal of being a nurse."
Morehead hopes to continue her education with the goal of becoming a registered nurse (RN) and eventually earning her Bachelor of Science degree in nursing.
She praised her instructors in Blinn's program.
"I graduated in 2016, and I always knew this is where I wanted to come back. The instructors are great. They're very helpful," Morehead said. "I have never had a problem going to them and asking questions. Even emailing them, calling them on the phone, they've always been very helpful."
According to the Texas Higher Education Coordinating Board, almost 98% of Blinn's graduates from the program during the past three years have found jobs in the profession.
According to the U.S. Bureau of Labor Statistics, the 2021 annual median pay for a vocational nurse was $48,070, and employment is expected to increase 6% between 2021 and 2031, creating 41,300 new jobs nationwide.
Program graduates are eligible to take the National Council Licensure Examination (NCLEX-PN) and the Nursing Jurisprudence Examination and are considered licensed vocational nurses after passing both exams.
Blinn's Vocational Nursing Program graduates consistently post first-attempt passing rates well above the Texas and national averages.
For more information regarding Blinn's Vocational Nursing Program, visit www.blinn.edu/vocational-nursing.
Enjoy this article? Share it with one click!
Related Links
Archives
GET CONNECTED