Blinn student wins NISOD graphic design contest
Alesha Jacob is pursuing her AAS in graphic design and received her award during NISOD's annual conference
June 9, 2023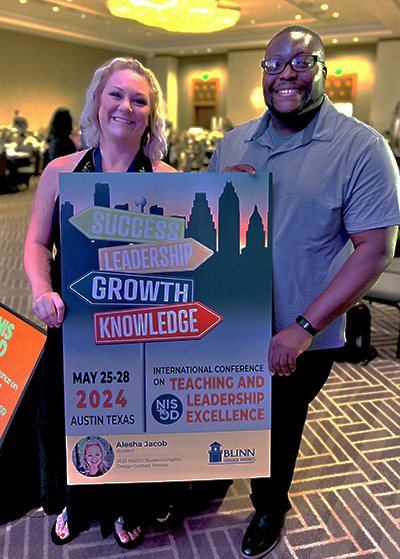 Creating art is everything for Blinn College District graphic design student Alesha Jacob.
"When I create, I feel complete," Jacob said. "Art has always been my escape. It's always been my way of expressing myself."
So, when the 36-year-old Leeds, Ala., resident found out she had won the National Institute for Staff and Organizational Development's (NISOD) 2023 Student Graphic Design Contest for her entry, she felt a sense of joy and validation.
"I can't believe I won!" she said. "It's amazing, absolutely amazing."
Jacob is the first Blinn student to win this award. NISOD is a membership organization that promotes and celebrates excellence in teaching, learning, and leadership at community and technical colleges. Participants were instructed to design a marketing poster for the organization's 2024 annual conference that reflected a fun, bold, original, modern design.
As the winning entry, Jacob received $1,000, a complementary trip to Austin to attend NISOD's 2023 annual International Conference on Teaching and Leadership Excellence, and her artwork will be featured on all promotional materials for NISOD's 2024 conference, including the front cover of the program.
"Alesha is very self-motivated and a very hard worker," Graphic Design Instructor Michael Khama said. "I truly believe that winning the NISOD award could not have gone to a more deserving individual. True passion, understanding, and dedication are engraved in Alesha's compositions."
Jacob designed her winning entry as an assignment for Khama's ARTC 1353: Computer Illustration course. Students were instructed to visit NISOD's contest webpage and follow the organization's guidelines to develop their artwork. Blinn faculty chose a select few student designs from the completed assignments to submit to NISOD for actual contest consideration, with Jacob's work winning the ultimate prize.
A mom of three with her own successful T-shirt and spirit wear business, Jacob was determined to go back to school after taking a break. Blinn's flexible program and supportive faculty provided her with the perfect opportunity to pursue her Associate of Applied Science (AAS) in Graphic Design, which she is on track to complete online in fall 2023. After Blinn, she hopes to transfer into a bachelor's degree program and work as a freelance graphic designer and photographer.
"This whole program and going into the graphic design industry has always been a dream of mine," Jacob said. "As an online student, it's been amazing that I can get a full experience without attending class in person. It's been a long journey, and it's so exciting that I can do something rewarding for myself. It doesn't matter if you're young or old, just follow your dreams."
Blinn's AAS in Graphic Design is a 60-credit-hour program that is available completely online or on the Blinn-Bryan Campus. The program prepares students for immediate entry into the workforce with courses in digital imaging and publishing, computer illustration, web design, typography, digital video and photography, art direction, and an internship. In addition to the AAS degree, Blinn also offers a 42-credit-hour Graphic Design Certificate that can be completed in three semesters as well as occupational skills awards in graphic design and digital photography.
According to the U.S. Bureau of Labor Statistics, graphic designers earn a median salary of $50,710.
After she won the contest, Jacob was approached to design marketing materials for a company that sells medical devices. She hopes her commitment and success will serve as inspiration for her kids and motivate them to follow in her footsteps.
"My husband and I took the kids to the NISOD conference to see my win as a learning experience," said Jacob. "We want them to know that if you chase your dreams and work hard, you get rewards."
For more information about Blinn's Graphic Design and Photography Programs, visit www.blinn.edu/graphic-design-and-photography.
Registration is open for Blinn's summer II and fall 2023 terms. To learn more, visit www.blinn.edu/admissions.
Enjoy this article? Share it with one click!