Blinn College hosts livestock judging practice session for 4-H members
State 4-H Roundup judging contest qualifiers get a chance to hone their skills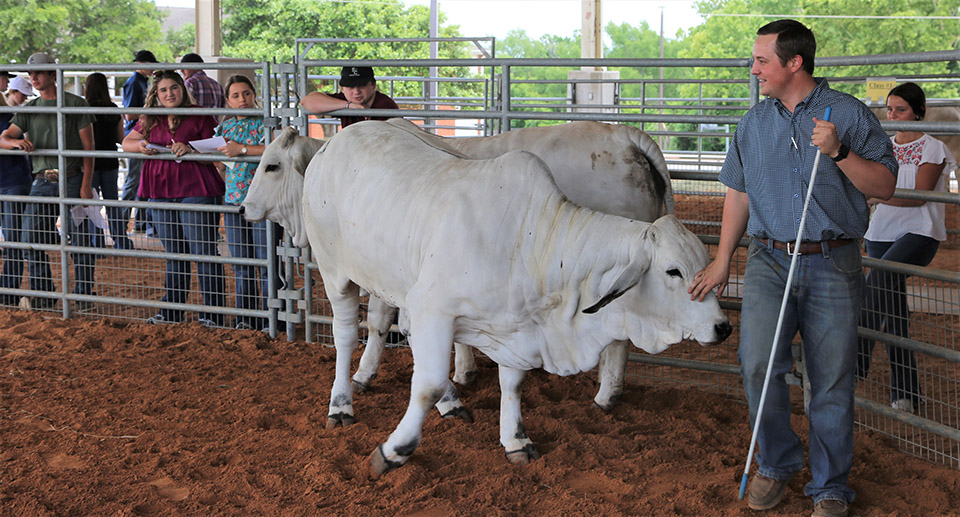 June 8, 2023
The Blinn College-Brenham Campus was a welcome stop for 4-H members headed to the state livestock judging contest.
Blinn's Agricultural Sciences Program hosted a come-and-go mini-camp Monday that drew more than 100 participants who qualified for the State 4-H Roundup livestock judging contest at Texas A&M University.
This year's camp featured Brahman heifers, which were added to the state contest this year for the first time.
"We call it our State 4-H Roundup workout," Blinn livestock judging coach Quest Newberry said. "We had these classes available so they can see the Brahman cattle. They haven't had this class at state before, and Brenham is kind of surrounded by Brahman cattle. They may be coming from other parts of the state and may not be that familiar with the breed."
Two pens of heifers were provided by Salinas Ranch in Carmine and Bullseye Ranch in Burton.
"We're really glad to be able to do this," Newberry said. "It helps the kids practice their judging skills."
Whitney Ingram, a Bell County Extension agent who coaches that county's 4-H livestock judging team, is familiar with Blinn's Agricultural Sciences Program, which is about four times the size of any other two-year agricultural program in the state. Ingram attended Blinn from 2013-14 before transferring to Texas A&M and earning a degree there.
"Quest runs an incredible program. We always make it a point to come here," said Ingram, whose team placed second in the state last year before advancing to Denver, where it won the national title. "We wanted to get the kids ready for the contest, and we get to use the facility as well to practice writing reasons."
Blinn's Agricultural Sciences Program, based at the W.J. "Bill" Rankin Agricultural Complex on the Blinn-Brenham Campus, will host two livestock judging camps later this month. The camps are split by age and skill level to ensure that each student gets a tailor-made experience, said Brice Mund, Livestock Judging Coordinator at Blinn.
"This also gives our coaches the opportunity to work with some of the brightest and most talented young people in the country and for Blinn College to showcase what an incredible place it is for them to go to college."
Both camps quickly filled to capacity after registration was opened. A camp for youths with judging experience will be held June 18-20. The novice camp is scheduled for June 22-24.
Enjoy this article? Share it with one click!