'I just wanted to prove to myself that I can go to college'
For Logan Woelfel, Blinn's Carpentry Program offers a pathway to a college degree and a rewarding career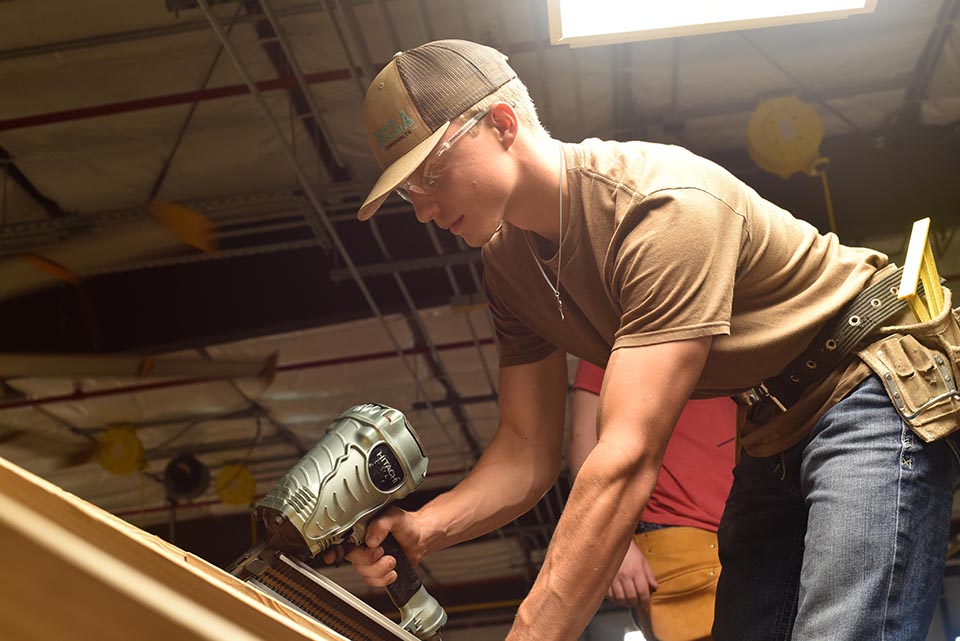 May 8, 2023
Logan Woelfel was working a summer job with a contractor in his hometown of Thrall, Texas, when he came to a sudden realization.
"We were doing remodels and roofing jobs and demolition jobs and I was like, 'You know what? I like doing construction and building houses,'" Woelfel said. "Then I started looking on the internet and I came across Blinn's Carpentry Program and I was like, 'This is perfect for me.'"
Blinn's Carpentry Program offers occupational skills awards and certificates that prepare students for entry-level carpentry positions and an Associate of Applied Science degree that places students on the path to higher-wage management positions in the industry. All Blinn carpentry courses follow the National Center for Construction Education and Research (NCCER) curriculum, a nationally recognized curriculum developed with the cooperation of more than 125 construction CEOs, trade association officials, and academic leaders.
"I just wanted to prove to myself that I can go to college," Woelfel said. "For the most part, it was just proving a point to myself that I can do it and just gaining more knowledge in this field."
Blinn carpentry students can earn their NCCER Core Construction and Carpentry Level 1-4 certifications, as well as Blinn's Occupational Skills Award, Level 1 and 2 certificates, and Associate of Applied Science (AAS). Woelfel is pursuing his AAS degree, which includes courses in construction safety, floor systems, industrial mathematics, exterior finish systems, management, roof systems, interior finish systems, and wall systems. The program also includes internships in building or property maintenance.
"My favorite part is doing hands-on work," Woelfel said. "We'll do an hour of classroom bookwork, and then once we are done with the bookwork we'll come into the shop and actually work on what we learned with hands-on projects. I think that's another reason why I like this degree, because we do get that hands-on experience and we can build it and see our mistakes and learn from doing it."
Woelfel takes classes at the 38,000-square-foot RELLIS Agriculture and Workforce Education Complex on Mondays and Wednesdays, then returns to Thrall to work the remainder of the week, where he finds even more opportunities to apply his newfound knowledge.
"When I go back, I show my boss what I learned in college and I can actually share a few things with him," Woelfel said. "You're always going to learn something. One day, you'll be working on flooring. The next day, you might be working on walls, so you're always finding new things to learn and pick up on. It never gets boring – there's always something going on in the construction world."
According to the U.S. Bureau of Labor Statistics, carpenters earn a median salary of $48,260 per year.
"I don't think jobs ever are going to go away for construction," Woelfel said. "Taylor, the city I live in, within the next year we're going to get about 5,000 houses developed. With that, I just wanted to try and get a head start and that's why I wanted to come to college for this carpentry degree, so maybe one day I can open my own business and have workers work for me to build houses."
For more information about Blinn's Carpentry Program, visit www.blinn.edu/carpentry. For information regarding any of Blinn's skilled trades programs, visit www.blinn.edu/workforce.
Enjoy this article? Share it with one click!