Blinn College-Sealy Campus hosting Preview Day on June 12
Blinn faculty and staff will share information about admissions, academics, and financial aid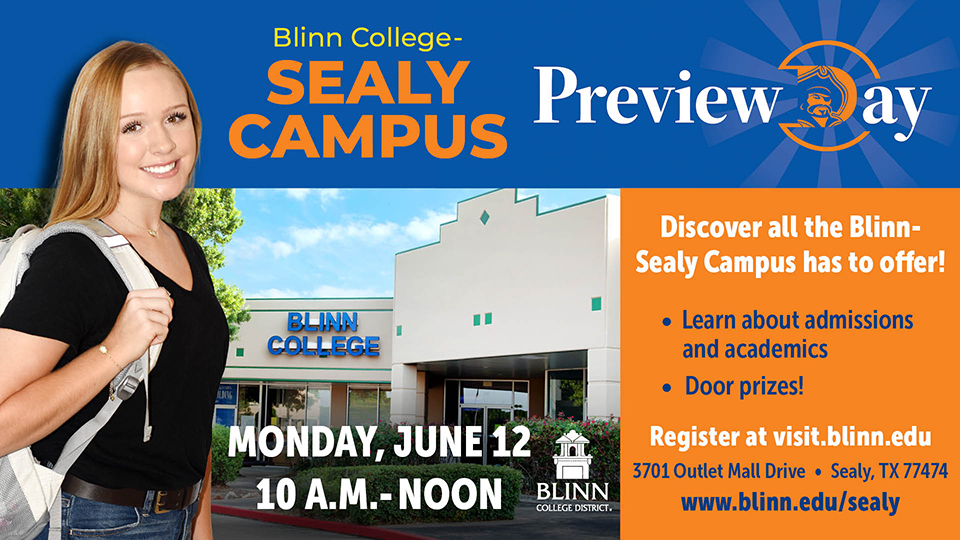 May 31, 2023
The Blinn College-Sealy Campus will host a Preview Day event from 10 a.m. until noon on Monday, June 12, to provide valuable information about admissions, academics, and financial aid.
Designed for prospective students and their families, Preview Day will provide opportunities for students to ask specific questions while also offering general information about the academic core curriculum and Blinn's expertise in helping students complete their foundational courses before transferring to a four-year university. Attendees also will hear from Government Instructor Thaddaus Hill regarding what it's like in a Blinn classroom. Door prizes will be available.
"I am very excited about the upcoming Preview Day and the opportunity it will provide to students in the area," said Lisa Caton, Executive Dean for the Sealy Campus. "Anyone interested in attending Blinn should take advantage of this event to get answers regarding admissions, financial aid and registration."
Students can register for the Sealy Campus Preview Day at https://visit.blinn.edu. For more information, call 979-627-7997.
Enjoy this article? Share it with one click!