29 students from Blinn campuses in Brenham, Schulenburg, and Sealy inducted into national honor society
Ceremony for Phi Theta Kappa inductees was held Saturday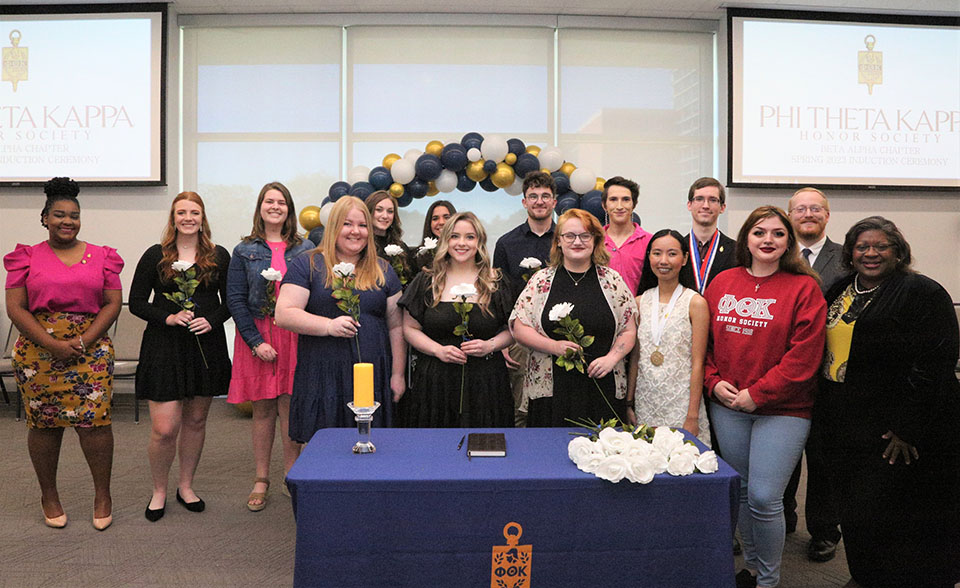 May 2, 2023
Twenty-nine students from Blinn College's campuses in Brenham, Schulenburg, and Sealy have been inducted into the Phi Theta Kappa (PTK) Honor Society.
PTK is the largest honor society in American higher education, with more than 2 million members and 1,200 chapters in the United States, U.S. territories, Canada, and Germany. An induction ceremony was held Saturday on the Brenham campus.
PTK is recognized by the American Association of Community Colleges as the official honor society for two-year colleges. To be inducted, students must have at least a 3.5 grade point average with a minimum of 12 transferrable hours.
New inductees are: Kara Acker, Spring Branch; Isabelle Bass, Allen; Taylor Bearden, Victoria; Grant Brennan, Arlington; Alexander Bull, Brenham; Alexis Burchfield, Waxahachie; Ivan Cardenas, Brenham; Beckett Dalman, Brenham; Alyssa Dewailley, Spring Branch; Matthew Dye, Austin; Carmelia Ellison, Brenham; Abril Garcia, Bellville; Brady Halfmann, San Angelo; Isabel Harmon, Katy; Ethan Hernandez, Houston; Kyle Jones, Bleiblerville; Hope Kalina, La Grange; Bailey Kleiber, San Antonio; Taylor Lara, Austin; Tyann Luedke, Bellville; Felix Mesquita, Bryan; Zachery Moore, Poth; Brandi Phillips, Brenham; Cheyanne Rust, Brenham; Markus Sjolund, Katy; Madeline Stephenson, Orange; Amanda Urban, La Grange; Charis Wirtley, College Station; and Hannah Zgabay, Lexington.
The guest speaker was Alya Mansoor, 2022-23 PTK Texas District V Vice President.
Enjoy this article? Share it with one click!