Blinn's HVAC Program allows Bryan hydraulic systems designer to expand his skill set
Andrew Howell enrolled at Blinn so he could work with refrigeration and expand his job duties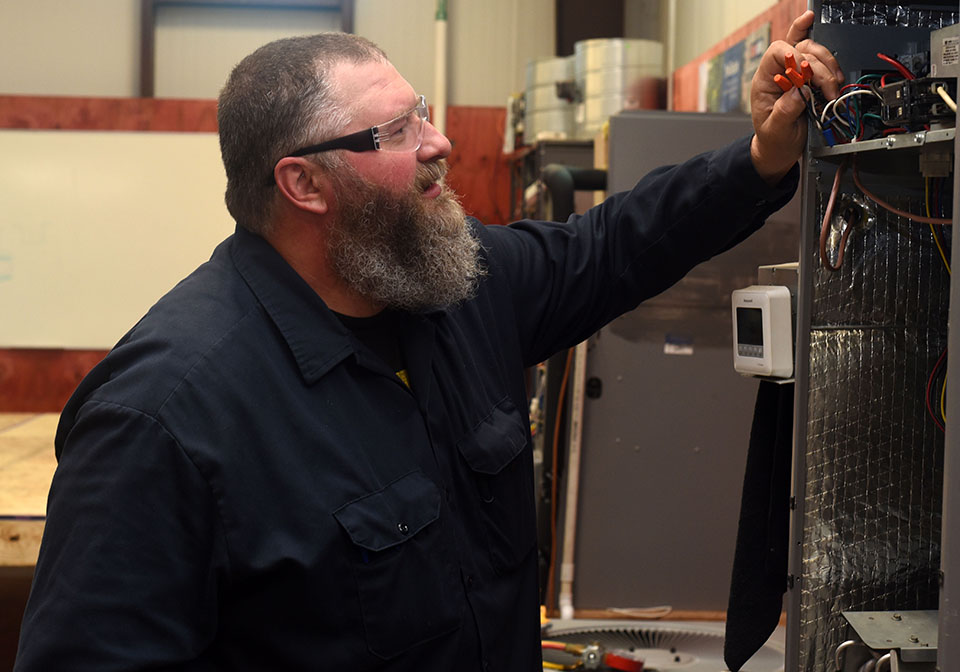 April 20, 2023
Almost 20 years after he graduated from East Texas State University with a bachelor's degree in industrial engineering technology, Andrew Howell didn't expect to find himself back in a classroom.
However, when he had the opportunity to add HVAC skills to his role as the hydraulic systems designer at Dynacon in Bryan, Howell was excited to expand his knowledge base.
"I've always been interested in the refrigeration cycle," he said. "This was just an opportunity to get my hands in there and figure out how it works."
To prepare Howell for an expanded job role, Dynacon offered to pay for an HVAC program that would provide the refrigeration training he needed. He found exactly that in the Blinn College District HVAC Program based at Texas A&M-RELLIS.
Students in Blinn's HVAC Program receive training in the fundamentals of heating, ventilation, and air conditioning; safety; residential and commercial applications; heat pumps; and Environmental Protection Agency recovery certification. All Blinn HVAC courses follow the National Center for Construction Education and Research (NCCER) curriculum, a nationally recognized curriculum developed with the cooperation of more than 125 construction CEOs, trade association officials, and academic leaders.
At Blinn, students can earn their NCCER Construction Core and HVAC Level 1-4 credentials as well as Blinn's Occupational Skills Award and Level 1 and 2 certificates and Associate of Applied Science (AAS) degree in HVAC. Howell is pursuing his Level 2 certificate and said he likely will apply those credits toward the AAS degree.
"The instructors are great," Howell said. "They have been in the industry for a very long time and they have a mountain of knowledge that we can pull from. They have been there and done that, so anything we can think of, they have either seen or had their hands on."
According to the U.S. Bureau of Labor Statistics, HVAC professionals earn a median salary of $48,630 per year and employment demand is expected to grow 5% between 2021 and 2031.
Howell, who is working for Dynacon while completing Blinn's HVAC Program, has been able to continue working full-time while enrolled. Once he earns his certification, he will be positioned for an expanded role that includes refrigeration in addition to his current duties.
"I had been out of the classroom for a while, as you can see, so coming back into the education field and seeing what they are teaching and that it's aligning with current standards that I'm seeing out there in industry, it's pretty awesome," Howell said.
"I would recommend any of the trade studies here at Blinn. HVAC is a good one, but there are several others. I know that the industry at large is short on trade skills, so any of them is a good one right now. You're never going to be looking for a job. There's always work out there for a skilled laborer."
For more information about Blinn's HVAC Program, visit www.blinn.edu/hvac. For information regarding any of Blinn's skilled trades programs, visit www.blinn.edu/workforce.