Blinn to host its inaugural Housing Showcase on Tuesday, April 11
Blinn's College Park Apartments and Mill Creek, Prairie Lea, and Wheeler halls will be open for tours from 3-6 p.m.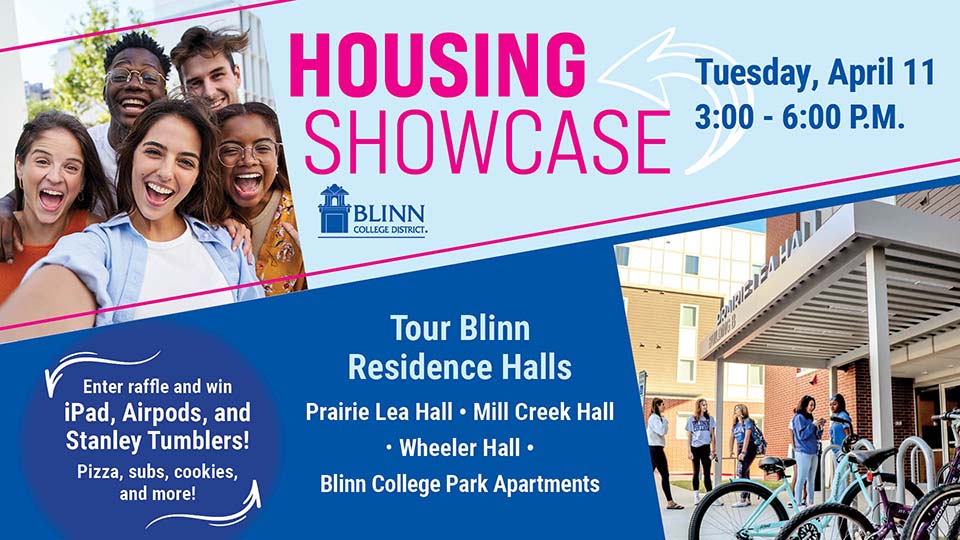 April 6, 2023
The Blinn College District invites students and their families to explore four of the College's largest campus housing options at its inaugural Housing Showcase on Tuesday, April 11.
Taking place from 3-6 p.m. on the Brenham Campus, the Showcase will give students and their families the opportunity to tour Blinn College Park Apartments, Mill Creek Hall, Prairie Lea Hall, and Wheeler Hall. Students who tour all four facilities and complete their housing application will be entered into a raffle where they can win prizes, including an iPad, a set of AirPods, and Stanley tumblers.
"Residence halls truly are the home away from home for our students," said Mike Scoch, Director of Residence Hall Operations. "The Housing Showcase allows current and future students to explore their housing options and find the perfect residence hall for the upcoming year."
Advance registration is not required and students may begin at any of the four housing options participating in the Showcase:
Blinn offers 12 campus housing options, all of which are located on the Brenham Campus. With accommodations for approximately 2,000 student residents, Blinn offers more campus housing than any other community college in the State of Texas.
For more information regarding Blinn's campus housing options, including an interactive map, visit www.blinn.edu/housing. A printable campus map is available at www.blinn.edu/maps.
Enjoy this article? Share it with one click!