Blinn College District Ag Mechanics Projects Show to be held Wednesday, April 26
Hundreds of innovative projects will be shown at the annual contest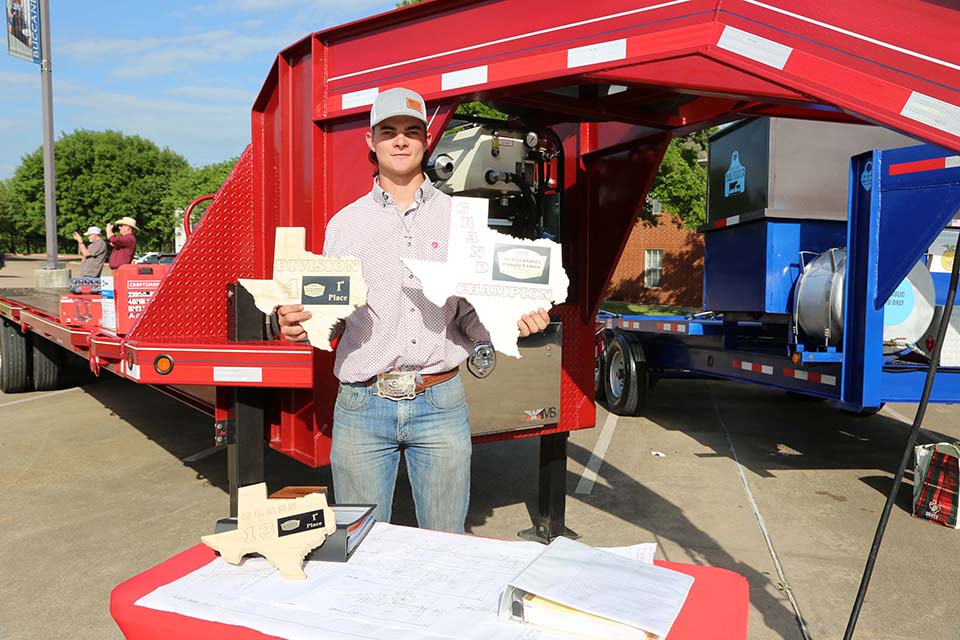 April 17, 2023
Ben Burroughs sees the future at every Blinn College District Ag Mechanics Projects Show.
A Blinn Agricultural Sciences professor who has been superintendent of the show since 2019, Burroughs says he's has been amazed by the quality and innovation of entries at the annual Project Show. This year's contest will be held Wednesday, April 26, at the W.J. "Bill" Rankin Agricultural Complex, 1409 Old Mill Creek Road on the Blinn-Brenham Campus (map) . It is open to FFA students and 4-H members.
Judging begins at 10 a.m. and exhibits will be open for public viewing at that time. Entry forms and more information are available at judgingcard.com/Registration/Info.aspx?ID=14892.
Burroughs said he expects this year's show to draw more than 160 projects.
"Every year, the students who build these projects raise the innovation bar," he said. "It already has been set to a very high level, but each year the systems, welding abilities, construction, and presentations keep getting better. Some of the projects are mind-blowing, and visitors I have spoken with cannot believe that high school students are building them."
The show also features welding and cutting competitions where high school students can demonstrate their skills. This year, 60 students will compete in welding and 80 in cutting. The welding contest begins at 10:30 a.m. and the cutting competition at 1:30 p.m.
Registration for projects is open through April 14. Late registration is open April 15-25.
"It should be a great event and we are looking forward to all the participants seeing our beautiful Brenham Campus," Burroughs said. "No matter how simple or complex the project, every one is built by students who are improving the world we live in and will lead the way into the future. Their passion, drive, imagination, and abilities set them apart from their peers and give us a bright future."
More information is available by contacting Burroughs at ben.burroughs@blinn.edu or calling 979-830-4266.
Blinn's Agricultural Sciences Program is approximately four times the size of any other two-year agricultural program in the state and is based at the W.J. "Bill" Rankin Agricultural Complex on the Blinn-Brenham Campus. For more information, visit www.blinn.edu/agricultural-sciences.
Blinn's Agricultural Sciences Program offers a variety of courses leading to Associate of Science in Agriculture and Associate of Science in Agricultural Business degrees. Courses include several concentrating on ag mechanics such as power units and construction.
The College also sponsors an Agricultural Mechanics Club that allows students to work on projects in a state-of-the-art facility and an Ag Club that is open to members majoring in an ag-related field. The Ag Club focuses on various areas of agriculture and allows students to explore specific interests, including ag mechanics, animal science, plant science, wildlife, and ag business.
Enjoy this article? Share it with one click!