Blinn-Brenham Theatre Arts Program concludes 2022-23 season with 'Ladies at the Alamo'
Comedy will be staged April 27-30 at O'Donnell Performing Arts Center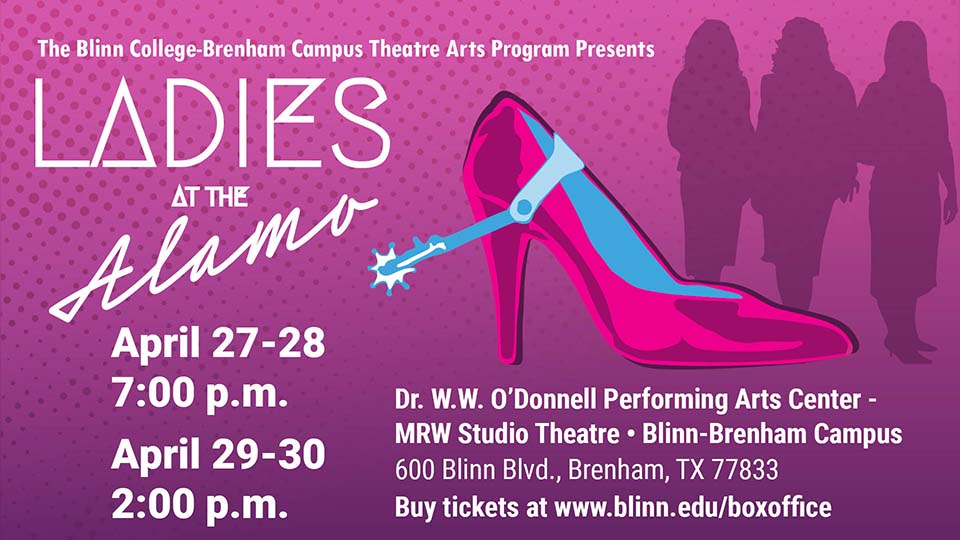 April 18, 2023
The Blinn-Brenham Theatre Arts Program will close out its 2022-23 season with the comedy "Ladies at the Alamo."
"Ladies at the Alamo" will be staged at 7 p.m. Thursday and Friday, April 27-28, and 2 p.m. Saturday and Sunday, April 29-30, at the Dr. W.W. O'Donnell Performing Arts Center (600 Blinn Blvd. in Brenham). Ticket information is available at www.blinn.edu/boxoffice.
The play is a freewheeling comedy set at the Alamo Theatre in Texas City, Texas. Theatre Arts Professor Brad Nies, who directs the play, called it "part 'Steel Magnolias' and part 'Designing Women.'"
"The magic of the theatre is alive and well at the Alamo Theatre," said Nies, "but when the leadership of Dede Cooper, artistic director for the theatre, is challenged by the Board Chair, a rich and powerful woman in the community, Dede is forced to outwit her foe. This hilarious comedy comes complete with verbal skirmishes, shocking revelations, and battle scars that take a long time to heal."
Cast members are Lilly Marrs as Dede Cooper, Y'Lila Willis as Bella Gardner, Benedite Trecy as Joanna Remington, and Fabian Carrasco, Josiah Fernandez, and Maygen Meadows as offstage voices. Cast understudy is Maygen Meadows.
Crew members are Jayden Peavy, stage manager, dramaturg, and properties; Steve Torres Jr., assistant stage manager, dramaturg, and properties; Bianca O'Neal, student scene designer; Luke Parker, student costume designer; Garrison Rutledge, student lighting and sound designer; and Samantha Nolen, student makeup designer.
Kevin Patrick, Technical Theatre Arts Director, will provide technical direction. Theatre Arts Instructor Jennifer Patrick will head costume, makeup, and hair.
Blinn's Theatre Arts Program cultivates a quality educational foundation of study, application, and experience through a wide range of performance, technical, and production studies. Its Associate of Arts degree plan integrates artistic, technical, and academic disciplines of theatre from the classroom to the stage. Students have an opportunity to audition for a variety of performances related to drama and theatre and are prepared to transfer to four-year colleges and universities.
For more information, visit www.blinn.edu/theatre.
Enjoy this article? Share it with one click!