Blinn Vocational Nursing Program announces student information sessions
Zoom sessions scheduled for April 19, May 3, June 7, July 5, and Aug. 9 as face-to-face program expands to include new spring cohort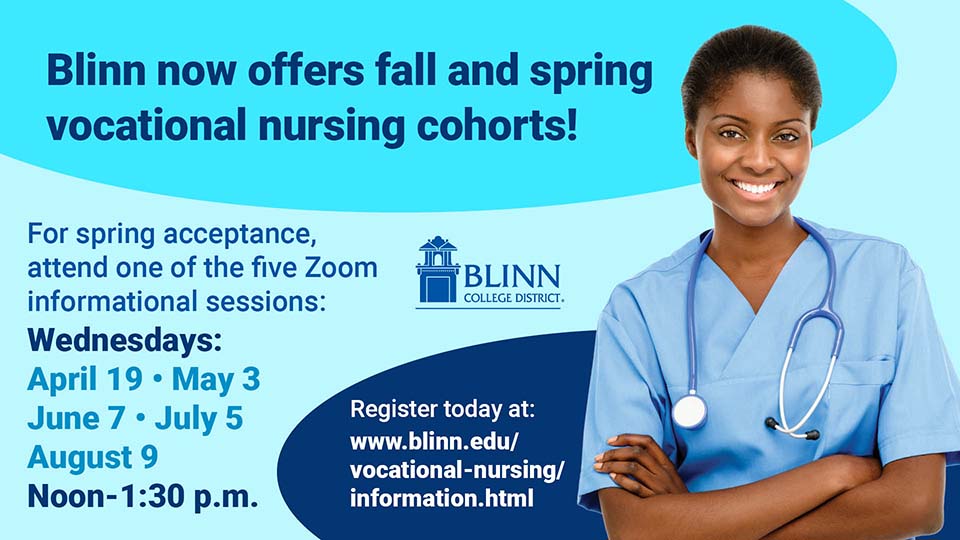 March 30, 2023
The Blinn College District's expanded Vocational Nursing Program will host five virtual information sessions in the coming months.
Each of the 90-minute Zoom sessions will provide information on the traditional vocational nursing program that will begin in the spring of 2024.
Topics include nursing as a career, Blinn's admission criteria and requirements, required tests and immunizations, licensure eligibility, degree plans, and the application process for admission.
Information sessions are scheduled from noon-1:30 p.m. on Wednesday, April 19; Wednesday, May 3; Wednesday, June 7; Wednesday, July 5; and Wednesday, Aug. 9.
More information and registration forms are available at https://www.blinn.edu/vocational-nursing/information.html.
"This is the first year we are able to offer the traditional face-to-face program in the spring, so we are excited to provide applicants with more opportunities to apply to the Vocational Nursing Program," said Program Director Dr. Michelle Marburger. "The spring cohort will continue its education through the year and graduate in December. We also will continue to offer the face-to-face program with the blended/online program each fall semester."
According to the Texas Higher Education Coordinating Board, almost 98% of Blinn's graduates from the program during the past three years have found jobs in the profession. According to the U.S. Bureau of Labor Statistics, the 2021 annual median pay for a vocational nurse was $48,070.
Program graduates are eligible to take the National Council Licensure Examination (NCLEX-PN) and the Nursing Jurisprudence Examination and are considered licensed vocational nurses after passing both exams.
Enjoy this article? Share it with one click!