Blinn inducts 104 Bryan Campus students to national honor society
To earn membership, Phi Theta Kappa inductees must earn a 3.5 GPA with 12 transferable credit hours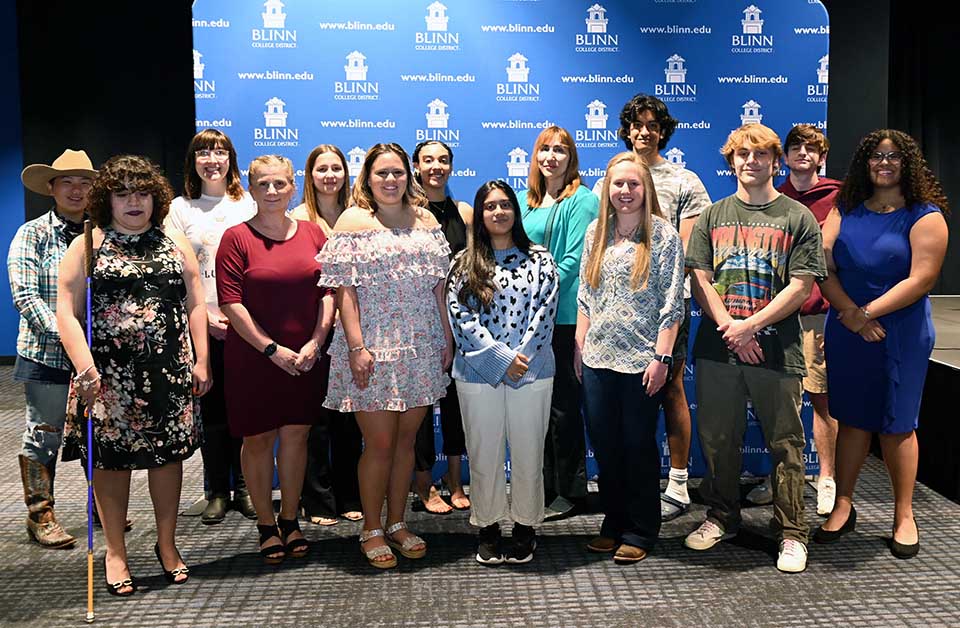 March 6, 2023
The Blinn College-Bryan Campus Alpha Phi Lambda Chapter of the Phi Theta Kappa (PTK) Honor Society recently inducted 104 students during a ceremony in the Blinn-Bryan Student Center.
PTK is the premier honor society recognizing the academic achievements of students at associate degree-granting colleges. To be inducted, students must have at least a 3.5 grade point average with a minimum of 12 transferrable hours. The society is comprised of more than 3.8 million members, with almost 1,300 chapters in 11 countries.
"These students are dedicated scholars who reflect a passion for learning and a commitment to achieving their educational goals at Blinn and beyond," Blinn-Bryan PTK Co-Advisor Melissa Meek said. "Involvement in PTK helps our students grow academically, think critically, and engage with their peers, which will benefit them as they continue their studies or embark on their careers."
Blinn-Bryan inductees include: Maggie Akers (Dripping Springs), Ryan Alexander (College Station), Giuseppina Alford (College Station), Ryan Amyx (Spring), Phillip Barnwell (College Station), Isabella Barrera (Montgomery), Gloria Bartolomei (Eglin Air Force Base, Fla.), Rebecca Batchelor (Boerne), Audrey Baugh (Tyler), Reagan Berkenmeier (Friendswood), Steven Boll (Spring), Garrett Bowen (College Station), Isabella Braun (Round Rock), Jenny Breaux (Pearland), Austyn Brown (Baytown), Noah Campbell (Katy), Joseph Caron (Katy), Morgan Cashon (Southlake), Keiara Castle (College Station), Autom Chaplin (Caldwell), Fenfang Chen (College Station), Elizabeth Craig (Allen), Callie Crapitto (Houston), Heather Crockett (College Station), Chelsie Curry (Okemos, Mich.), Ryan Davis (College Station), Jack Denny (Houston), Grant Draper (Houston), Caleb Elarabi (College Station), Taryn Everett (Boerne), Joy Falkinburg (Bedias), Bridgette Foit (Katy), Seryna Garza (College Station), Arden Gisler (Runge), Jennifer Glenn Burris (College Station), Devin Glorioso (San Antonio), Aubria Guilloud (Pottsboro), Emma Haas (Conroe), Justin Hager (College Station), Charlotte Hale (Decatur), Kaylee Hansen (Katy), Clancey Harpin (College Station), Wesley Haynie (Bryan ), Easton Hays (College Station), Reagan Hellberg (College Station), Matilde Hinojosa (College Station), Brett Houghton (Bryan), Alesha Jacob (Leeds, Ala.), Luke Johnson (Kingwood), Luke Johnstone (Friendswood), Alexandra Kilgore (College Station), Christie Koerth (Missouri City), Victoria Kuchera (Spring), Ashlynn Kyle (Midlothian), Taylor Land (Longview), Sarah Leach (Houston), Blaise Lindsey (Spring), Lalantika Malli Sh (Bryan), Stephanie Martinez (Bryan), Luke Mayhew (Austin), Karina Medina (Navasota), Kamryn Melton (Murphy), Braeden Miller (Bryan), Jordan Milliorn (Forney), Shelby Miracle (Pattison), Kaylie Miska (Wharton), Alyssa Mitchell (Greenville), Avery Mitchell (Cypress), Mary Mitchell (Fort Worth), Connor Monroe (Lantana), Tatum Moore (College Station), Jorge Moreno Olivas (College Station), Abigail Murff (Crosby). Morgan Nishimi (League City), Hallie Ohiggins (Boerne), Christopher Pham (Fulshear), Tyler Pham (Houston), Perry Pope (Houston), Ella Porter (San Antonio), Korbyn Raesch (College Station), Isabela Ramirez Jaramillo (College Station), Charlize Reid (Cypress), Josephine Riffe (Bryan), Matias Rosenberg Callejas (College Station), Erich Sachtleben (Houston), Wade Sarman (Bryan), Travis Sauceda (Round Rock), Emma Schimmel (The Woodlands), Jake Sellers (Round Rock), Abigail Simmons (Brookshire), Carlos Socorro (College Station), Peter Steelman (Houston), Bernardo Suarez (College Station), Michael Swan (Highland Village), Abigail Thurton (College Station), Avery Tindall (Magnolia), Leah Tolan (College Station), Justin Turner (Pearland), Abigail Twyman (Liberty Hill), Ritvik Vasikarla (Austin), Kathryn Vaughan (Florence), Noah Vaughn (Peoria), Bella Villalpando (Liberty Hill), Brooklyn Waldrop (College Station), Gunnar Walker (New Braunfels), Ashley Wall (Bryan), Lindee Watson (College Station), Dena Weisinger (Caldwell), Cathy Whisenant (College Station), Shannon Wickes (Lincoln, Neb.), Cordell Willaims (Kingsville), and Emily Wilson (League City).
"If you put in the work, time, and effort, anything you want to achieve is possible," said education major and PTK co-president Mari Ramos. "After Blinn I'd like to transfer to Stephen F. Austin State University (SFA) at Texas A&M-RELLIS and earn my bachelor's degree in education and hopefully continue on at SFA to get my master's and get certified to teach students who are blind and visually impaired."
Registration is open for Blinn's 8-week spring 2023 courses that start March 20. For enrollment or financial aid information, visit www.blinn.edu.
Enjoy this article? Share it with one click!