Blinn College students selected to All-Texas Academic Team
Grant Mahlmann of Brenham selected to receive Coca-Cola Academic Team Gold Scholarship
March 31, 2023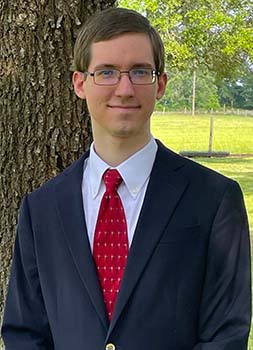 Grant Mahlmann, a student and member of the Phi Theta Kappa (PTK) honor society at the Blinn College-Brenham Campus, has been named a 2023 Coca-Cola Academic Team Gold Scholar and recipient of a $1,500 scholarship.
Mahlmann, a sophomore accounting major from Brenham, was one of only 50 students nationwide selected for the scholarship. He is secretary of PTK's Beta Alpha Chapter at Blinn-Brenham.
Education major Katelyn Sassin, representing the Blinn-Bryan Campus Alpha Phi Lambda chapter of PTK, also was named to the All-Texas Academic Team.
The Coca-Cola Scholars Foundation sponsors the Coca-Cola Academic Team program, recognizing 50 Gold, 50 Silver, and 50 Bronze scholars with almost $200,000 in scholarships annually. The Coca-Cola program received more than 2,400 applications this year.
Mahlmann and Sassin will be inducted into the prestigious All-Texas Academic Team. A medallion ceremony hosted by the University of Texas System and the Texas Association of Community Colleges will be held Thursday, April 6, at the University of Texas at Dallas.
Among those planning to attend is Dr. Marcelo Bussiki, the Blinn College District Vice Chancellor for Academic Affairs. In 2022, Bussiki received PTK's Distinguished College Administrator Award for his work to support high-achieving Blinn students.
Mahlmann said he was honored to receive the scholarship.
"It's a testament to all the hard work and dedication that I have given to my academics and the Phi Theta Kappa Honor Society," he said. "Because of this scholarship, I can further my studies at a four-year university and pursue my degree in accounting."
Mahlmann was inducted into the Beta Alpha Chapter in the fall of 2021 and has served as chapter secretary for two years. He was inducted into the PTK District V Hall of Honor in the spring of 2022 for his leadership and service to the organization. He also is president of the local Compass Club.
"We're very proud of Grant," said Dillon Phipps, co-advisor to the Beta Alpha Chapter. "He is a hard-working, service-minded young man, and we are excited to see that spirit of service rewarded in this scholarship."
Students are nominated for the academic team by their college administrators. Selection is based on academic achievement, leadership, and engagement in college and community service.
"We are proud to partner with Phi Theta Kappa to make it possible for more deserving students to achieve their educational goals and support tomorrow's leaders of the global community," said Jane Hale Hopkins, President of the Coca-Cola Scholars Foundation.
The Foundation awards $3.55 million in scholarships annually through three nationally recognized programs.
More information about Blinn's PTK chapter and other student organizations is available at www.blinn.edu/student-leadership-activities.
Enjoy this article? Share it with one click!