Blinn College-Schulenburg to host Preview Night Wednesday, April 19
High school students and their families can tour campus and learn about financial aid, scholarships, and academic programs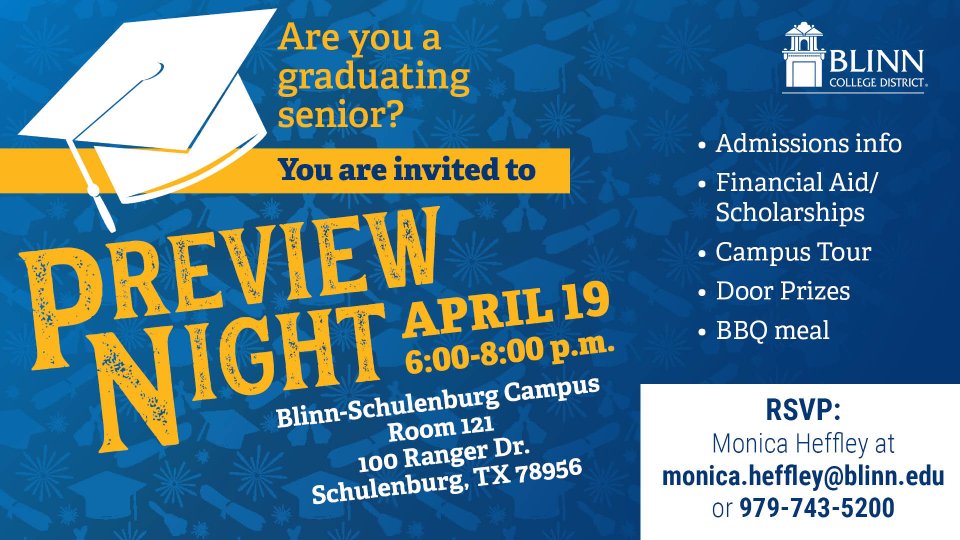 March 29, 2023
Area high school students are invited to learn about all that the Blinn College-Schulenburg Campus has to offer at Preview Night on Wednesday, April 19.
Information regarding admissions, financial aid, and scholarships will be available from 6-8 p.m. in Room 121 on the Schulenburg Campus, 100 Ranger Drive. Guests will receive door prizes and a barbecue meal, and tours of the campus also will be provided.
"This is a wonderful opportunity for area high school students, particularly those graduating this year, to ask questions and learn more about the programs which Blinn has on the Schulenburg Campus," said Executive Dean Dr. Becky Garlick. "We offer a variety of workforce training programs and community education enrichment classes with low student-to-teacher ratios."
Degree and certificate programs on the Schulenburg Campus include anthropology, arts, business, certified medication aide and renewal, certified nurse aide, communication studies, CPR/first aid, criminal justice, early childhood education, economics, education/teaching, electrical technician, English, geography, history, liberal arts, paralegal, philosophy, psychology, and sociology.
Blinn transfers students to four-year universities at a higher rate than any community college in the state, and Blinn students save approximately 40% in tuition and general fees compared to the average state university.
To RSVP for Preview Night, contact Monica Heffley at monica.heffley@blinn.edu or call 979-743-5200. Registration for the May minimester and the summer and fall semesters opens to new students on Monday, April 3.
Enjoy this article? Share it with one click!