Blinn celebrates its 140th anniversary
Former president Dr. Donald Voelter and former trustees help the College celebrate historic milestone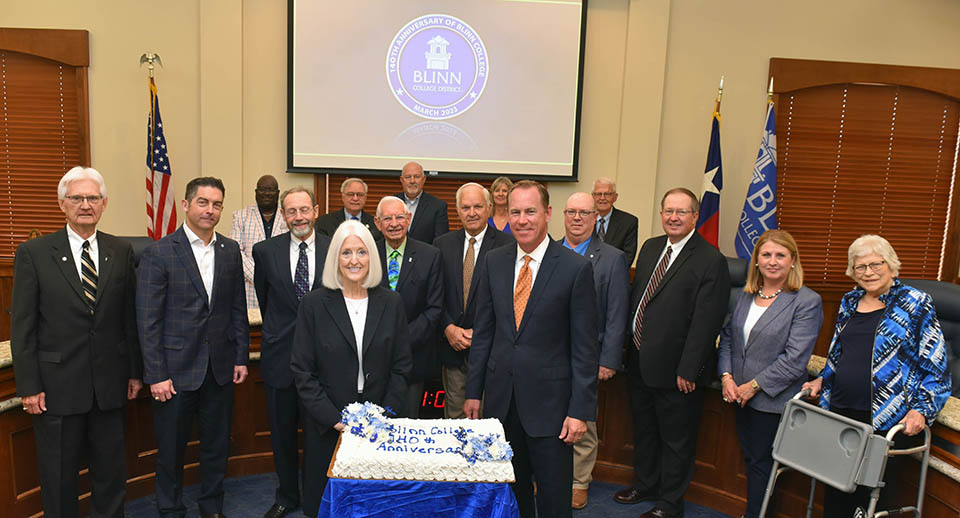 March 7, 2023
The Blinn College District celebrated 140 years of service to its community Monday during its March Board of Trustees meeting.
To celebrate Blinn's 140th anniversary taking place on March 28, the College invited Dr. Donald Voelter, who served as Blinn College's 12th president from 1994 through 2009, to give a presentation regarding the College's history. College officials also invited former trustees to share recollections of their tenure on the board.
In addition to the seven members of the current board, 10 former trustees were in attendance and others sent messages to mark the occasion. Voelter's presentation showed the ways in which Blinn grew from three students during its initial class in 1883 to more than 17,000 students across five campuses.
The board also approved tuition and fee rates for the 2023-24 fiscal year. The new rates, which take effect in the fall 2023 semester, include a $63 per credit hour rate for in-district students, a $122 per credit hour rate for out-of-district students, a $278 per credit hour rate for non-residents, and a $77 per credit hour general fee.
This represented a $2 increase in general fees and in-district and out-of-district tuition and a $1 increase in the non-resident tuition rate. The board also approved new housing, food service, and auxiliary fee rates.
According to the Texas Higher Education Coordinating Board's CollegeForAllTexans.com, Blinn's current tuition and general fee rates save students 39.6% compared to the average state university. Blinn students also have access to more than 300 endowed scholarships through a single application available at www.blinn.edu/scholarships.
In other business, the board authorized the College to negotiate and execute contracts for:
roof tile and façade repairs at the Old Main Building, Parking Lot K expansion, and storm-related damage to Blinn College Park Apartments Buildings 5, 6, and 7 on the Brenham Campus;
valve replacements and building automation system upgrades for Buildings G and H on the Bryan Campus;
and custodial services on the Brenham, Bryan, and RELLIS campuses.
Enjoy this article? Share it with one click!