Blinn livestock judging team wins title at San Antonio Stock Show and Rodeo
Avery Oliver places second among individual entrants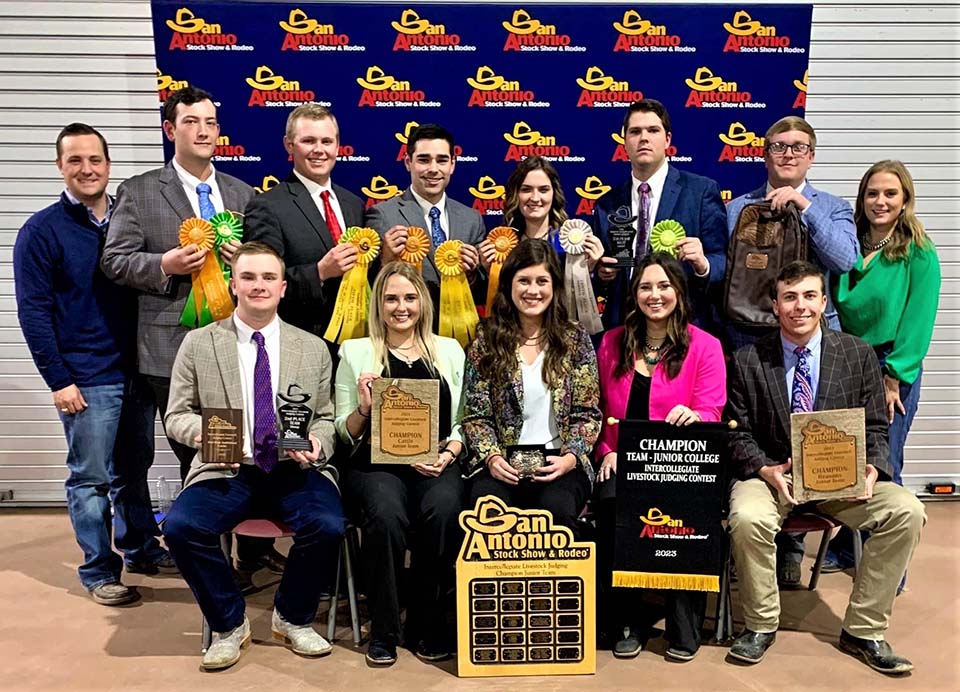 February 27, 2023
Buoyed by three individuals who placed in the top 10, the Blinn College livestock judging team won the junior college division at this year's San Antonio Stock Show and Rodeo.
Blinn totaled 4,605 points Saturday, with Butler Community College second at 4,535 points. As a team, Blinn placed first in cattle and reasons, second in sheep, third in swine, and 11th in goats.
Avery Oliver led Blinn as the second-high individual with 935 points. Oliver placed first in reasons (370 points), fourth in swine (290 points), 10th in sheep (188 points), 11th in goats, and 38 th in goats.
Blinn's Kendahl Nix placed eighth overall with 922 points, including placing fifth in sheep and eighth in cattle. Weston McElroy placed 10 th with 921 points and Gunner Coburn was 11th overall with 919 points.
The win in San Antonio adds to Blinn's recent successes, following a second-place finish at the Dixie National Collegiate Beef Judging Contest and first at the Fort Worth Stock Show & Rodeo Intercollegiate Livestock Judging Contest.
At Dixie National, Blinn's freshman team won the overall title in that division by 70 points.
"Our teams have dedicated themselves to improving this season, and the results reflect that," livestock judging team coach Quest Newberry said. "Their successes are the result of the time and effort they have invested."
Two former members of the Blinn team also had high finishes at San Antonio. Kase Leroy, now attending Texas Tech University on a livestock judging scholarship, was first among colleges and universities with 964 points. Kevin Jendrusch, now a member of the Texas A&M University livestock judging team, was 10th overall with 940 points.
Blinn's Agricultural Sciences Program has one of the most active extracurricular programs in the state, including livestock judging, Agriculture Club, wildlife, agriculture mechanics, and horticulture.
Blinn offers agriculture classes on all its campuses, with the W.J. "Bill" Rankin Agricultural Complex on the Brenham Campus serving as the program's hub.
To learn more about Blinn's Agricultural Sciences Program and the livestock judging team, visit www.blinn.edu/agricultural-sciences.
Enjoy this article? Share it with one click!