Blinn College freshman livestock judging team grabs first place at Dixie National
Kinsey Gardner is second-high individual at competition in Jackson, Miss.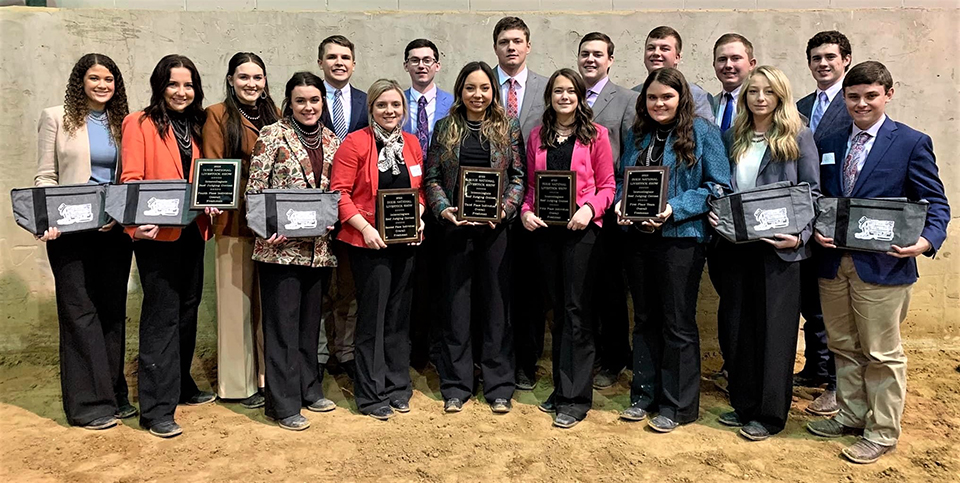 February 15, 2023
Blinn College's freshman livestock judging team dominated the Dixie National Collegiate Beef Judging Contest, winning the overall title by 70 points and placing five individuals in the top 10 in that division.
Blinn compiled 4,627 points at the contest in Jackson, Miss. The Eastern Oklahoma State College freshman team placed second with 4,557 points.
Blinn's sophomore team compiled 4,675 points to place second overall. Lake Land College was the top team in that division with 4,681 points.
"Winning by 70 points is a huge margin in our sport," Blinn livestock judging coach Quest Newberry said of the freshman team. "I'm very proud of all of our students and the way they performed at this contest, which is one of the most prestigious livestock judging events in the country. They've put in a lot of hard work and steadily improved."
Blinn is No. 4 this week among junior colleges in livestockjudging.com's power rankings.
Kinsey Gardner of Blinn placed second in the freshman division with 931 points. Other freshmen were: Thalia Ochoa, third, 930 points; Steele Kenney, fourth, 929 points; Devyn Gaff, fifth, 925 points; Weston Hinze, seventh, 923 points; Bryson Stone, 12 th, 919 points; and Samuel Belt, 24th, 905 points.
Dax Delozier, Holly Alderson, Tanna Thiel, Dylan Hartman, Brooke Bimslager, Bella Chandler, and Blane Warnken also competed for Blinn.
In the sophomore division, Weston McElroy totaled 947 points to finish as the second-place individual.
Other individual placings for Blinn were: Gunner Coburn, fourth overall, 945 points; Kendahl Nix, fifth, 945 points; Taylor Turner, 12th, 927 points; Ethan Sanchez, 20th, 916 points; Cade Anderson, 23rd, 911 points; Keilee Day, 24th, 910 points; and Brady Halfmann, 28th, 907 points.
Blinn offers agriculture classes on all its campuses, with the W.J. "Bill" Rankin Agricultural Complex on the Brenham Campus serving as the program's headquarters.
Blinn's Agricultural Sciences Program has one of the most active extracurricular programs in the state, including livestock judging, Agriculture Club, wildlife, agriculture mechanics, and horticulture.
Blinn's sophomore team
Enjoy this article? Share it with one click!