Blinn College District courier Doy Keeton excited for release of football board game
Blinn-Brenham Small Business Development Center helps with fine-tuning, production of Sideline Strategy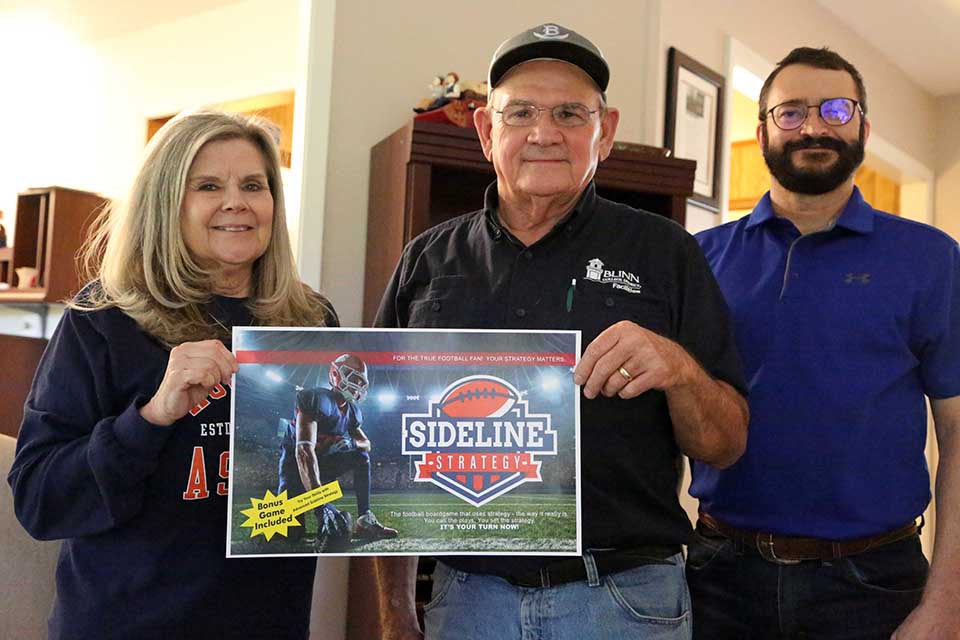 February 9, 2023
Blinn College District courier Doy Keeton's board game has been a labor of love, a story of determination, and a long time coming.
Keeton, a courier on the Brenham Campus who has been with the College for 12 years, has finally seen the football board game he spent years developing make it to stores. "Sideline Strategy" is now available after a string of lucky coincidences, what he calls a touch of divine intervention, and expertise from the Blinn College Small Business Development Center (SBDC).
Keeton, a football fan who admits his football playing days ended "when I got clobbered in the ninth grade," started developing his board game more than 20 years ago. He made some marketing attempts with his initial game, even writing a letter to famed Dallas Cowboys coach Tom Landry about endorsing it. Landry politely declined in a return letter, saying he didn't offer endorsements at that time.
Keeton eventually put the game aside. Years later, in August 2018, he found it again after he and his wife Linda sold their house.
"I ran across part of the game – one of the play sheets," he said. "I thought, 'You know what? I'm going to give it one more shot.'"
In February 2019, he went to the Blinn SBDC to ask for help. Business Advisor John Tatum and Client Coordinator Layla Barrett offered their expertise.
"They said, 'Let's see what you've got. Maybe we can help,'" Keeton said.
Tatum and Barrett urged Keeton to refine his game, which mimics a National Football League game using dice, offensive and defensive play sheets, and success/failure rates which he developed for every play. Then last February, Keeton fell and fractured his kneecap.
"I was off about 10 or 11 weeks, sitting in a recliner watching 'The Bold and the Beautiful' with my wife," he said. "I asked myself, 'Why are you wasting this time in recovery, watching a soap opera?'
"That's when I started playing the game by phone with my two brothers. I texted them, kept track of the plays, and the more we played, the better it got."
For Keeton, that time spent playing with his brothers was just as important as the improvements made during the countless hours they spent playing the game. On Aug. 5, his brother Gary passed away.
"The last game before he died was probably the best one we'd ever played," Keeton said. "He won on the last play with a field goal. We never played again after that. I knew then that we were close to a finished product."
At the time of Keeton's injury, production ground to a halt as they searched for a company that would affordably manufacture a simple but vital component – the box.
"We were really stuck just trying to find a simple box," Tatum said.
Barrett found a Sealy-based company called Visual Promotions that agreed to supply 50 boxes at a price that made production feasible. Additionally, Ted Dean of Tru-Vision Plastics Inc. helped solve a plastic components problem and James Bethany designed the logo for no charge.
"I thank God for bringing a lot of good, caring people into my life to help make a dream come true," he said. "My wife Linda was always there to encourage me when I would suggest giving up. She's been unbelievable. She could tell when I was discouraged and would say 'Sideline Strategy – the best game never sold.' We'd hit a bump in the road and we would find a way around it."
Keeton showed his game to Blinn head football coach Ryan Mahon for his reaction, and Mahon said he is a big fan of "Sideline Strategy."
"I think it's a lot of fun. I've never seen anything like it," Mahon said. "It's very realistic, very competitive, very accurate. I can't wait to play it again. It's obvious he spent a lot of time coming up with the different outcomes."
The game is available at Barnhill House, a toys and games store in Brenham, and Brenham Toy Co. Keeton also has asked the bookstores at Blinn's Brenham and Bryan campuses to carry the game. "Sideline Strategy" is also available online on Facebook (search for "sidelinestrategyfootball").
The Blinn College Alumni and Friends Association and the Buccaneer Alumni Lettermen are featuring the game during a silent auction at the organizations' annual Clay Shootout on Friday, April 14.
"We're proud to be showcasing longtime Blinn employee Doy Keeton's 'Sideline Strategy' at the annual Shootout," said Susan Myers, Executive Director of the Blinn College Foundation.
The Blinn College SBDC is a business advising and training center of the University of Houston Texas Gulf Coast SBDC Network serving 32 counties in Southeast Texas. The SBDC program is funded in part through a cooperative agreement with the U.S. Small Business Administration.
To discover how the Blinn SBDC can help your small business, call 979-830-4137 or visit www.blinn.edu/sbdc.
Enjoy this article? Share it with one click!