Blinn College-Brenham Theatre Arts Program to stage 'Vinegar Tom' Feb. 16-19
Powerful play tells story of two farm women accused of witchcraft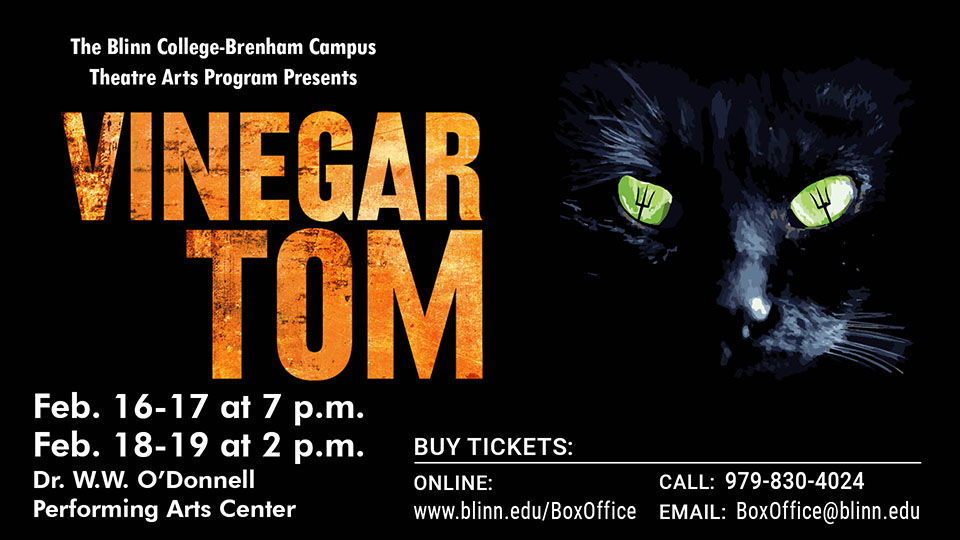 February 7, 2023
"Vinegar Tom," a tale of 17th-century witch hysteria and the fear of female empowerment, will be the next production of the Blinn College-Brenham Campus Theatre Arts Program.
Performances will be held at 7 p.m. Thursday and Friday, Feb. 16 and 17, and 2 p.m. Saturday and Sunday, Feb. 18 and 19, at the Dr. W.W. O'Donnell Performing Arts Center. Tickets are $10 for adults and available at www.blinn.edu/boxoffice.
The play is Blinn College-Brenham's entry in the Texas Community College Speech and Theatre Association Play Festival, hosted by the University of North Texas' Dance & Theatre Department on Feb. 22-25.
Theatre Arts Professor Brad Nies, who is directing the production, called the play "powerful."
Written by acclaimed playwright Caryl Churchill and originally produced in association with a British feminist theatre, this powerful work tells the story of two farm women named as witches by a man they have spurned romantically.
"The connection between the fear of female empowerment and the 17 th-century witch hysteria is shown to be the root of many societal issues," Nies said.
Churchill, a 2010 inductee into the American Theatre Hall of Fame, loosely based "Vinegar Tom" on the persecution of Elizabeth Clark in the mid-17 th century. The play's title comes from the name of a dog which reportedly was one of Clark's "familiars." Clark was found guilty of being a witch and hanged.
Blinn student cast members are Lilly Marrs, Alice; Josiah Fernandez, Man; Benedite Trecy, Joan; Samantha Nolen, Margery; Garrison Rutledge, Jack; Maygen Meadows, Ellen; Cedric Benard, bellringer; Steve Torres, Henry Packer; and Bianca O'Neal, Goody Haskins. Fernandez, Jayden Peavy, and Y'Lila Willis are members of the ensemble.
Crew members are Peavy, ensemble music designer; Madison Manchester, stage manager/dramaturg; Luke Parker, master electrician and student makeup designer; Sharda Thomas, sound and projections operator; and Mackenzie McBride, costume supervisor.
Technical Theatre Arts Professor Kevin Patrick is technical director and Theatre Arts Instructor Jennifer Patrick will serve as ensemble director and costume designer, and will also oversee makeup and hair.
High school preview performances will be staged Feb. 16 and 17 at 1 p.m.
Blinn College-Brenham's final productions of the 2022-23 season will be "Ladies at the Alamo," 7 p.m. April 27-28, and 2 p.m. April 29 and 30; and a 7 p.m. April 4 performance of the improvisational troupe "Slaphappy." "Ladies at the Alamo" and "Slaphappy" will be staged in the O'Donnell Center.
Blinn's Theatre Arts Program cultivates a quality educational foundation of study, application, and experience through a wide range of performance, technical, and production studies. Its Associate of Arts degree plan integrates artistic, technical, and academic disciplines of theatre from the classroom to the stage. Students have an opportunity to audition for a variety of performances related to drama and theatre and are prepared to transfer to four-year colleges and universities. For more information, visit www.blinn.edu/theatre.
Enjoy this article? Share it with one click!
Related Links
Archives
GET CONNECTED