Blinn trustees review plans for Bryan Campus Administration Building
46,000-square-foot facility will bring enrollment services, academic advising, testing, and financial aid assistance to the Bryan Campus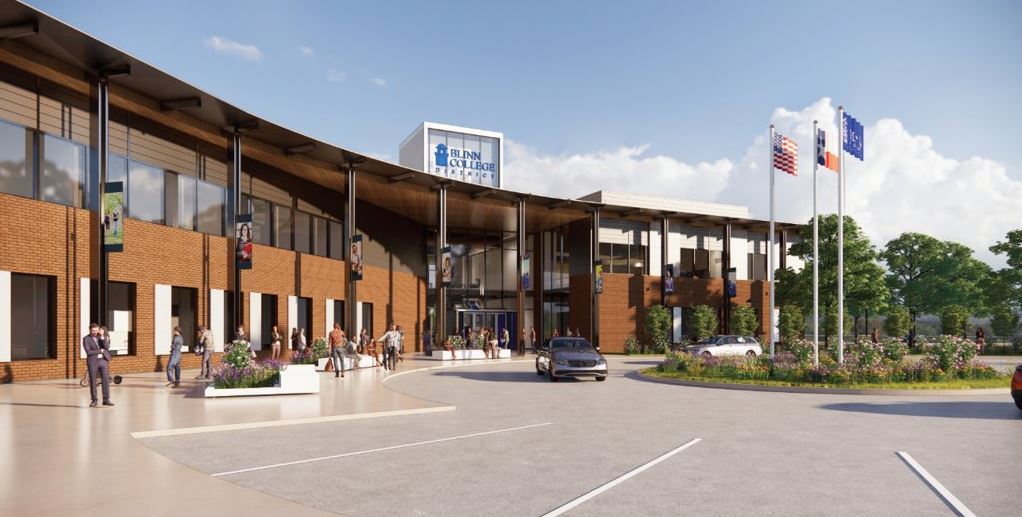 January 18, 2023
During its regular meeting Tuesday, the Blinn College District Board of Trustees reviewed architectural plans for a $31 million Administration Building that will conveniently locate enrollment services, academic advising, testing, and financial aid services on the Bryan Campus.
The 46,000-square-foot facility also will include administrative space, prospective student relations, business services, human resources, and a large meeting room with capacity for up to 300 people. Upon completion of the Administration Building, Blinn will move out of its current student services location at the Tejas Center in Bryan to bring all services at that location to the Bryan Campus.
The building will be constructed on the north side of the Bryan Campus at the intersection of Nash Street and Villa Maria Road and creates a new campus entry that connects the Administration Building to the rest of campus. Site amenities include a monument sign, circle entry drive and plaza with parking for approximately 10 visitors, pedestrian walkways, and a 180-space parking lot located behind the building.
In other business, the board authorized the College to negotiate and execute right-of-way and easement agreements with the City of Bryan and approved procedural items related to the May 6, 2023, election, including:
the order of election for the Board of Trustees members representing Precincts 2 and 3,
authorization for the College to negotiate and execute an election services contract with Washington County,
authorization for the College to negotiate and execute agreements with the City of Brenham and Brenham Independent School District for joint elections on that date,
and set the date, time, and place for the drawing to determine the order of candidates for the same position to appear on the ballot.
Enjoy this article? Share it with one click!