Former Blinn College District trustee Teddy Boehm honored with endowed scholarship
Boehm's children gift $15,466 to Blinn College Foundation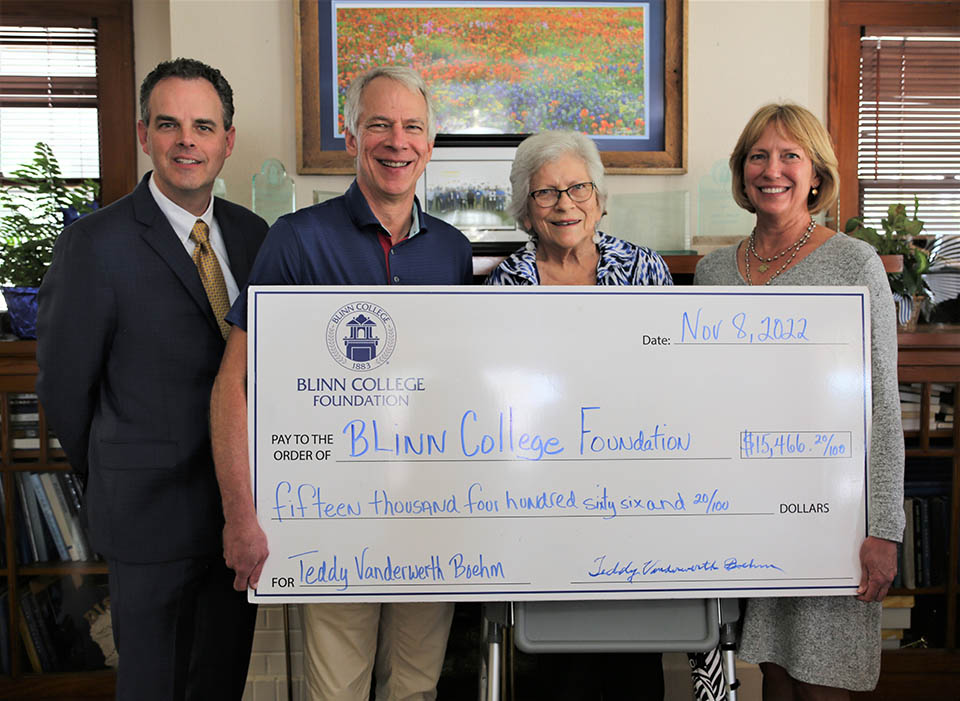 December 5, 2022
Family members of Teddy Boehm, former Blinn College District trustee, have honored her with a new endowed scholarship. Boehm's children gifted $15,466 to the Blinn College Foundation, which oversees more than 300 endowed scholarships.
Boehm served eight years on the Blinn Board of Trustees, including one term as board secretary, before retiring in October 2021. During her time on the board, Blinn saw a number of key advancements, including partnering with the Texas A&M University System as a member of the RELLIS Academic Alliance and introducing new programs in cybersecurity, drone technology, simulation and game programming, and water purification.
The scholarship has no requirements regarding major, but preference will be given to students with an interest in history. Boehm earned her master's degree in history.
"Sometimes students haven't picked their major, but mom loves history," said Kay Boehm-Fannin, Boehm's daughter.
The Boehm family has been a longtime supporter of Blinn College, funding the Henry and Ethel Boehm, Sr. Scholarship, two scholarships in honor of Dr. and Mrs. Henry Boehm, Jr., and a scholarship honoring Mrs. Boehm's mother, former Giddings teacher Ellie Vanderwerth. Henry Boehm Jr., Teddy Boehm's husband, served on the Blinn Board of Trustees for 34 years. Henry Boehm Sr. was a longtime academic dean at Blinn College. The Henry J. Boehm Building on the Brenham Campus is named in his honor.
"Most of our family went to Blinn for at least a year and some for two," said Boehm-Fannin. "We all had good experiences."
Trey Boehm III, son of Teddy Boehm, said education and Blinn have always been a big part of their family.
"Blinn has great teachers and provides a wonderful college experience," he said.
Nancy Berry, Chair of the Foundation Board of Directors, said the Boehm family is an example of "generational giving" to Blinn.
"The Boehm family has a long history with Blinn, beginning with Henry Boehm, Jr.'s great-great uncle, who attended Blinn in the 1800s when it was still a school for German Methodist ministers," Berry said. "As the Boehm family has grown, so has its commitment to helping students attend Blinn. We sincerely appreciate all of their generous donations and their support of the college through their service."
The Blinn College Foundation provides financial support for activities and programs that enhance educational opportunities for Blinn students. Endowed scholarships are available to new and returning students from a wide variety of backgrounds, majors, and experiences. Scholarships are awarded based on high academic achievement, participation in student activities, and community involvement.
Students can apply for Blinn scholarships by completing a single application at www.blinn.edu/scholarships. Prior to applying, students must complete an application for admission to Blinn College at www.applytexas.org.
Related Links
Archives
GET CONNECTED