Ebony Club gifts $25,000 to establish new endowed scholarship
Club continues long history of service with gift to the Blinn College Foundation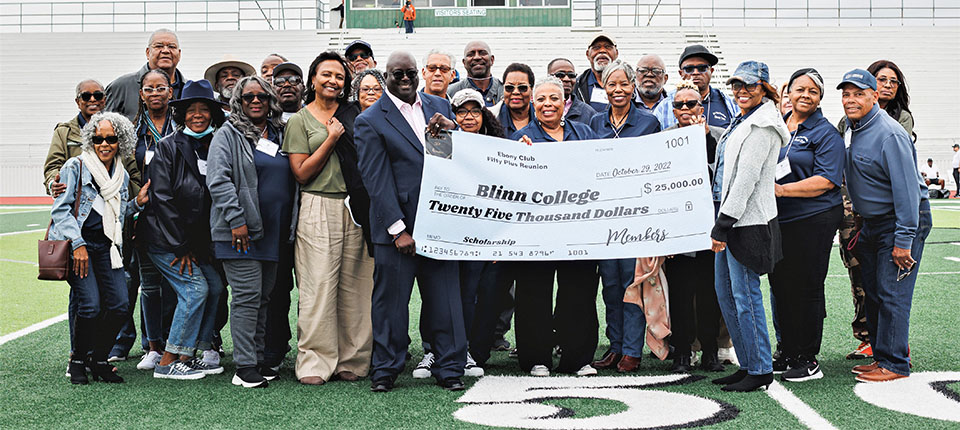 December 8, 2022
The Ebony Club recently continued more than 50 years of service to Blinn College with a $25,000 gift to the Blinn College Foundation to establish a new endowed scholarship.
Funds for the scholarship were raised through donations from Ebony Club members.
Established in 1971, the Ebony Club was created to support an inclusive community atmosphere for all students of color. Its vision was to create a forum where it could share common cultural experiences and support pursuit of continuing education.
The club's earliest undertakings included annual holiday dances at the Student Center and the election of the first Black homecoming queen. That was accomplished in 1972 with the election of Lillie Turner, who returned to Blinn this fall to celebrate the 50th anniversary of her election.
"We are so happy to return to our first love, Blinn College, and excited about being able to assist students who are or will attend Blinn," Turner said. "The whole student body voted for me, and I was glad to represent the school and my peers."
The Rev. Randy Wells, who serves on the Blinn College District Board of Trustees, said it was an honor to spend time with the first African American group organized at Blinn.
"Their generosity and commitment to support Blinn students is truly amazing," Wells said. "Thanks to each and every one of them."
Nancy Berry, Chair of the Blinn College Foundation Board of Directors, said the new scholarship reflects the Ebony Club's longtime record of service to the College.
"Endowed scholarships are so important to many students," Berry said. "The Ebony Club was established as a means to help others, and this scholarship will help students for generations."
The Blinn College Foundation provides financial support for activities and programs that enhance educational opportunities for Blinn students. Information regarding creating an endowed scholarship is available by contacting susan.myers@blinn.edu or calling 979-830-4017.
Students can apply for more than 300 Blinn scholarships by completing a single application at www.blinn.edu/scholarships. Prior to applying, students must complete an application for admission to Blinn College at www.applytexas.org.
Related Links
Archives
GET CONNECTED