Blinn College inducts 104 Bryan Campus students to national honor society
To earn membership, Phi Theta Kappa inductees must earn a 3.5 GPA with 12 transferable credit hours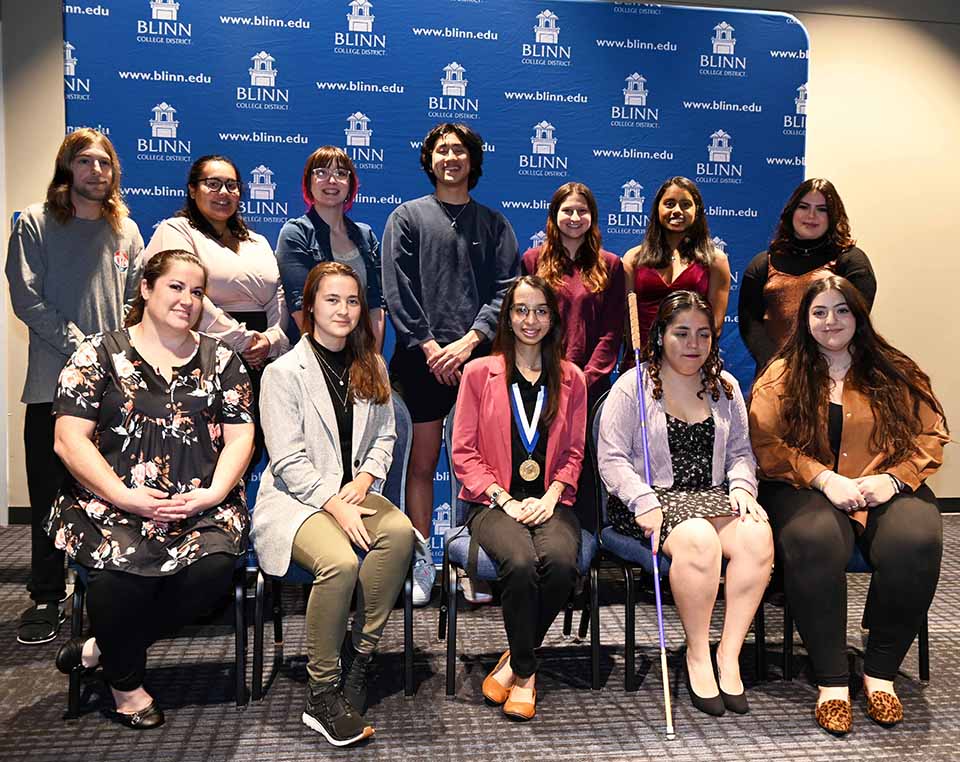 December 9, 2022
The Blinn College-Bryan Campus Alpha Phi Lambda Chapter of the Phi Theta Kappa (PTK) Honor Society recently inducted 104 students during a ceremony in the Blinn College-Bryan Campus Student Center.
PTK is the premier honor society recognizing the academic achievements of students at associate degree-granting colleges. To be inducted, students must have at least a 3.5 grade point average with a minimum of 12 transferrable hours. The society is comprised of more than 3.8 million members, with almost 1,300 chapters in 11 countries.
"These students are dedicated scholars who reflect a passion for learning and a commitment to achieving their educational goals at Blinn and beyond," Blinn-Bryan PTK Co-Advisor Melissa Meek said. "Involvement in PTK helps our students grow academically, think critically, and engage with their peers, which will benefit them as they continue their studies or embark on their careers."
Blinn-Bryan inductees include: Emma Allbritton (La Grange), Megan Anderle (Victoria), Wilmer Avila (College Station), Katherine Azmeh (College Station), Katharine Baker (College Station), Jorge Baltazar Ascencio (Cypress), Mikaella Barnett (Spring), Grace Best (College Station), Michelle Bond (College Station), Jackson Boring (College Station), Chase Bouloy (College Station), Rachel Brassell (College Station), Linda Bunty (Bryan), Austin Burnett (College Station), Parker Burris (The Hills), Sophia Calero (Arlington), Collan Cardwell (College Station), Jackson Carter (College Station), Emilie Carvajal (Katy), Diego Casillas (El Paso), Aidan Cavender (Driftwood), Luke Chan (Allen), Daniel Cho (Frisco), Whitney Cooke (Bryan), Carley Davis (Montgomery), Isabella De La Garza (Georgetown), Maria Delgado Ramos (College Station), Jaclyn Denson (College Station), Sierra Dixon-Remington (Bulverde), Melissa Espinosa (College Station), Kael Estes (Aransas Pass), Christopher Farquer (Bryan), Brian Finch (Bryan), Isabella Foger (Richwood), Branden Francis (College Station), Derek Freeman (George West), Dylan Gerlach (College Station), Blake Gibbons (Dallas), Claire Gibson (College Station), Corey Guice (Bryan), Kevlie Haas (College Station), Micah Hames (Sealy), Bradley Hanson (Mahwah, N.J.), Hayden Havel (Sealy), Branden Heffernan (Beach City), Parker Hett (College Station), Cate Hickingbottom (Marble Falls), Cameron Higgins (Midlothian), Preston Hoover (Alvin), Briahna Hubbard (Van Vleck), Lilian Jones (College Station), Patrick Keating (Bryan), Colby Lange (College Station), Briana Loera (College Station), Zack Lytle (Bryan), Colton Manley (Normangee), Sam Mann (Spring), Alfonso Marcelle (College Station), Rebecca Masterson (Bryan), Makenzie Matlock (College Station), Jarrett May (Flint), Dylan Mihealsick (Crosby), Hasan Mohsin (Porter), Amylia Montes (San Antonio), Sandra Nunn (Bryan), Isabella Ochoa (La Porte), Kylie Ortiz (Cypress), Katherine Owen (Dallas), Soo Hyun Park (College Station), Joe Penland (Beaumont), Lealah Plummer (Bryan), Elijah Ricks (Dripping Springs), Danielle Rivera (College Station), Azalea Rodriguez (Ballinger), Jonathan Rosson (College Station), Blake Rother (College Station), Britni Saenz (Katy), Jennifer Sanchez (Hempstead), Santiago Sanjines (Greenville), Katelyn Sassin (Schulenburg), Aidan Schmidt (Port Aransas), Jeri Sheil (College Station), Lawson Sims (Frisco), William Smith (Dallas), Michael Sowell (Conroe), Seth Spiller (Franklin), Lauren Stankiewicz (Navasota), John Stansberry-Wall (Bryan), Jonathan Stephens (Houston), Michael Summers (Round Rock), Ashlynn Taylor (College Station), Katherine Teinert (College Station), Ella Thompson (Austin), Collin Tomasek (Round Rock), McKenna Tooley (Friendswood), Julie Truax (Bryan), Sarah Truelove Naumann (North Zulch), Isabella Velazquez (College Station), Nathan Vines (Katy), Michael Wagner (San Antonio), Noelia Wagner (Bryan), Joshua Wehner (Lago Vista), Reagan Whisler (College Station), and Drew Woolam (College Station).
"Seeing all these new students inducted into PTK makes me so happy because the organization creates a nurturing and supportive environment that has changed my life," said PTK president Sherihan Jaouhari, who is graduating this semester and transferring to Texas A&M University to pursue biomedical engineering. "As a member of PTK, you have many opportunities to get involved on campus, meet long-term friends, and connect with mentors. The experience is so valuable, and I know the lessons I've learned and the connections I've made have set me up to succeed at Texas A&M."
In spring 2022, Blinn-Bryan's honor society took home three top honors at PTK's international conference, PTK Catalyst, and Vice Chancellor for Academic Affairs Dr. Marcelo Bussiki was presented with the Distinguished College Administrator Award. The group also received six awards during PTK's Texas regional conference.
Registration is open for Blinn's winter minimester and spring 2023 courses. For enrollment or financial aid information, visit www.blinn.edu.