Blinn students praised for their work on Performing Arts Series concert
Students managed lighting and staging during Billy McGuigan's Pop Rock Orchestra concert at Blinn-Brenham's O'Donnell Center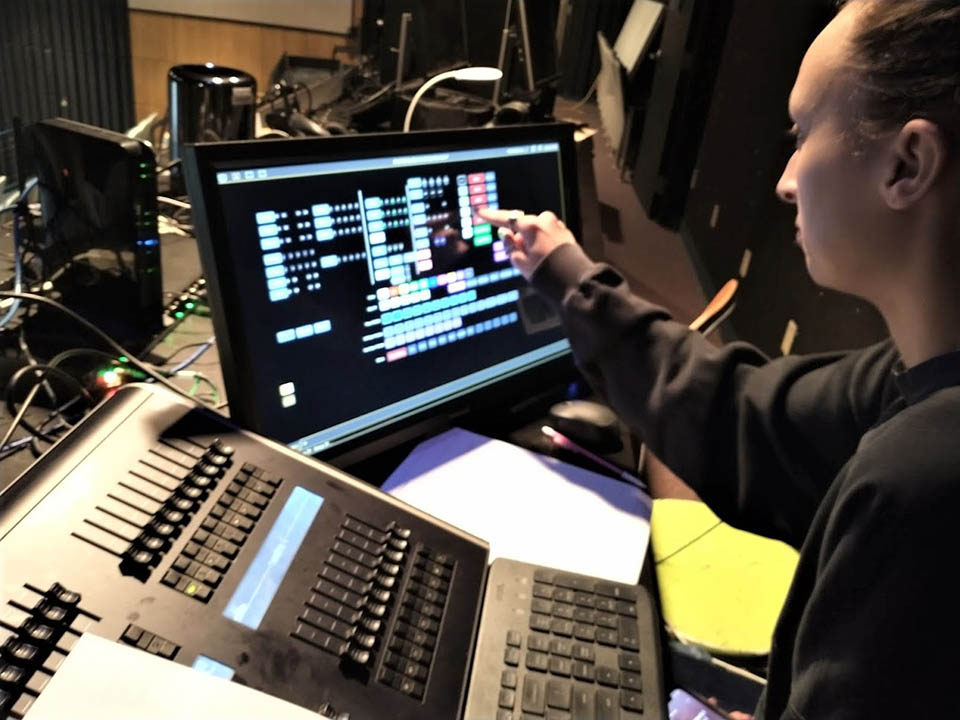 November 30, 2022
Several Blinn College Theatre Arts Program students have been applauded for their work to help bring Billy McGuigan's Pop Rock Orchestra show to life earlier this month at the Dr. W.W. O'Donnell Performing Arts Center on the Brenham Campus.
The show was one of the 2022-23 Performing Arts Series (PAS) productions.
"When it's necessary for the show, we do bring in professionals to lead in the audio and extensive overhead rigging, but they are always assigned a student crew to teach and mentor," Technical Theatre Arts Professor Kevin Patrick said. "Because we have worked with Rave On Productions on two previous events, I knew their production team and carefully selected certain students for their technical positions."
Bianca O'Neal, a sophomore from Pearland, drew high praise for her work on the stage lighting.
"Although she has almost no experience in stage lighting, she has an excellent eye for design and a strong willingness to learn and try," Patrick said.
In a Facebook post after the concert, Kate Whitecotton, Pop Rock Orchestra Production Manager, praised the Blinn students, particularly O'Neal.
"We had about 12 students who were so willing and eager to learn, from running cables to setting audio to participating in our Rocky Horror sing-along," Whitecotton said. "In particular, let's talk about Bianca, our LD (lighting director) for the show who had no experience running lights before. But look at what she did. She took direction well, wasn't afraid to take risks, and most importantly and impressively, paid attention. It was so refreshing to work with this group, and I left feeling inspired by their work ethic."
O'Neal said the show was an opportunity to work with working professionals with vast experience in technical theatre.
"It's a rare occasion that someone my age would get to work with professionals in this industry," she said. "The Performing Arts Series has been critical to my understanding of what I will be walking into as a theatre major once I go off into the 'real world.' Kevin Patrick has gone above and beyond with his dedication towards educating, as well as providing experience to me and the other theater majors here at Blinn College."
For Blinn's student theatre productions, students have the opportunity to pre-program and refine the performance lighting during rehearsals. With Billy McGuigan and the Pop Rock Orchestra arriving the same day of the show, O'Neal had no such opportunity.
"Bianca took a few hours the day before the concert, learning the capabilities and controls, taking notes of what lighting looked good to her eye, and saving a few cues for specific songs," Patrick said. "There was no time for Kate to look at any of the lighting before the concert began, but she did give notes and prompts for upcoming opportunities during the concert for lighting changes. Bianca had seconds – if that – to heed Kate's words and be ready at just the right time for the show."
Blinn students Luke Parker and Y'Lila Willis, both from Houston, operated the "follow spot" lighting, used to highlight a featured performer.
"They too had no rehearsal and listened carefully to Kate's instructions over the wireless headsets to make sure that no moment was lost and the audience knew where to look at specific moments of the show," Patrick said.
Other students helped prepare the theatre lighting and staging, helped host a reception, served as ushers, and ran the box office. Those included Garrison Rutledge, Bellville; Jayden Peavy, Galveston; Josiah Fernandez, Houston; Chris Westerlund, Brenham; Lily Marrs, Brenham; Jaylon Kelley, St. Martinville, La.; Steve Torres, Hempstead; Alyssa Hale, Bellville; and Cedric Bernard, Houston.
The Performing Arts Series still has two more shows during its 2022-23 season: "Mike Super Magic & Illusion," Thursday, Feb. 2, and "The Peking Acrobats Featuring the Shanghai Circus," Saturday, March 25.
Tickets are available at www.blinn.edu/boxoffice and by calling 979-830-4024.
Related Links
Archives
GET CONNECTED