Presentation to spotlight the last president of the Republic of Texas
Professor Chuck Swanlund presents 'Anson Jones: Forgotten President of the Republic' Tuesday, Nov. 1, at 6:30 p.m.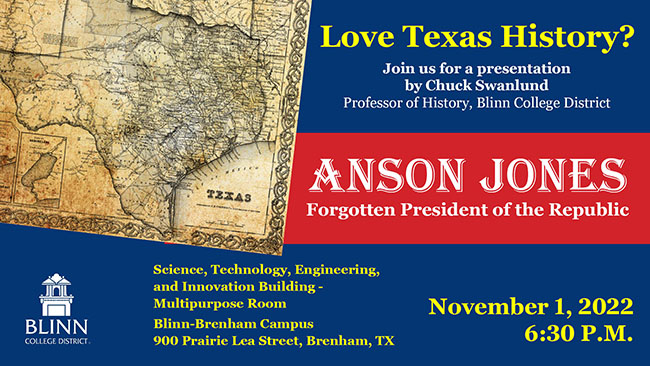 October 24, 2022
The Blinn College District invites history lovers and the public to learn more about the life and enduring contributions of Anson Jones, the last president of the Republic of Texas.
Blinn History Professor Chuck Swanlund will give the presentation Tuesday, Nov. 1, at 6:30 p.m. in the Science, Technology, Engineering, and Innovation Building Multipurpose Room on the Blinn College-Brenham Campus.
Participants can join in person or livestream the discussion via Zoom through the Blinn Library webpage at www.blinn.edu/library.
"This presentation is a great opportunity for Texas enthusiasts and general history buffs alike to explore a unique figure in our state's past who often is overlooked," Library Director Linda Gray said. "Professor Swanlund's knowledge on the subject is sure to bring the spirit of Anson Jones to life as well as the highs and lows of Texas' journey from independence to statehood."
Often overshadowed by figures like Sam Houston and Mirabeau Buonaparte Lamar, Jones played a significant role in shaping the future of Texas. Swanlund's presentation will trace Jones' journey from Massachusetts native and trained physician to statesman after he ventured to Texas in search of prosperity and new beginnings. Serving in various roles, including the Texas congress, Minister to the United States, Secretary of State, and senator, Jones ultimately became the last president of the Republic of Texas in 1844.
Swanlund will examine Jones' rightful place in Texas history and shine a new light on his accomplishments, failures, and legacy.
"He's the forgotten president," Swanlund said. "On one hand he's unique in Texas history, but at the same time he's commonplace. He comes to Texas for a fresh start and then his life ends rather tragically."
Swanlund has taught history at Blinn since 2004. He earned his bachelor's degree from Lake Superior State College and his master's degree from Sam Houston State University. He is co-editor of and contributor to "Single Star of the West: The Republic of Texas, 1836-1845" and "A Lone Star Reader."
The Moody Library features 48 computers, an extensive collection of books and DVDs, and is open for use by the community. The library has scheduled a series of historical presentations for the 2022-23 academic year. To learn more about the Moody Library, visit www.blinn.edu/library.
For more information about the presentation, contact Gray at linda.gray@blinn.edu.