'I always knew it was in my nature to want to care for people'
Blinn College nursing student Megan Schreuder and paramedic student Trey Urech put their skills to the test during three-day emergency simulation exercise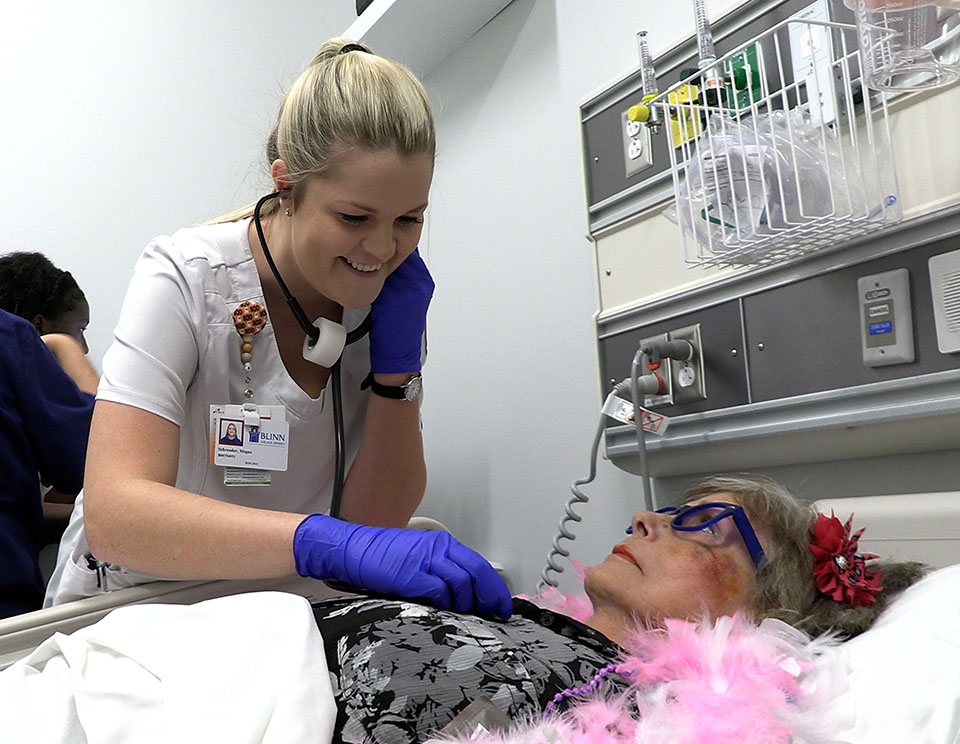 October 27, 2022
Second-year Associate Degree Nursing (ADN) student Megan Schreuder knows the effect highly trained healthcare professionals can have on a patient. When one of her best friends was diagnosed with a rare cancer of the brain and spinal cord, nurses made the difference.
"I saw how the nurses really impacted his life and helped him get through such a hard time," said Schreuder. "I really admired that, and it inspired me to go into oncology."
Originally from South Africa, Schreuder said the Blinn College District ADN Program will help her fulfill her calling as a nurse.
"I always knew it was in my nature to want to care for people," said Schreuder. "My long-term hope is to work for M.D. Anderson Cancer Center and get certified to give cancer treatments to patients. When I looked at programs, I knew Blinn was the right fit. The learning experience in our clinicals is unmatched."
A similar desire to make a difference pulled Blinn Paramedic Program student Trey Urech away from a career as a mechanical engineer and inspired him to earn his Emergency Medical Technician (EMT) certification.
"The ups and downs of the oil and gas industry took their toll," said Urech. "I taught high school math for a while after that, but then I got my EMT and started working for the Texas Children's Kangaroo Crew, which transports critically ill babies and children from across the country to Texas Children's Hospital."
Currently an EMT with the Montgomery County Hospital District, Urech said that upgrading his training to the paramedic level will benefit his patients. Paramedics have additional training that allows them to complete more complex procedures, such as inserting IV lines and administering drugs.
"You can provide more hands-on care when you become a paramedic," said Urech.
Schreuder and Urech's unique paths merged recently during a three-day simulation exercise at Texas A&M-RELLIS. Featuring more than 75 students in Blinn's Emergency Medical Services, ADN, and Radiologic Technology programs, the collaborative exercise presented students with hypothetical emergency room scenarios. Actors posed as patients with injuries ranging from a gunshot wound to smoke inhalation.
"I liked being able to critically think and do something I don't normally get to do in my clinical experience in the hospital," Schreuder said.
These simulation exercises are a vital part of student training in Blinn's Division of Health Sciences. Designed to complement the clinical experience Blinn students receive in area hospitals, the 16,0000-square-foot Simulation and Clinical Lab at the RELLIS Academic Complex feature the latest tools and technology. This commitment to active learning, coupled with dedicated faculty, has made Blinn's health sciences programs leaders in their respective fields.
For more information about Blinn's Division of Health Sciences, visit www.blinn.edu/health-sciences.
Related Links
Archives
GET CONNECTED