Garrison Rutledge finds room to grow in Blinn-Brenham Theatre Arts Program
Self-described as a 'terrible actor' when he started, sophomore will play the lead role in upcoming 'Houdini'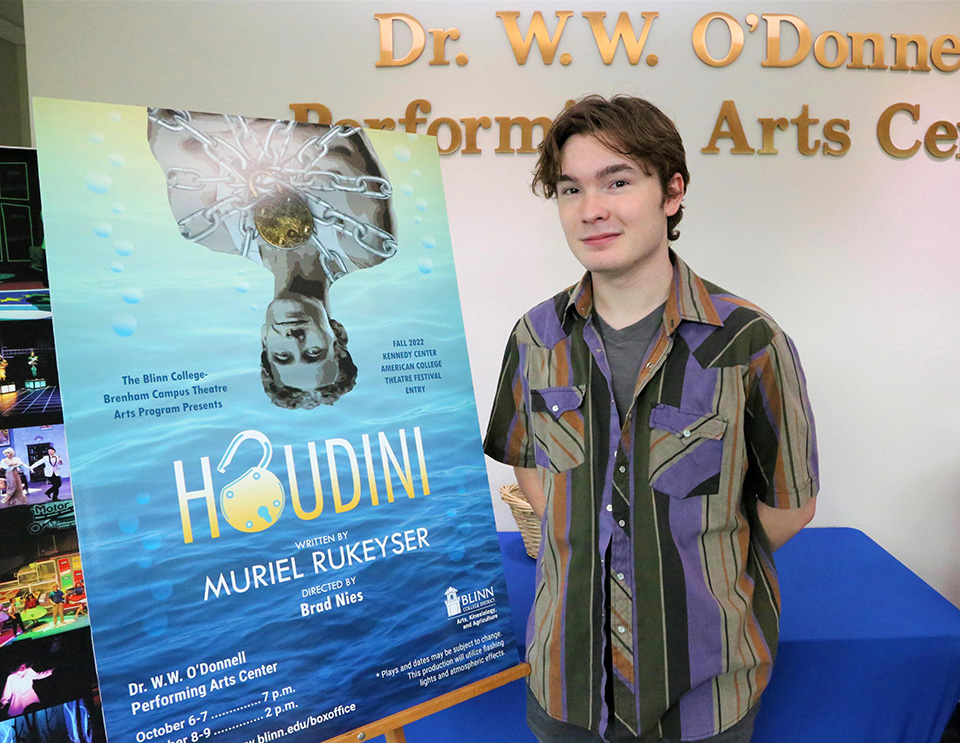 October 3, 2022
Garrison Rutledge has come a very long way in a very short time.
The sophomore from Bellville is now one of the "veterans" in the Blinn College-Brenham Theatre Arts Program, only a few years removed from seeing his first play.
Rutledge has the title role of Harry Houdini in the upcoming production of "Houdini," which will be staged at 7 p.m. Thursday and Friday, Oct. 6 and 7, and Saturday and 2 p.m. Sunday, Oct. 8 and 9, at the Dr. W.W. O'Donnell Performing Arts Center.
His love of the theatre began after a friend encouraged him to attend Bellville High School's production of "Footloose."
"I did band for seven years. I had a lot of theatre friends who also were in band, and when I was a sophomore, one of my friends said, 'Hey, come watch 'Footloose. We're all in it,'" Rutledge said. "I was blown away. I'd never been to a staged play before. I loved it."
When he was a high school junior, a friend encouraged him to audition for "The Sound of Music." Rutledge did, and the rest – as they say – was history.
"I met the director, Ernesto Manzano. I guess he saw something in me that most people didn't," said Rutledge. "He cast me as Rolf. That was my first role ever. I just fell in love with performing. He was such a great teacher. He inspired me to continue and now I'm here at Blinn."
Blinn Theatre Arts Professor Brad Nies said Rutledge "serves as a role model for all of our theatre arts majors."
"Garrison is a fantastic student as well as a highly talented actor," said Nies. "As a student in our theatre arts program, Garrison has had roles in such plays as 'One Flew Over the Cuckoo's Nest,' 'Wiley and the Hairy Man,' 'The 25th Annual Putnam County Spelling Bee, and an original play entitled 'Impatient.'"
Rutledge is also co-captain of this season's Slaphappy Improvisation Troupe and a member of Delta Psi Omega, Blinn College's honorary theatre arts fraternity. He also volunteers with the Performing Arts Series at the O'Donnell Center, Brenham Children's Chorus, and Brenham Broadway Kids.
Not bad for someone who admits he wasn't a very good actor.
"I used to be a terrible actor," Rutledge said. "It was so hard for me to stand still and not show how scared I was on stage. We worked six months on 'The Sound of Music.' Mr. Manzano kept working with me. He was so persistent, so positive."
Rutledge was recruited to Blinn by Nies.
"I was looking at as many colleges as I could, and Mr. Manzano said Brad Nies from Blinn wanted to come see one of our shows, and he wanted a list of students for potential scholarships. I said, 'You know what? Put my name on it,'" Rutledge said.
He chose Blinn after Nies offered a scholarship.
"Mr. Nies is the same way as my high school director, with this positive, enthusiastic energy. There was something so familiar, something I knew I would work very well with," said Rutledge.
Rutledge is getting some attention from four-year universities but hasn't decided yet what his next educational step will be.
"I actually was looking to be a teacher myself and inspire others, but honestly, if I end up being good enough, why not acting as a career? It's something I enjoy doing," he said. "It's one of the toughest careers to get into. A lot of it is knowing people and having a good reputation, getting to know people well, having a reputation for putting in the work.
"I have also thought about picking up a few more classes here and expanding my portfolio. It's good as an actor or a technician, whoever you are in the theatre, to have a great portfolio."
Tickets for Blinn student theatre productions are $10 for adults and $5 for Blinn students, children, and senior citizens. They are available at www.blinn.edu/boxoffice.
In addition to "Houdini," this season's productions are:
"The Day Before Christmas," 7 p.m. Dec. 1 and 2, and 2 p.m. Dec. 3 and 4;
"Vinegar Tom," 7 p.m. Feb. 16 and 17, and 2 p.m. Feb. 18 and 19;
and "Ladies at the Alamo," 7 p.m. April 27-28, and 2 p.m. April 29 and 30.
"Slaphappy" will also perform Oct. 13 and April 4, both at 7 p.m. at the O'Donnell Center.