Blinn student pays it forward through the Physical Therapist Assistant Program
Emily Johnson plans to work in pediatrics after completing Blinn's Physical Therapist Assistant (PTA) Program. The application cycle for fall 2023 admission to the PTA Program opens Oct. 1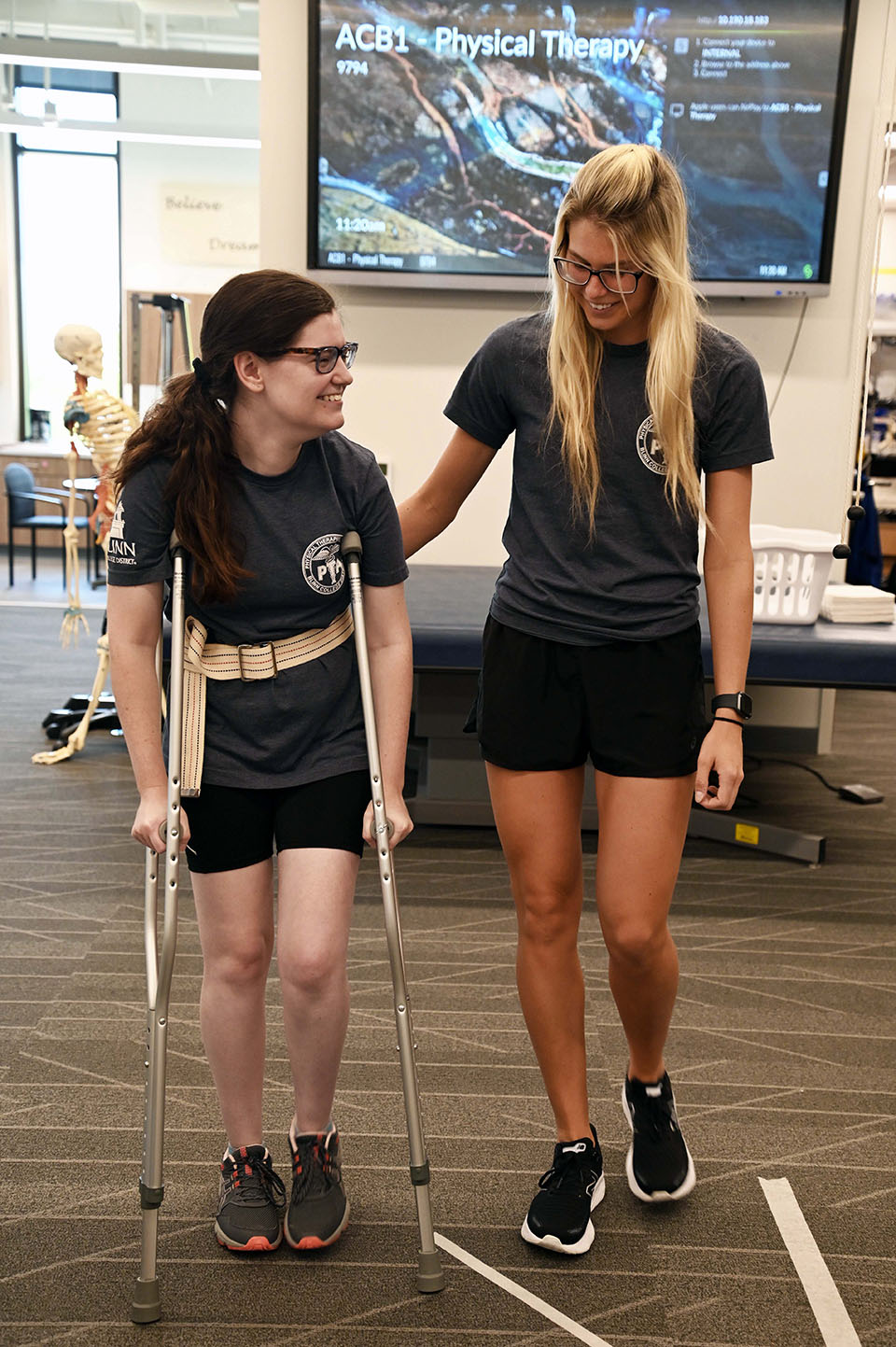 October 10, 2022
Emily Johnson, 22, knew the therapeutic and life-changing effects of physical therapy long before she applied to the Blinn College District Physical Therapist Assistant (PTA) Program.
"My physical therapist was actually a PTA, and I was so impacted by how she was able to help me," Johnson said. "I want to return the favor and do the same thing for other people."
Now a first-year PTA student, Johnson dreams of helping provide comfort and recovery for children as a pediatric physical therapist or school PTA.
PTAs assist people of all ages with medical issues or health-related conditions that limit their ability to move and perform functional activities in their daily lives. Among their responsibilities, PTAs teach patients exercises to improve mobility, strength, and coordination; train patients to walk with crutches, canes, or walkers; and provide treatments such as ultrasound, electrical stimulation, heat, cold, and massage.
Accredited by the Commission on Accreditation in Physical Therapy Education, Blinn's PTA Program is a two-year program that instructs students in various treatment procedures, including rehabilitation techniques, therapeutic exercises, and patient training and education.
Blinn's PTA Program faculty reflect an expertise in each of these areas. The enthusiasm for helping their students is a key element Johnson believes sets the program apart.
"They want you to succeed. They're learning how we learn so that they can better teach us," she said. "A lot of us are kinesthetic and visual learners. We need to see it; we need to do it. It's a lot of learning, but it's exciting to come to school every day."
Johnson believes the hands-on learning experiences and state-of-the art lab make the program unique.
"We have a lot of opportunities that you might not have at another facility," she said. "Our lab has wheelchairs, crutches, stairs, and an anatomage table that allows you to study anatomy and perform virtual dissections."
Blinn's PTA Program is located at the RELLIS Academic Alliance Complex at Texas A&M-RELLIS in Bryan. Part of a 16,000-square-foot health sciences simulation center, Blinn's physical therapy lab provides students with innovative instruction and training. Through the physical therapy lab, students can put their coursework into practice immediately through hands-on simulation. Blinn students also participate in clinical rotations to gain experience prior to graduation.
In addition to the equipment and technology Texas A&M-RELLIS has to offer, Johnson was attracted to the program's first-attempt pass rate on the National Physical Therapy Examination (NPTE) and graduation rate.
"I did research on different PTA programs and Blinn's was the most highly recommended among graduates," Johnson said. "They have a 100% pass rate and a 100% graduation rate, so that was a big draw toward this program."
Blinn also has maintained a 100% employment rate since 2019, which is a testament to the variety of jobs available. PTAs can gain employment in hospitals, outpatient clinics or offices, inpatient rehabilitation facilities, education or research centers, schools, hospices, workplace environments, fitness centers, sports training facilities, and military settings.
According to the Bureau of Labor Statistics, the national demand for PTAs is expected to grow 24% between 2021 and 2031, creating an additional 33,900 new jobs with a median salary of $61,180 per year.
The 2023 application cycle for Blinn's PTA Program is now open. To learn more, visit www.blinn.edu/physical-therapist-assistant .