Blinn-Bryan math major finds his voice through theatre
Michael Colonica plays an ensemble of characters in the Blinn-Bryan Theatre Troupe's upcoming production, 'The Baltimore Waltz'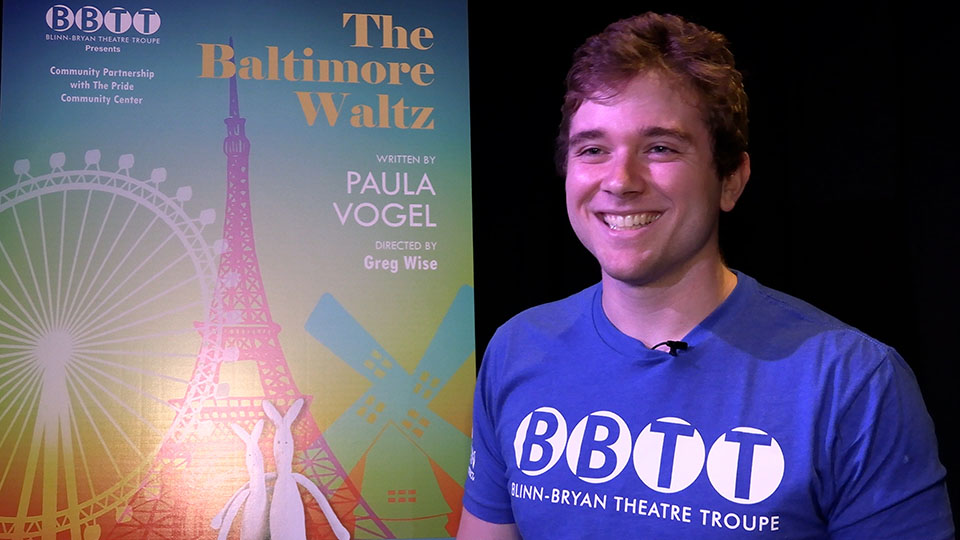 October 7, 2022
A self-described extrovert, Michael Colonica, 20, seems perfectly cast as one of the lead actors in the Blinn Bryan Theatre Troupe's (BBTT) season premiere "The Baltimore Waltz."
After all, the Reno, Nev. native is living a double life.
"I'm a huge math nerd, but I want to be a voice actor, whether that's as a career or a side project," said Colonica. "It's always been something I've followed, and I think it's a good artistic outlet for me in a very theorem-oriented major."
Pursuing an Associate of Science degree in Mathematics by day and hitting the stage by night, "The Baltimore Waltz" is Colonica's first experience with theatre at Blinn.
"It wasn't something I knew about until I saw a flyer around campus to audition. I'm a self-taught musician, so I've always loved to perform in one way or another. I wanted to take the leap and I'm so happy I did," Colonica said.
Blinn-Bryan Theatre Professor Greg Wise says that Colonica is a welcome addition to the company.
"Michael's enthusiasm and joy for the process is a pleasure to watch," said Wise. "He fit right in with his more experienced cast members, and I think the skills he's learning on stage at Blinn will aid his desire to pursue voiceover acting."
Colonica's first acting experience is unique because he plays several different roles that directly relate to his interest in voice acting.
"I like having multiple characters and having all these different accents from French to Dutch to German," he said. "I have to make them very separate from each other, which is a great experience for someone aspiring to be a voice actor."
As opening night approaches, Colonica is excited to celebrate the cast and crew's accomplishments with the Blinn community.
"I'm looking forward to sharing this hard work with our audience," he said. "I'm most excited to get to the end and know 'Wow! I did that! I memorized those lines and really delivered it well.'"
After wrapping up his roles in "The Baltimore Waltz," Colonica will harness his musical background as a drummer to work on sound production for "Fellow Passengers," the BBTT's next show. In addition, he plans to finish his associate degree in December and transfer to a four-year university to pursue a bachelor's degree in math while continuing to explore theatre and voice acting opportunities.
"Getting my degree in math at Blinn has opened up a broad spectrum of what I can do, but I definitely want to stay in theatre because I think the skills I learned here transfer over really well to my interest in voice acting," said Colonica. "My options are open. Who knows what the future will hold?"
Paula Vogel's "The Baltimore Waltz" runs at the Blinn-Bryan Student Center Thursday through Saturday, Oct. 13-15, at 7 p.m. and Sunday, Oct. 16, at 2 p.m. The BBTT is partnering with the Pride Community Center for this production with representatives from the organization providing resources and participating in a post-show discussion following the Oct. 13 performance. The production is recommended for ages 12 and up. Tickets are available at www.blinn.edu/boxoffice.
In addition to "The Baltimore Waltz," the BBTT's season includes:
"Fellow Passengers," 7 p.m. Nov. 30-Dec 1 at the Blinn-Bryan Campus Student Center, 7 p.m. Dec. 2 on the front steps of St. Andrew's Episcopal Church in downtown Bryan, and 7 p.m. Dec. 3 in College Station's Stephen C. Beachy Central Park;
"Circle Mirror Transformation," 7 p.m. Feb. 23-25 and 2 p.m. Feb. 26 at the Blinn-Bryan Campus Student Center;
and "Rhinoceros," 7 p.m. April 20-22 at the Blinn-Bryan Student Center and 7 p.m. April 27-29 at the Texas A&M University's Performance Studies Black Box Theatre
"It's a very close-knit family here. Whether playing a role onstage or being behind the scenes, we're really provided with a guided walk-through of what theatre is," Colonica said.
Related Links
Archives
GET CONNECTED