Blinn College environmental science class witnesses earthquake via seismograph
Geology Professor Michael Dalman was lecturing on quakes when one hit in Mexico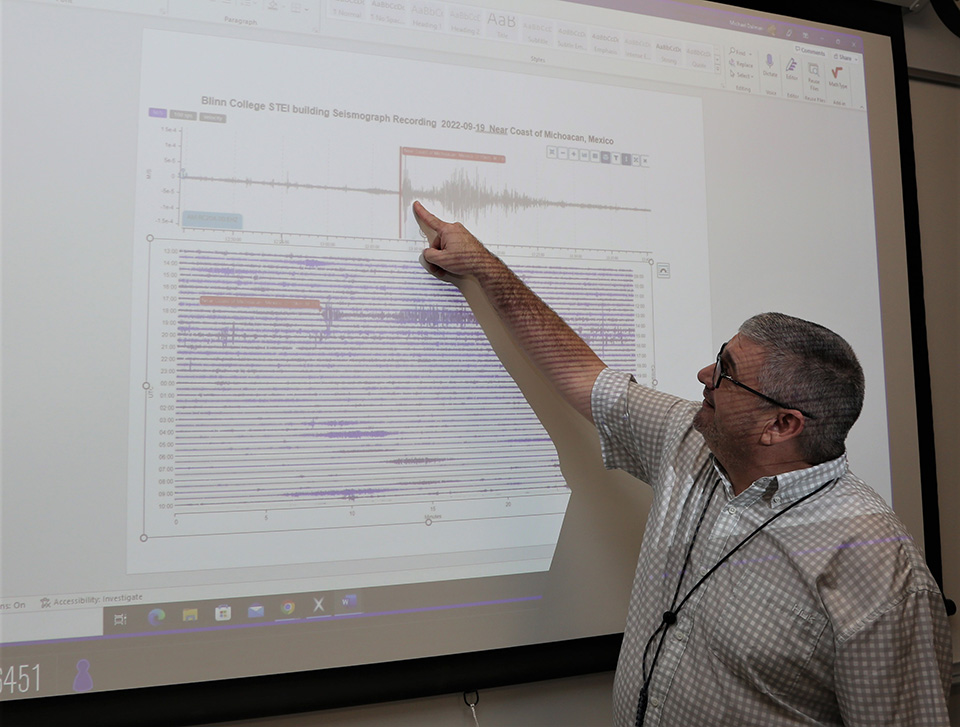 September 29, 2022
Blinn College District geology Professor Michael Dalman called it a "once-in-a-lifetime" moment.
Dalman was discussing earthquakes on Monday, Sept. 19, with his environmental science class in the Science, Technology, Engineering, and Innovation (STEI) Building on the Brenham Campus, explaining the data being projected onto a screen via Raspberry Shake, which provides free real-time access to seismic stations around the world.
"All of a sudden, all this activity started," Dalman said. "I looked at it and said, 'That's an earthquake!' The students thought I was kidding."
Dalman and his students witnessed live readings from an earthquake about 20 miles southeast of Aquila in the Mexican state of Michoacan.
"I was letting them see that data in class, not knowing we were going to see an actual earthquake. I was astounded," Dalman said. "I don't think that I will have that opportunity again, to literally be lecturing on the topic of earthquakes, showing a seismograph, and actually get to see it being recorded in our building. This is the craziest thing that has ever happened to me."
Blinn has its own seismic station, located in the STEI Building geology lab. Called Raspberry Pie, it can detect motion as slight as someone jumping up and down in the building.
As earthquakes go, the one that rocked Mexico was significant, measuring 7.6 on the Richter Scale, said Dalman. A second quake with a magnitude of 6.8 struck the same area on Sept. 22.
"A major earthquake is anything above a six," he said. "The Earth never stops moving. That's another surprise that students get. I show them the data that demonstrates that, but never have I been able to say, 'Look, there's an earthquake happening right now somewhere in the world.' Getting to show the students an actual, real-time earthquake was amazing."
Through Blinn's Geology Department, students can earn an Associate of Science Degree in Geology on the Brenham and Bryan campuses. According to the U.S. Bureau of Labor Statistics, geoscientists earn a median salary of $83,680 per year.
Dalman was one class from receiving a Bachelor of Science Degree in Biology at Western Michigan University, with an emphasis on wetlands, when he took a physical geology class.
"When I took that class, the light bulb went off in my head," he said. "By mid-semester, I had changed my major to geology."
Dalman joined the Blinn staff in 1999 as a part-time geology instructor and has enjoyed his career shift.
"As a geologist, I could be making a lot more in private business, but I absolutely love my job," he said.
Dalman is a huge fan of the STEI Building, a 72,000-square-foot, state-of-the-art facility that opened in August 2021. The $35.5 million facility features 17,000 square feet of laboratory space and a 3,000-square-foot innovation center.
"This building is absolutely amazing," Dalman said.