Blinn's Performing Arts Series returns with music, magic, and acrobatics
Season tickets are now available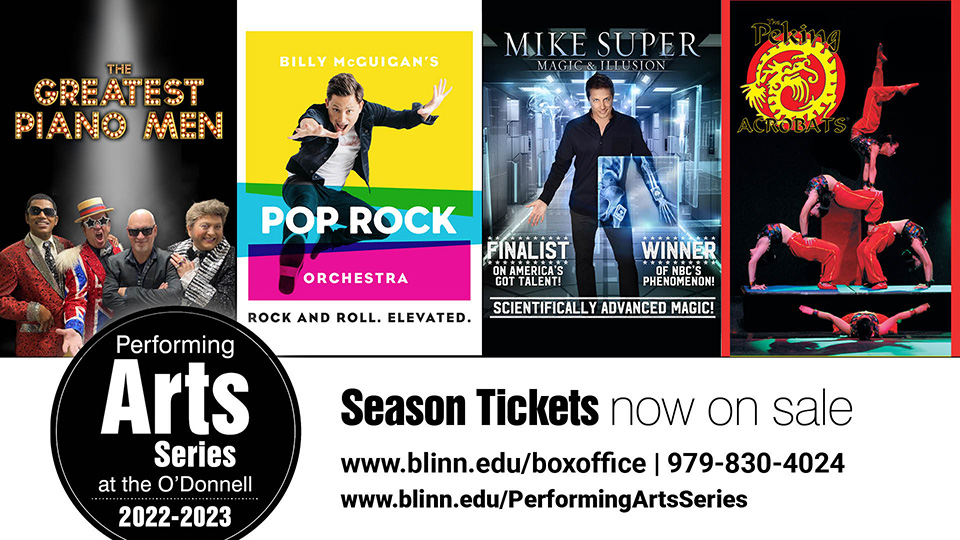 August 15, 2022
The Blinn College District Performing Arts Series at the O'Donnell will return with four family-friendly shows featuring music, magic, and acrobatics.
The 2022-23 season features:
"The Greatest Piano Men," Tuesday, September 20;
"Billy McGuigan's Pop Rock Orchestra," Thursday, November 3;
"Mike Super Magic & Illusion," Thursday, February 2;
and the Peking Acrobats, Saturday, March 25.
All four shows will take place at 7 p.m. at the Dr. W.W. O'Donnell Performing Arts Center at 600 Blinn Boulevard on the Blinn College-Brenham Campus .
Season and individual show tickets are available at www.blinn.edu/boxoffice , in person at the box office in the lobby of the O'Donnell Performing Arts center between 10 a.m. and 5 p.m. Tuesdays through Fridays, and by calling 979-830-4024.
Individual show tickets are $35 with a $15 option to attend a special pre-show reception featuring the artists. Season tickets are $125, with tickets to all four pre-show receptions available for an additional $40.
For more information, visit www.blinn.edu/performing-arts-series or call 979-830-4024.
The Greatest Piano Men
This electrifying production celebrates the world's greatest pianists and showmen, including Elton John, Billy Joel, Stevie Wonder, Ray Charles, Jerry Lee Lewis, Little Richard – all the way to Beethoven and Liberace. The show, from Jeff Davis, executive producer of Broadway's "Rock of Ages," features storytelling, video, female backup singers, a great band, and 25 hit songs, including "Good Golly Miss Molly," "Superstition," "Rocket Man," "Tiny Dancer," and "New York State of Mind."
"If you dig dueling pianos or celebrity impersonation shows, you'll love 'The Greatest Piano Men,'" wrote the Las Vegas Sun. "This show is its own thing, an affectionate appreciation for our consensus favorite songs and artists, and these proud performers do justice to the music."
Billy McGuigan's Pop Rock Orchestra
After bringing the music of Buddy Holly and The Beatles to the O'Donnell Center stage in previous trips to Blinn College, Billy McGuigan returns for his third Performing Arts Series performance with "Pop Rock Orchestra."
Like many others, the feeling McGuigan got from watching the big rock bands of the '70s was exhilarating. With this performance, he recreates that energy, guiding the audience through decades of classic gems while backed by a rock orchestra that can match his energy. The set list is as varied and versatile as McGuigan himself.
"I discovered what lots of others already know: Billy McGuigan has tons of talent, stage presence, and charisma," raved the Omaha World Herald.
Mike Super Magic & Illusion
Mike Super has pioneered a new form of magic with his own inimitable, down-to-earth style and personality. The winner of NBC's "Phenomenon" and a top finalist from "America's Got Talent," Super has appeared in numerous TV shows, including "The Ellen DeGeneres Show" and "Penn and Teller's Fool Us," connecting personally with his audience with a natural ability to entertain and fascinate.
The Peking Acrobats
For the past 32 years, The Peking Acrobats have redefined audience perceptions of Chinese acrobatics as they perform daring maneuvers atop a precarious pagoda of chairs and display their technical prowess at such arts as trick-cycling, precision tumbling, juggling, somersaulting, and gymnastics.
The acrobats will be accompanied by live musicians who skillfully play traditional Chinese instruments. This time-honored Chinese music coalesces with high-tech special effects and awe-inspiring acrobatic feats to create an exuberant entertainment event with the festive pageantry of a Chinese carnival.
The Peking Acrobats have appeared on numerous television shows and specials, including NBC's "Ring in the New Year" holiday special, Nickelodeon's "Unfabulous" and "Ellen's Really Big Show" hosted by Ellen DeGeneres. The acrobats set the world record for the Human Chair Stack on Fox's "Guinness Book Primetime" when they balanced six people atop six chairs without safety nets.