Blinn College District partners with Royal ISD's early college high school
Through dual-credit courses, students can earn their associate degree as they complete their high school diploma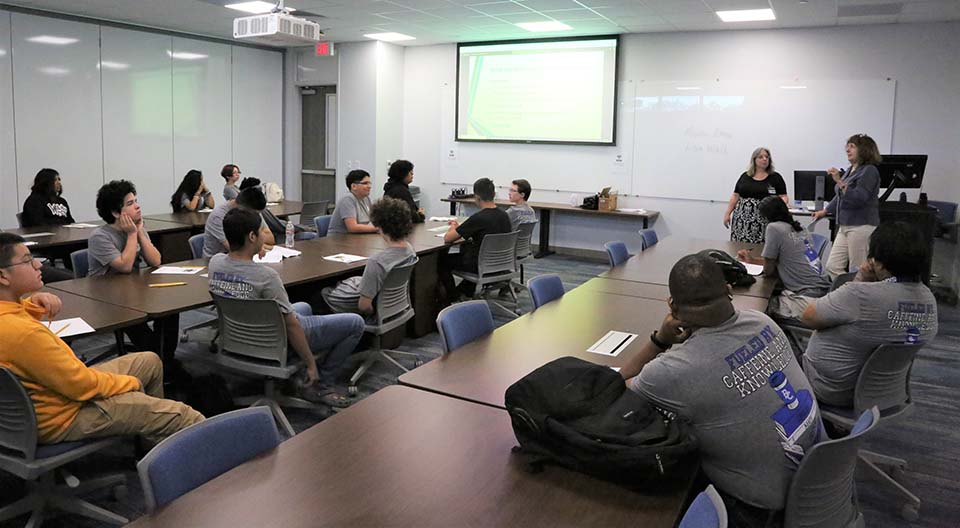 August 25, 2022
The Blinn College District is partnering with Royal ISD to help early college high school students pursue their associate degree while completing their high school graduation requirements.
Through dual-credit classes offered in partnership with Blinn, Royal Early College High School (RECHS) allows students to earn up to 60 college credit hours at no cost to their families as they pursue their high school diploma. Following graduation, students can transfer those credits toward their bachelor's degree at a four-year university.
While RECHS targets at-risk, low-income, or first-generation college students, students of all backgrounds are encouraged to apply.
Blinn recently hosted a Summer Bridge Program for 41 incoming RECHS freshmen at the Blinn-Brenham Campus. The two-day program included a writing center workshop and a session on Texas Success Initiative (TSI) preparation for English, Language Arts, and Reading.
"The students who attended the Summer Bridge Program will take two college classes this school year and add more classes as they progress through high school," said Shannon Williford, Blinn College Director of Dual Credit Programs.
Ivan Arteaga, a dual-credit history and government instructor at RECHS, said the first graduating class was in 2019, and "many of them are already in the workforce."
"They earned an associate degree, and most already have professional jobs at barely age 21," Arteaga said.
RECHS freshman Joshua Kosmalski, who was among the students attending the Summer Bridge Program, said he found a session on thesis writing very helpful.
Lisa Wall and Mischa Enos, Blinn English Department instructors who taught thesis writing sessions at the Summer Bridge Program, said the students were eager to learn.
"They have been really responsive," said Wall. "They're great students."
This marks Blinn's second early college high school partnership, joining Blinn's collaboration with Bryan ISD at Bryan Collegiate High School.
For more information about Blinn's Dual Credit Program, visit www.blinn.edu/dual-credit.
Related Links
Archives
GET CONNECTED