Public welcome at Blinn's Moody Library
W.L. Moody Jr. Library offers services to everyone, including computers, books, DVDs, and even video games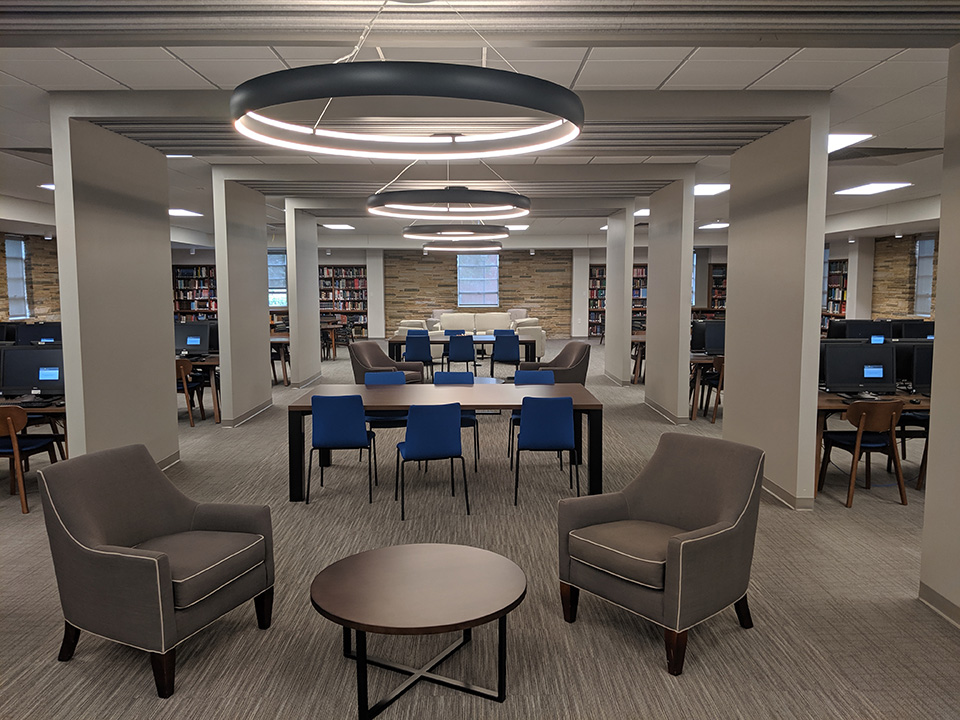 July 18, 2022
The Blinn College-Brenham Campus's W.L. Moody Jr. Library features 48 computers, an extensive collections of books and DVDs, and an open-door policy for its community.
For only $15 per year – $25 per couple – Washington County residents can use the vast resources at Moody Library (map) .
"We have a fiction collection, a graphic novels collection, a very large non-fiction collection, DVDs, and even video games available for different platforms," Library Director Linda Gray said. "We have magazines and newspapers that can be read on-site."
The most popular feature is the library's array of computers, which are available for use with a photo ID. Previous library guests have used the computers to work on their resumes, browse the internet, and even conduct an online job interview.
"It's free," Gray said. "You come sign in and we give you a card that has a username and password. You then have access to any of the computers."
Gray said Moody Library the city of Brenham's Nancy Carol Roberts Memorial Library complement one another in providing library services to the community.
"We have a great relationship," she said. "I work with the staff there, I'm a regular user."
During the summer, Moody Library is open from 7:30 a.m. through 6 p.m. Monday through Thursday and 7:30 a.m. through 5 p.m. on Fridays. During the fall semester, the library is open seven days per week. Hours are listed at www.blinn.edu/library .
"The city of Brenham really does honor its public library, and I would like for people to know that they have this opportunity here in addition to what's offered at the public library," Gray said.
Moody Library also is a member of the Texas State Library and Archives Commission's TexShare, a consortium of Texas libraries joining to share print and electronic materials, purchase online resources, and combine staff expertise. As a result, anyone with a verified card at any library in the state can sign up for a TexShare card that allows them to borrow materials from any participating library, including Blinn's.
"I'm a big believer that libraries should be a central part of the community," Gray said, "and I think that our biggest asset is the people who work here. None of this would matter if you didn't have great people, and we do."