STEI Summer Camp participants get behind-the-scenes look at healthcare technology
Three-day camp packed with activities, including 3-D printing, drone display, and EMS visit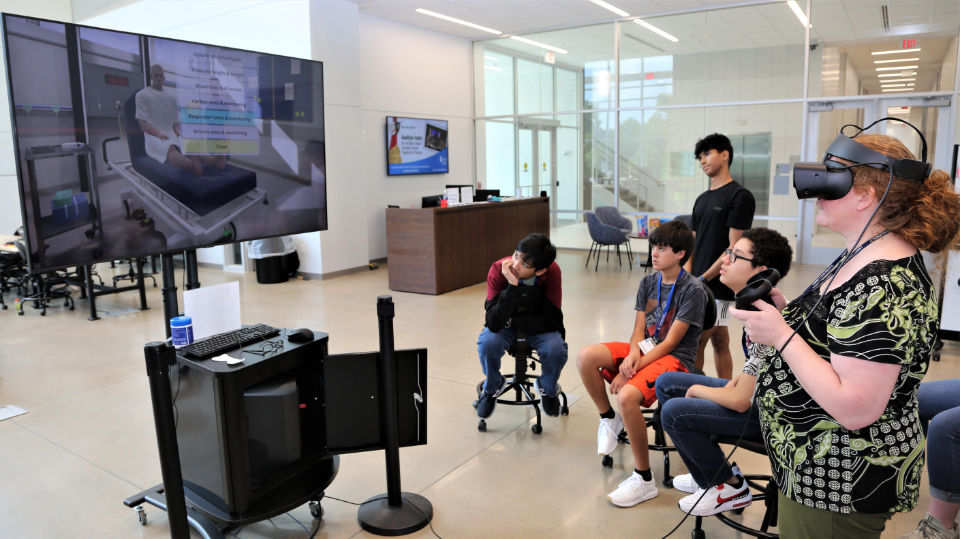 June 16, 2022
Five local teenagers got a hands-on look at cutting-edge healthcare technology in health care at a three-day camp offered by Blinn College.
The STEI (Science, Technology, Engineering, and Innovation) Summer Camp at Blinn College-Brenham's STEI Building was packed with hands-on activities, included a visit from Washington County Emergency Medical Services, 3-D printer demonstration, a trip to Blinn's esports arena, a drone program display, demonstrations of the sophisticated equipment used to train nurses, and a moulage session in which participants used makeup to create realistic-looking wounds. Each of the campers designed a 3-D printer project that they could take home.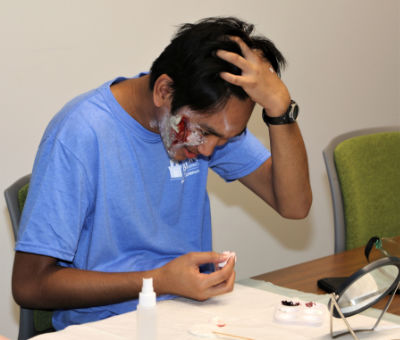 "I really enjoyed this camp," 15-year-old Leondro Hernandez said. "It was very educational. I learned a lot of things and got some career ideas. My main takeaway from the camp was how you can get involved at an early age."
Hernandez's favorite part was the EMS visit, and he said he hopes to "shadow" one of its ambulance crews to learn more.
"I really liked it," 15-year-old Lyann Gajeske said. "I liked learning about the medical field and all the technology in it, but my favorite was the 3-D printing."
Saif Mohammed, Isaac Reyes-Ortiz, and Garrison Covin also said the 3-D printing demonstration was their favorite segment.
"It was amazing to see how easy it is," said Mohammed.
Sami Rahman, Director of Simulation in Blinn's Health Services Program, headed the camp. She said its purpose was to showcase the technological advancements in health care for its participants.
"We explored the operational side of the simulators and the internal computerized mechanisms used for teaching health care professionals," Rahman said. "They learned about 3-D printing and its use in adaptations for prosthetics, as well as some of the internal and external operations for processing with simulation systems.
"Campers were able to go behind the scenes and learn about creating images, moulage, and scenarios using video systems for teaching and learning. Simulation breeds innovation, and the students got to see how research and development of ideas can translate into realistic experiences."
Camp participants also experienced "Virtual Simulation in 3-D" using virtual reality equipment at the Innovation Center innovation-center/index .
The STEI Building, which opened last fall, houses classes in anatomy and physiology, biology, chemistry, computer science, cybersecurity, engineering, geology, information technology, microbiology, nursing, organic chemistry, and physics.
The 3,000-square-foot Innovation Center includes a 3-D printer lab, soldering stations, a robotics area, a workspace for creating prototypes and component parks, a virtual reality space, and a drone repair and flight lab.