Houston-area native pursuing childhood dream through Blinn Fire Science Program
David Noltensmeyer left business school to earn Associate of Applied Science degrees in Fire Safety and Health and Fire Science Technology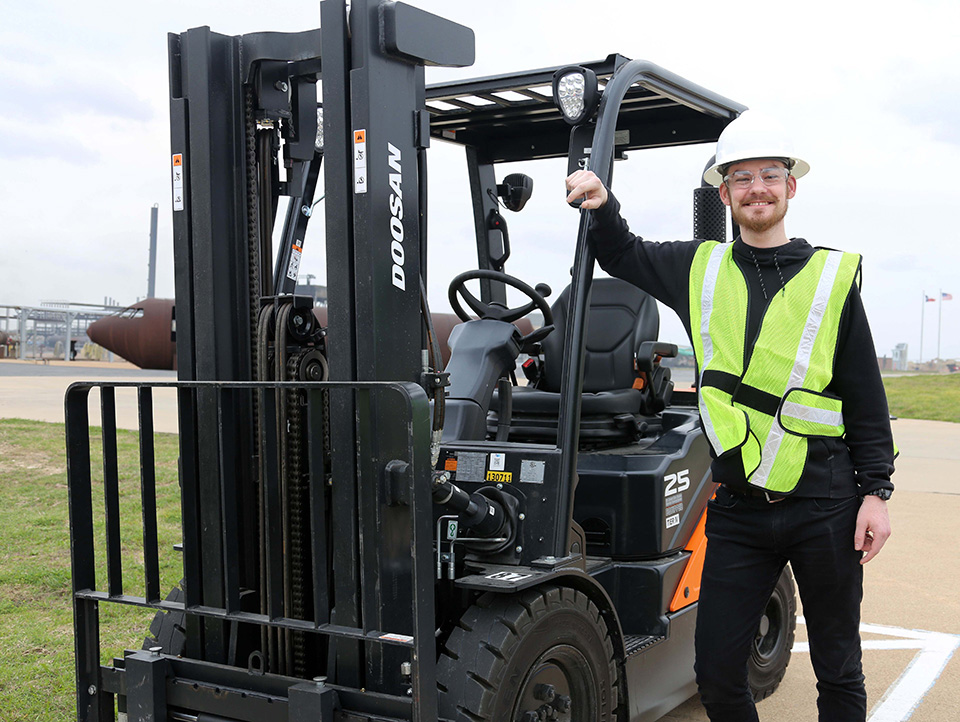 June 15, 2022
David Noltensmeyer is a firefighter at heart. He just needed to take a detour for his heart and mind to match up.
Noltensmeyer's breakthrough came while he was sitting in class at Texas A&M University.
"I was taking international marketing my freshman year at Mays Business School, and I just had an epiphany—I've always wanted to be a firefighter," he said. "Even as a very young child, I just knew. I was trying to entertain the idea of doing something else, but there was just a moment of clarity when I switched my degree to fire science. Suddenly, I found all the information very interesting and I enjoyed learning. For me, that was a sign that I was heading in the right direction."
Noltensmeyer's new path will culminate this fall when he completes the Blinn College District's Fire Science Program as one of the first students to earn an Associate of Applied Science (AAS) degree in Fire Safety and Health. He also will earn a second AAS degree in Fire Science Technology.
Initially drawn to Blinn's program to become a professional firefighter, Noltensmeyer learned that the degree in Fire Safety and Health would provide a wide array of career opportunities as a safety inspector for private companies and fire departments.
According to the Bureau of Labor Statistics , the national demand for occupational health and safety specialists and technicians is expected to grow 7% between 2020 and 2030 with a median salary of $74,870 per year.
"I am doing both degrees because they're each so useful and there are many crossovers," Noltensmeyer said. "Having a safety degree gives me so many diverse options, like being a safety officer in a fire department. There also is great demand for these safety positions, they pay well, and have more flexible hours."
Blinn's Fire Safety and Health AAS degree is a two-year program that trains students to meet the growing industry demand for safety specialists. Classes include specialized instruction in accident prevention, inspection, and investigation; fire chemistry; Occupational Safety and Health Administration (OSHA) regulations; emergency management; fire prevention codes; safety program management; and firefighter health and safety. The degree plan finishes with an emergency management internship, which allows students to network with local businesses, learn about industry standards, and gain hands-on experience putting their skills to practice. Graduates are prepared for positions in a variety of industries as safety technicians, occupational safety technicians, or environmental protection specialists.
Students also can earn their OSHA cards in general industry and construction. After gaining work experience in the field, program graduates may be eligible to take the Associate of Safety Professionals certification exam, a credential that generates additional career benefits. In addition, students can pursue bachelor's degrees in emergency management.
"The sky's the limit and companies are really looking for these credentials, both stateside and nationally," Professor C.L. Domel said. "This degree also is a great way for firefighters to grow their careers on their days off. I did shift work for 27 years, so I wanted my students to have the opportunity to get certifications and other degrees where they can grow two careers at the same time and double their income."
For Noltensmeyer, one of the highlights of Blinn's program has been the faculty.
"I've had Professor Domel for at least three years and he's one of the greatest professors I've ever had," he said. "He's excellent at taking a concept or lesson and being able to apply that to what it would look like in the real world and helping us interpret it for ourselves in order to learn."
After completing his fire safety internship and the Fire Science Academy at the Brayton Fire Training Field, Noltensmeyer's dream job would be to return to his hometown and work for the Sugarland Fire Department or for a private inspection company as a safety officer.
"You're helping people and really significantly," he said. "Ultimately, the satisfying part is the meaning behind these jobs."
To learn more about Blinn's Fire Science Program, including the AAS degree in Fire Safety and Health, visit www.blinn.edu/fire-science . Commissioned firefighters may be eligible to pursue the program at minimal cost with a letter from their fire chief.
Registration is open for Blinn's summer II and fall terms. Visit www.blinn.edu/admissions to learn more.