Blinn celebrates 38 vocational nursing graduates with pinning ceremony
Vocational nurses earn a median salary of $48,070 and employment is growing nationwide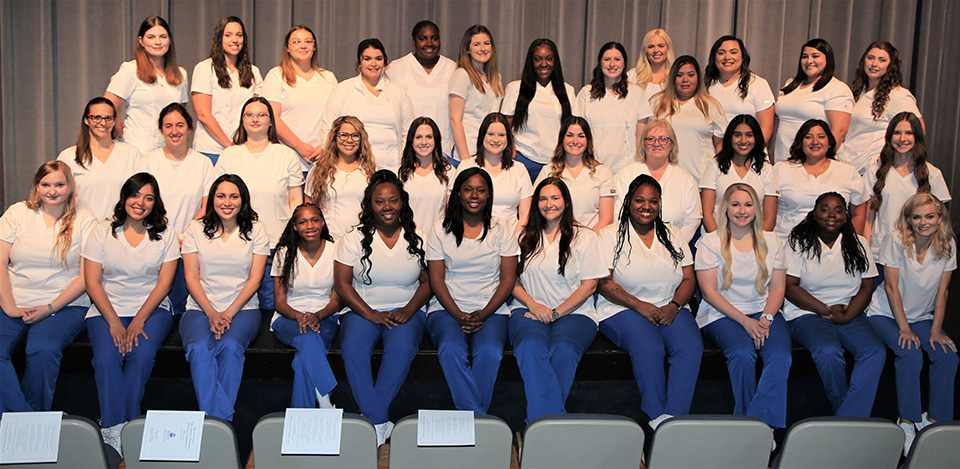 June 27, 2022
The Blinn College District's newest Vocational Nursing Program graduates were praised for their perseverance during a recent pinning ceremony held at the Dr. W.W. O'Donnell Performing Arts Center on the Brenham Campus .
The 38 graduates were Kerrigan Adamoh (Missouri City), Quatavia Allen (Houston), Latricia Bazy-Wenzel (College Station), Jacquline Bazy (Bryan), Salem Klenk (Madisonville), Brandi Cardenas (Del Rio), Akira Conchola (College Station), Chassidy Crenshaw (Bryan), Sarah Desormeaux (Bryan), Sommer Donnelly (Bryan), Hope Dunavant (Marble Falls), Paige Fly (Houston), Aurora Gaucin (Caldwell), Valerie Gonzales (College Station), Jordana Graber (Bastrop), Katie Harried (Houston), Jessica Henrichs (Gonzales), Kelly Herzog-Dewveall (Houston), Alexis Jasso (San Benito), Stephanie Mejia (Houston), Taylor Molder-Weiss (Brenham), Dyanna Murphy (Iola), Michaela Nutt (Chappell Hill), Kristiana Paige Padgett (Giddings), Haley Perkins (Somerville), Anne Quick (Bryan), Megan Rich (Friendwood), Emily Riefel (Bastrop), Azailya Robinson (College Station), Cheyenne Rountree (Bryan), Keattle Scott (Madisonville), Gabriela Silos-Banda (Caldwell), Katherine Sims (College Station), Lauren Vega (Somerville), Sloan Wellmann (Brenham), Jessica White (Bryan), Cynthia Wigfall (Sealy), and Sally Zamora (Hempstead).
"We are so proud of the way you that you took on the challenges and pushed through, even when you were tired," Program Director Michelle Marburger told graduates. "We are proud of the way that you stood together and we are proud of the way that you supported each other."
Michelle Trubenstein, Dean of Health Sciences, said each new graduate has emerged "with the skills and compassion to make a difference."
"It takes more than hard work to be a successful nurse," she said. "It takes flexibility, communication, empathy, problem-solving skills, and physical endurance. It also takes compassion and heart. You have what it takes to be an exceptional nurse."
The 10-month program includes classroom, laboratory, and clinical training. Clinical rotations are held at hospitals and other healthcare facilities throughout the area. According to the Texas Higher Education Coordinating Board, almost 98% of Blinn program graduates the past three years have found jobs in the profession.
According to the U.S. Bureau of Labor Statistics , the 2021 annual median pay for a vocational nurse was $48,070, and employment is expected to increase 9% between 2020 and 2030, creating 63,800 new jobs nationwide.
Program graduates are eligible to take the National Council Licensure Examination (NCLEX-PN) and the Nursing Jurisprudence Examination and are considered licensed vocational nurses after passing both exams.
For more information regarding Blinn's Vocational Nursing Program, visit www.blinn.edu/vocational-nursing .