LeRow finds success as member of Blinn College's livestock judging team
Sophomore credits coaches, teammates for individual accolades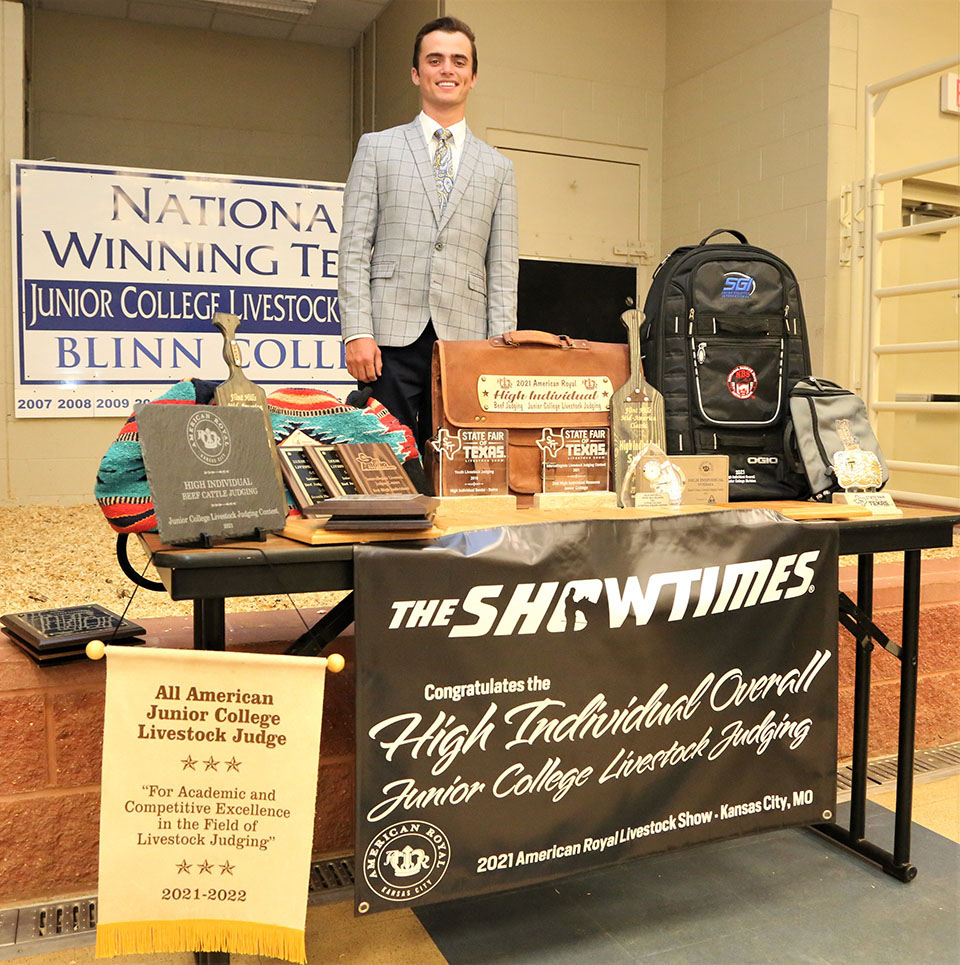 May 25, 2022
Kase LeRow has enough "hardware" to fill several trophy cases and plenty of banners to wallpaper a room.
LeRow, a sophomore on Blinn College's elite livestock judging team, has enjoyed a successful season that culminated last month with a community college division team championship at the prestigious Houston Livestock Show and Rodeo.
At Houston, LeRow was seventh high individual and third overall in reasons. He placed first in sheep/goats and hogs.
A Waco Midway High School graduate, he quickly deflected any praise toward his teammates and livestock judging team coaches Quest Newberry and Clayton Schram.
"My teammates and my coaches were the reason for the awards," he said. "They're the guys who spent hours and hours molding me as a man – my parents, Quest and Clayton, my teammates.
"That's the beauty of our team. I have incredible teammates that are honed in. Not only do Quest and Clayton play a big part of it, but my teammates do too. What does a good sheep look like? What does a good hog look like? We're bouncing ideas off each other, even in our apartments.
"That's where I feel champions are built. We like to joke that our apartments are where we won Houston, but that's probably true. We're really close-knit. You spend a lot of time with your teammates, so it's imperative that you get along."
Newberry said LeRow has been one of the leaders on this year's team.
"Kase has definitely earned the respect of his teammates because of all the hard work and preparation that he puts in," said Newberry. "He's dedicated to becoming the best that he can be, not just in livestock judging but also as a student."
LeRow's accomplishments include:
top individual and third in reasons at the National Barrow Show in Minnesota;
top individual, second in reasons and cattle at the Aksarben Livestock Show in Nebraska;
top individual, first in reasons, and first in hogs at the Flint Hills Contest in Kansas;
top individual, second in reasons and sheep/goats, and third in cattle at the State Fair of Texas in Dallas;
third in reasons, 13th high individual at the Oklahoma State Fair;
third in reasons, fifth in cattle, and eighth overall at the Cimarron Classic in Oklahoma;
top individual, first in cattle, eighth in reasons at the American Royal contest in Kansas City;
sixth high individual, second in reasons, fourth in sheep at the North America International Livestock Exposition in Louisville;
11th high individual at the Griswold Cattle Classic in Oklahoma;
seventh high individual, second in reasons at the Dixie National Intercollegiate Beef Judging Contest in Mississippi; and
14th high individual, third in reasons at the San Antonio Livestock Show.
LeRow doesn't even come from a family of ranchers.
"No one in my family has a background in this at all," he said. "It really started in seventh grade. I wasn't very good at sports, so I joined the local FFA club. I joined the livestock judging team in 10th grade, and I wasn't very good in that either, but over time, I competed in several different events and tried to find a niche."
While in high school, LeRow attended Blinn's summer livestock judging camps for 4-H and FFA members. He began getting offers from junior colleges to join their livestock judging teams but decided on Blinn. It was, he said, "an easy decision."
"Quest and Clayton were adamant about getting me down to Brenham, and there was a real connection," he said. "I like the city of Brenham."
In livestock judging, teams evaluate steers, swine, and sheep/goats and write reasons for why they placed animals in the order that they did. They must then defend those reasons before a panel of judges.
"The level of subjectivity is what makes livestock judging fun," LeRow said. "There's a winner of a class and a loser, but the two in the middle can have some debate as to which way you like them. That's where you have some leeway.
"That's what gave us some leeway in Houston – our ability to go into the reasons room and defend. Even if we didn't get the middle pair right, we could defend why we did what we did.
"In Houston, everything came together, like a symphony. Each 'instrument' had been practicing, and then it all came together in this crescendo of what we were trying to do."
LeRow recently graduated and received offers from several four-year universities to join their livestock judging program. He has accepted a scholarship offer from Texas Tech University in Lubbock, and his future plans include earning master's and doctorate degrees in ruminant nutrition.
Down the road, he said, could be becoming a college professor and livestock judging coach.
LeRow said his experiences at Blinn "were everything I had hoped for and more."
"Not only does Blinn offer an education as one of the leading junior colleges in America, but I also think it teaches not only a culture of success but also character development," he said. "The people involved in the program had a huge hand in developing not only me, but my teammates. Not just as better livestock enthusiasts, but also better operators. We all want to go out into the real world someday and be viable members of society."
Blinn's Agricultural Sciences Program has one of the most active extracurricular programs in the state, including livestock judging, Agriculture Club, wildlife, agriculture mechanics, and horticulture.
Blinn offers agriculture classes on all its campuses, with the W.J. "Bill" Rankin Agricultural Complex on the Brenham Campus serving as the program's hub.
To learn more about Blinn's Agricultural Sciences Program and the livestock judging team, visit www.blinn.edu/agricultural-sciences .