Brenham Junior High School eighth graders explore Blinn College programs, facilities
Students tour the A.W. Hodde, Jr. Technical Education Center and Science, Technology, Engineering, and Innovation Building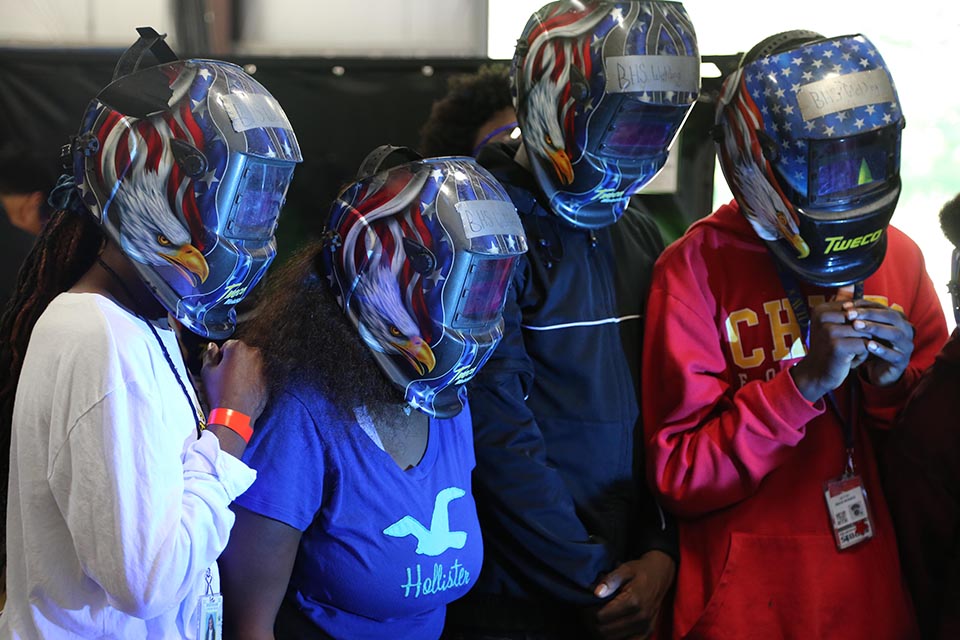 May 24, 2022
More than 400 Brenham Junior High School (BJHS) eighth graders recently saw firsthand that they don't have to leave town to receive a quality education.
The eighth graders visited the state-of-the-art Science, Technology, Engineering, and Innovation Building and the A.W. Hodde, Jr. Technical Education Center at the Blinn College-Brenham Campus.
Students learned about Blinn's academic transfer and career and technical education programs. They also explored the healthcare equipment used by nurses and clinical medical assistants and saw demonstrations on Computer Numerical Control machining, carpentry, welding, 3D printing, esports, and drone technology.
"All of the eighth graders had a chance to see the programs Blinn offers right here in our community," said Cody Stelter, Assistant Dean of Technical and Community Education for the Blinn College District. "It's broadening their perspective about what's available during and after high school."
Students who identify their career goals before entering high school can make stronger decisions regarding their future, Stelter said.
"Career pathways have become such an integral part of high school graduation, and the focus has really turned strongly to the trades and industry," he said. "These students, when they're in eighth grade, need to start thinking about what it is they want to do, so it only makes sense to provide them with an opportunity to explore our programs, which in turn will help them make an informed decision when creating their four-year plan."
Dual credit classes are becoming more popular among high school students, Stelter said.
"Students no longer must choose between going to college or learning a trade. They can do both at the same time," he said. "They can even start doing it during high school, and you're seeing that trend grow each year. People are enrolling in certification programs to obtain the needed knowledge and skills to be successful in the workforce. They just want to go to work."
Karla Flanagan, Dean of Technical and Community, said Blinn is grateful to partner with the Washington County community at the A.W. Hodde, Jr. Technical Education Center.
"This center allows local students, such as these eighth graders, to get a quality education in trades-related programs without having to leave the comfort of home," Flanagan said.
BJHS teach Brandon Williams agreed, saying, "This is a great opportunity for them to see what's ahead, the options, and the choices they have. … You don't have to leave home and I think that's really good. It will help our community too because it gives those kids opportunities they didn't even realize they had."
For more information about Blinn's Dual Credit Program, visit www.blinn.edu/dual-credit. For more information about Blinn's technical and career education programs, visit www.blinn.edu/workforce.
Registration is open now for Blinn's summer and fall courses, and student housing on the Brenham Campus is available. For more information, visit www.blinn.edu.
Related Links
Archives
GET CONNECTED