Blinn names 1,801 students to its spring 2022 chancellor's and deans' scholars lists
869 students earn Chancellor's Scholar honors with GPAs of at least 3.75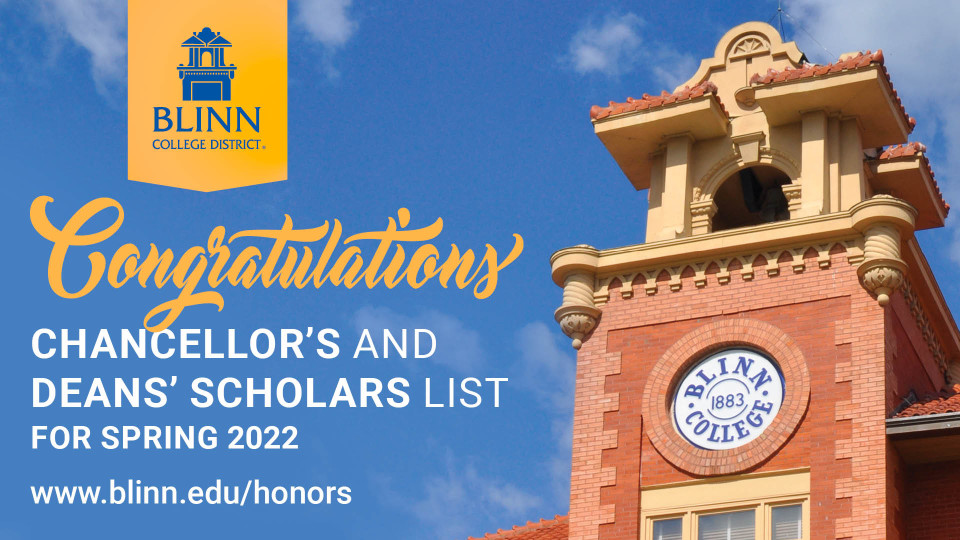 May 19, 2022
The Blinn College District has named 1,801 students to its academic honors lists for the spring 2022 semester.
Blinn named 869 students to its Chancellor's Scholars List and 932 to the Deans' Scholars List. To be named a Chancellor's Scholar, students must earn a 3.75 GPA, complete at least 12 credit hours, and pass all their courses. Students must attain a 3.25 GPA, complete at least 12 credit hours, and pass all their courses to earn Deans' Scholar recognition.
"It is an honor to celebrate these talented and dedicated students for their tremendous success this semester," said Dr. Mary Hensley, Chancellor of the Blinn College District. "We look forward to seeing all that these students will achieve in the years to come."
Blinn's honorees came from across the State of Texas and beyond, including Arizona, Arkansas, California, Colorado, Florida, Georgia, Hawaii, Illinois, Iowa, Louisiana, Maryland, Michigan, Minnesota, Mississippi, Missouri, Nevada, New Mexico, New York, North Carolina, Ohio, Oklahoma, Oregon, Pennsylvania, Virginia, and Wisconsin. Blinn honors students also hail from across the globe, including China, the Czech Republic, England, Finland, Germany, Guatemala, Honduras, Mexico, Oman, Puerto Rico, Saint Vincent and the Grenadines, Scotland, South Korea, Switzerland, and Venezuela.
To view the full list of honorees, visit www.blinn.edu/honors .