Bill Thienes gifts $33,000 to the Blinn College Foundation for nursing student scholarships
Donation honors late wife, daughter-in-law who was a nurse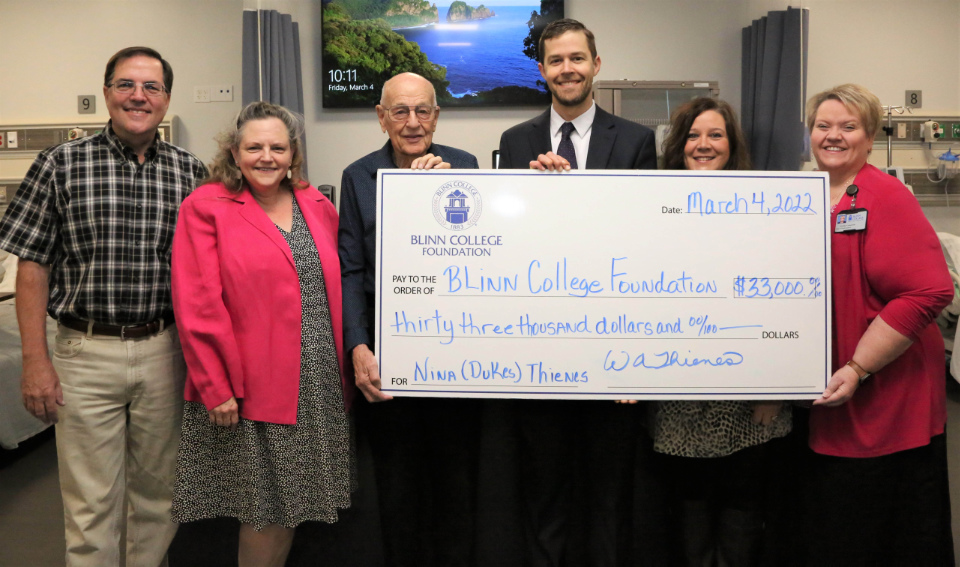 May 13, 2022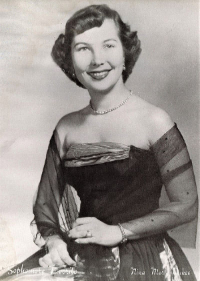 Thienes chose to honor his late wife Nina (Dukes) Thienes and daughter-in-law Janet Davis with a donation that will fund scholarships for students in the Blinn College District nursing program.
His wife, a Brenham native, was elected sophomore class favorite when she attended Blinn. Davis was a nurse for 36 years before retiring.
Bill and Nina were married for 65 years before she died. The two met at the University of Texas at Austin, where she transferred after graduating from Blinn.
Davis earned a Master of Science in Nursing and was a registered nurse, a gerontological nurse practitioner, and a certified wound, ostomy, and continence nurse.
"I think it all just tied together," Thienes said of his gift. "I was going to make a donation that would do some good, and this seemed like a way to do that."
Sam Sommer, Chair of the Blinn College Foundation Board of Directors, said that is exactly what will happen.
"This gift will do some good for a lot of students by helping them achieve their career goals," Sommer said. "Good nurses are always in demand, and Blinn College produces some of the best nurses anywhere. Its nursing program provides them with the skills to be successful in one of the most important fields in medicine, and Mr. Thienes' generous donation will be felt for generations."
Blinn's Vocational Nursing Program is offered online and in the Science, Technology, Engineering, and Innovation Building the Brenham Campus . It includes classroom, laboratory, and clinical training. Clinical rotations are held at hospitals and other healthcare facilities throughout the area.
According to the U.S. Bureau of Labor Statistics, the annual median pay for vocational nurses is $48,070 with a 9% employment increase projected between 2020 and 2030.
For more information regarding Blinn's Vocational Nursing Program, visit www.blinn.edu/vocational-nursing .
The Blinn College Foundation, which oversees more than 300 endowed scholarships, provides financial support for activities and programs that enhance educational opportunities for Blinn students.
Endowed scholarships are available to new and returning students from a wide variety of backgrounds, majors, and experiences. Scholarships are awarded based on high academic achievement, participation in student activities, and community involvement.
Information regarding creating an endowed scholarship is available by contacting susan.myers@blinn.edu or calling 979-830-4017.
Students can apply for Blinn scholarships by completing a single application at www.blinn.edu/scholarships . Prior to applying, students must complete an application for admission to Blinn College at www.goapplytexas.org .