Endowed scholarship honoring Jose Gonzales, Jr. established at Blinn College
Scholarship will benefit carpentry students at Blinn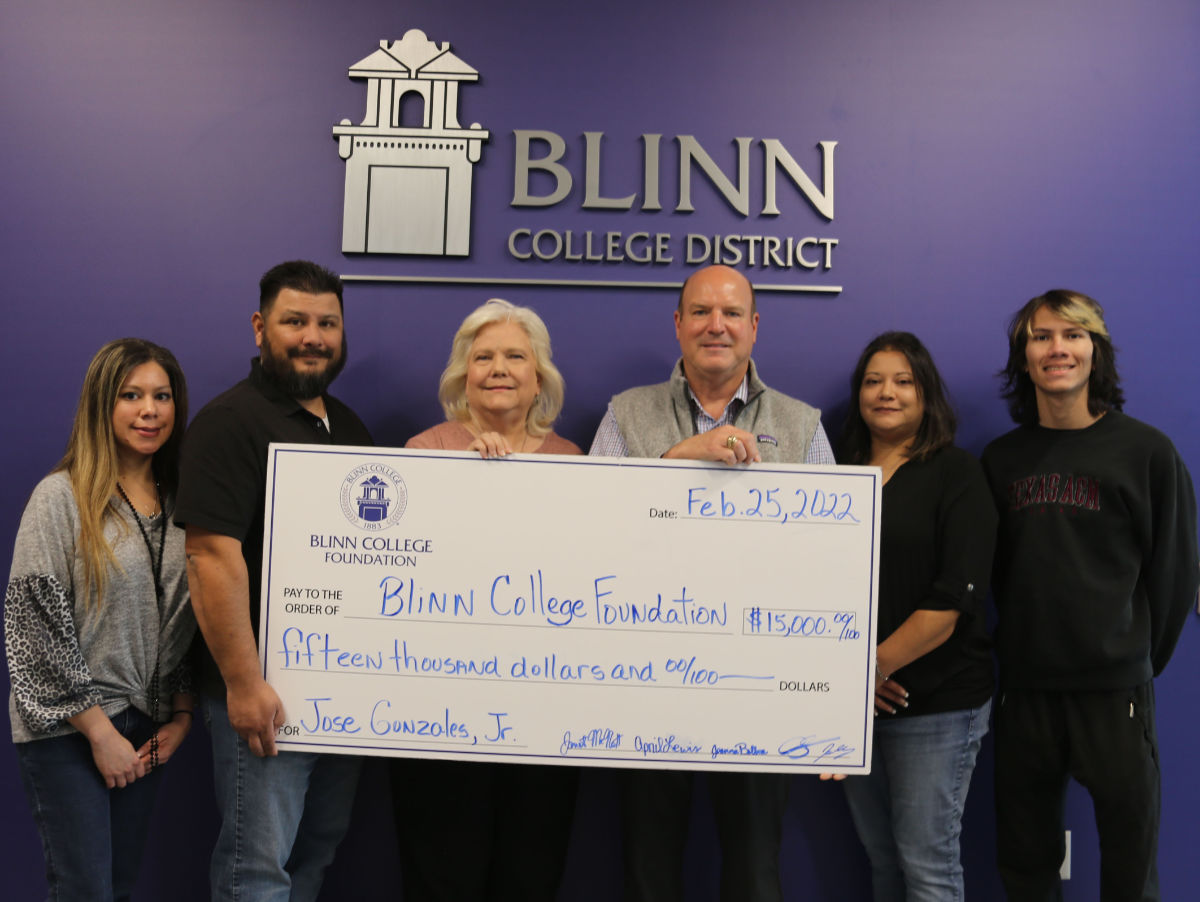 April 12, 2022
An endowed scholarship honoring Jose "Joe" Gonzales Jr. has been established for carpentry students at Blinn College. A $15,000 gift was made to the Blinn College Foundation to establish the memorial scholarship. Pictured are (from left) daughter April Gonzales Lewis, son Adrian Gonzales, and wife Janet McNutt Gonzales; Michael Schaefer, a member of the Blinn Foundation Board of Directors; and daughter Joanna Gonzales Balboa and son Joshua Gonzales.
---
Jose "Joe" Gonzales, Jr. had a passion for woodwork. His legacy as a carpenter is living on through a new Blinn College District endowed scholarship.
The Blinn College Foundation has been gifted $15,000 to fund a scholarship in honor of Gonzales, who died in 2020 at age 71. The scholarship will be awarded annually to a Blinn student studying carpentry.
"After his death, people were asking me what we could do to honor my husband's memory," said Janet McNutt, Gonzales' wife and a faculty member in Blinn's Criminal Justice Department. "Blinn had just established the associate degree in carpentry, and I couldn't think of a better way to honor him.
"Joe was a carpenter his whole life in the Brenham and Somerville areas and was a proud Blinn College alumnus. I've also worked for Blinn for 25 years, and it just made sense to establish a scholarship in his name that would benefit a profession he loved."
His son, Adrian Gonzales, said the scholarship is "a way for my father to keep contributing to a trade he cared so deeply for even though he isn't here himself."
"He loved to teach, tell stories, and education was very important to him," Adrian Gonzales said. "I think to be able to contribute to educating future students would have been a big deal to him."
Michael Schaefer, a member of the Blinn Foundation Board of Directors and a custom home builder, said the scholarship has a special meaning to him.
"I was a department head at Blinn and Janet actually worked for me when I was here," Schaefer said. "Back in 1984, when I built my first house as a Blinn student, Joe was my trim carpenter. It's just come full circle here today to be honoring his memory. When I think of Blinn, I think of Joe."
The Blinn Carpentry Program offers a variety of awards designed to prepare students for entry-level carpentry positions, including college credit degree plans that place students on the pathway to higher-wage management positions in the industry. All Blinn carpentry courses follow the National Center for Construction Education and Research (NCCER) curriculum, a nationally recognized curriculum developed with the cooperation of more than 125 construction CEOs, trade association officials, and academic leaders.
At Blinn, carpentry students can earn their Associate of Applied Science Degree in Carpentry, NCCER Core Construction and Carpentry Level 1-4 certifications, and Blinn's Occupational Skills Award and Level 1 and 2 certificates in carpentry.
The Blinn College Foundation oversees more than 300 endowed scholarships and provides financial support for activities and programs that enhance educational opportunities for Blinn students. Information regarding creating an endowed scholarship is available by contacting susan.myers@blinn.edu or calling 979-830-4017.
Students can apply for more than 300 Blinn scholarships by completing a single application at www.blinn.edu/scholarships. Prior to applying, students must complete an application for admission to Blinn College at www.goapplytexas.org.