Clay Shootout raises $107,000 for Blinn College District programs
Event hosted by the Alumni and Friends and Buccaneer Alumni Lettermen associations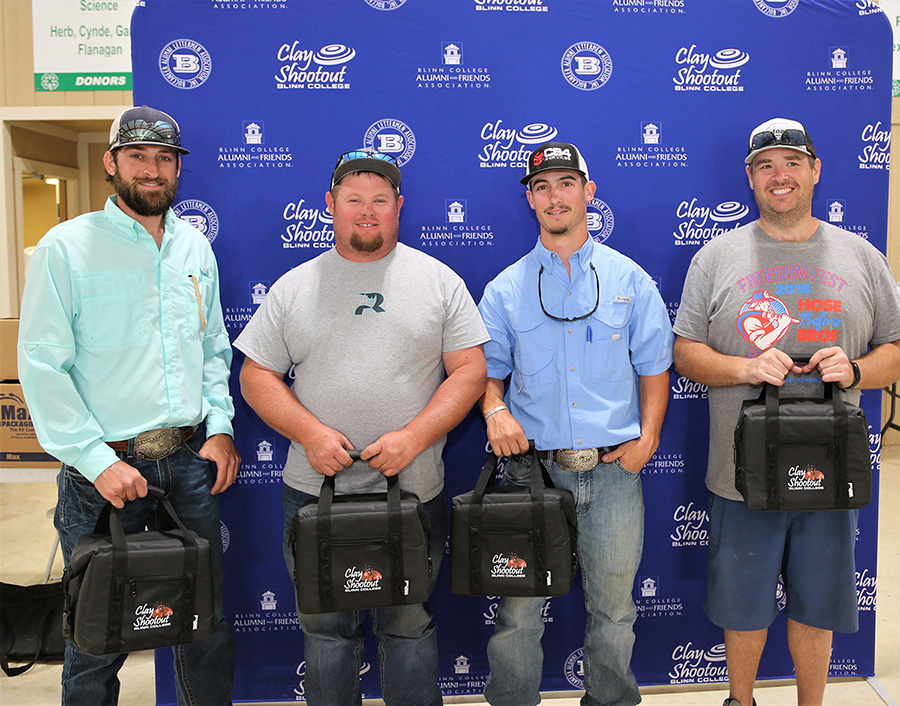 April 25, 2022
Team winners: (from left) Taylor Zdunkewicz, Tanner Vacha, Quinn McCulley, and Clay Whitfield. They hit 376 out of 400 clays as a team (100 clays each). 
---
The 2022 Blinn College Clay Shootout raised $107,000 for scholarships and athletic equipment.
A total of 50 teams competed in the April 8 fundraiser held at Boswell Porter 4-H Shotgun Range in Burleson County. This was the first shootout since 2019. It was by hosted by the Blinn College Alumni and Friends and Buccaneer Alumni Lettermen associations.
"After a pause in the Shootout for the past few years because of the pandemic, we were thrilled to be able to host this important fundraiser again," said Susan Myers, Executive Director of the associations and the Blinn College Foundation. "We have always received tremendous support from volunteers and businesses who truly want to help Blinn students and programs, and that was evident again this year."
Nathan Van Noord, Chair of the Alumni and Friends Association, and Kevin Bosse, Chair of the Buccaneer Alumni Lettermen Association, said the shootout was a huge success thanks to hundreds of volunteers.
"We had excellent participation from all around the area, and we extend our sincere thanks to our sponsors, volunteers, and to all who came out to shoot," Van Noord said. "We had wonderful food to enjoy all day, thanks to our donors and volunteer cooks.
"Great door prizes, raffle items, and silent auction items added to the festivities and helped us to raise funds to directly benefit Blinn College and its students in the form of academic scholarships, financial support for athletics, and many other important programs. I'm already looking forward to next year."
Bosse also thanked the sponsors, participants, Blinn athletes, and other volunteers from various college organizations who helped make the event a success.
"The Clay Shootout brings together all campuses of the Blinn College District to benefit the students and athletes of Blinn," he said. "As a former student and athlete at Blinn, it's an honor to give back and support this event."
Phil Shackelford, Associate Director of the Blinn College Foundation, said all the proceeds raised go directly back to the Blinn College District.
"Without the help and leadership of the administration of the Blinn College District, our Alumni and Friends Association board, and the Buccaneer Alumni Lettermen Association, this event would not be the success that it is in contributing thousands of dollars every year in support of students and programs in the Blinn College District," Shackelford said.
Stylecraft Builders again was the underwriter for this year's Clay Shootout with a $15,000 sponsorship. Flight sponsors were Bank of Brenham, Blue Bell Creameries, and Brenham National Bank.
Donating $1,500 were SpawGlass, Jones DBR, Paragon Financial Advisors, Citizens State Bank, the Tejas Center, CC Creations, Collier Construction, ABM, Texas Commercial Waste, BVR/BIG, Kenjura Tile, Kirksey Architecture, Cotton Disaster Services, Germania Insurance, Schaefer Custom Homes, and Architex Studio.
Food sponsorships were provided by Dahmann & Associates, Jack Hilliard Distributing, Nathan's BBQ, Ben E. Keith Co., and Christian Development. In-kind sponsors were KWHI/KTEX, Bluebonnet Electric, Rob's Fun Center, Burdett & Son, Polar Ice, Texas Commercial Waste, and Readfield Meats.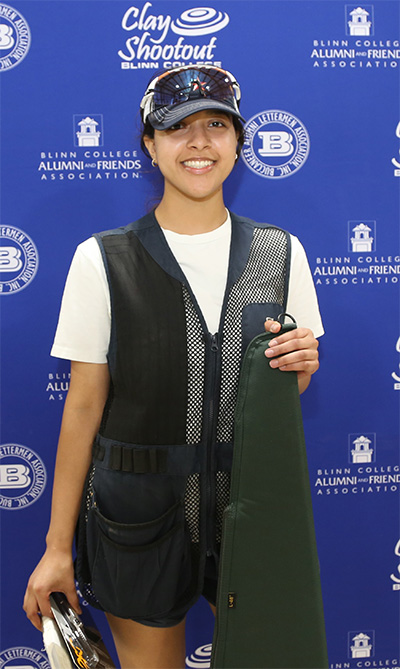 Michelle Guerrier 
Women's Winner